Editor's note: Today, we're thrilled to congratulate our friend and CatholicMom.com contributor Nancy Jo Sullivan on the publication of her most recent book, Small Mercies: Glimpses of God in Everyday Life. I know you'll love this wonderful, inspirational work -- be sure to read through to the end of the article, where Nancy Jo and her publisher Loyola Press offer you a great chance to win this book. LMH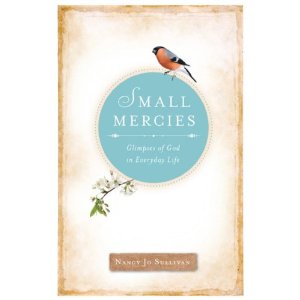 MERCY…
When I hear the word, I can't help but recite my favorite passage from Shakespeare:
"The quality of mercy is not strained,
It droppeth as the gentle rain from heaven,
Upon the place beneath."
For me, this verse call forth images of a God who is immeasurably bigger than we are. Though he is Lord of heaven, his love for us cannot be constrained. Each day, he showers his compassion upon our lives. Like gentle raindrops, his mercies fall steadily. They are everywhere.
My name is Nancy Jo Sullivan. I'm an inspirational author. In my newest book, Small Mercies: Glimpses of God in Everyday Life, (Loyola Press) I reflect upon the humble ways in which God reveals himself to us. I call these little revelations small mercies.
Now that I'm an older mom in my fifties, I've discovered that small mercies can be found in unexpected places. We can uncover them in the conversations we share at the dinner table or in the goodnight kisses we give our kids. When we encourage a co-worker, support a friend or receive the care of a loved one, the mercies of God shine brightly, like votive candles. In laughter that doubles us over or in heartaches we think we will never survive, the merciful presence of God is hidden; a treasure waiting to be found.
Each time we experience a small mercy, a hopeful word, a compassionate hug, or a promise of forgiveness, we are called to remember that we are loved by a God who lives and moves among us.
Over the years, I've experienced a myriad of small mercies. In the non-stop routines of motherhood and family, I've felt the sprinkles of God's grace. But I've also stood in the torrents of uncertainty; raising a Down syndrome child, medical and financial challenges, a painful divorce and the death of my handicapped daughter four years ago.
These experiences (and the lessons learned from them) are inscribed on the pages of Small Mercies. This collection of inspirational stories was written at my kitchen table. As I sat at my laptop, I was amazed at the insights that emerged from the words that surfaced on the screen. With each story, I began to see a pattern. God had been present in every mess, burden and blessing.
The book imparts a message that will speak to a variety of readers. Younger moms may relate to the stories I've written about the holy interruptions that define the vocation of motherhood. In the spirit of Saint Elizabeth, I'm honored to offer encouragement to all the younger "Mary's" in my life.
Older (or shall I say wiser?) women might identify with my voyage through the second half of life. If you are wondering how to "age with grace," you will resonate with my reflections about the empty nest, changes in family structure, letting go, dreaming new dreams and most importantly, finding God in all of it.
The special needs community will be drawn to the chapters I've written about Sarah, my Downs syndrome daughter. While writing these difficult reflections, I thought of you. Our lives are linked by the painfully beautiful stories we have lived and shared. As you read Small Mercies, know that I will be holding you in my heart.
I'd love to hear from you. Feel free to visit my website and blog at www.nancyjosullivan.com. Also, at the end of this post, take a moment to jot down your own small mercies. I'd be delighted to hear about the ways in which God has been revealing himself to you.
In closing, here's a short meditation. Take a few deep breaths. Turn your face toward heaven and let yourself relax. Imagine that you are standing in the rain of God's presence. Feel the gentle raindrops of his love falling upon you. Drop...Splash...Drop. God's mercies are sprinkling over your life.
They're everywhere.
Giveaway: Thanks to the wonderful team at Loyola Press, we have three copies of Small Mercies to give away to lucky readers. To enter for your chance to win, leave a comment on this post telling us about a small mercy in your own life. Entries must be in by midnight PST on August 25, 2012.
Order Small Mercies: Glimpses of God in Everyday Life and support CatholicMom.com with your purchase
Copyright 2012 Nancy Jo Sullivan
About the Author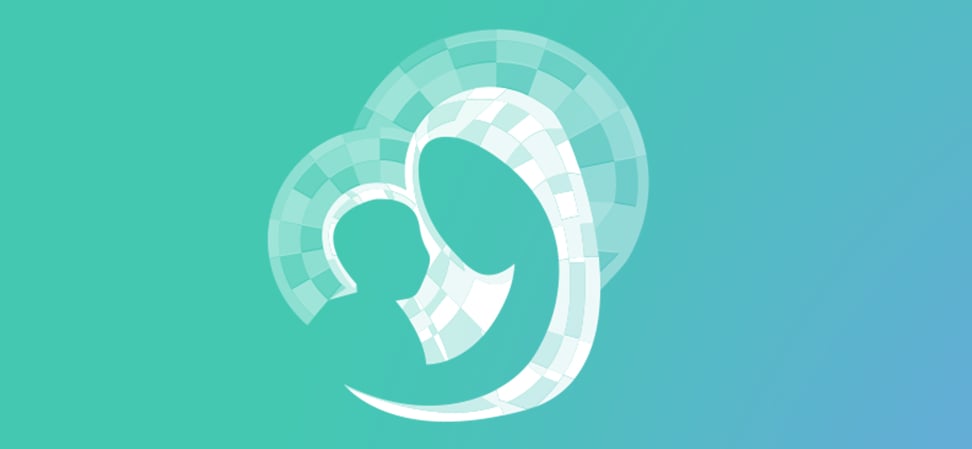 We welcome guest contributors who graciously volunteer their writing for our readers. Please support our guest writers by visiting their sites, purchasing their work, and leaving comments to thank them for sharing their gifts here on CatholicMom.com. To inquire about serving as a guest contributor, contact editor@CatholicMom.com.