Ladies and gentlemen, friends and family members, CatholicMom.com community, I am honored and jumping up and down to introduce a new Monday-Friday feature here at CatholicMom.com:
Book Notes!
(There's a logo coming soon. We were just eager to get it underway, so...here we are, no logo!)
Every Monday through Friday, Lisa Hendey and I will be sharing book-related news, reviews, and interviews with you.
On Tuesdays, I'll be sharing my own version of Book Notes, which is to say a low-key, bloggy version of what I've been reading and what I'm currently reading. I'll share capsule reviews and thoughts on the books.
On Fridays and alternating Thursdays, I'll be back to share feature interviews and reviews, and probably lists of books I recommend (look for my favorites of 2012 in January!).
On Mondays, Wednesdays, and alternating Thursdays, you'll have Lisa's take on things bookish and readerly.
So, without further ado, here's what's been happening on and around my bookshelf:
Recent Reads
Adventhology , published by Labora Editions (2012, submissions by Simcha Fisher, Dan Lord, Dorian Speed, and Brandon Vogt)

My rating: 5 out of 5 stars (though it's not on Goodreads, so I couldn't rate it there)

I've really enjoyed these four booklets. Not only are they beautifully done, not only are the authors people I follow closely online and respect, but they present Advent in real, touchable, and surprising ways. I know I'll be rereading them--if not this year, then in the future. They're small enough to tuck into my purse and short enough to read during the odd moments in the carpool line or a waiting room. Highly recommended.

Terrapin: A Mystery, by T.M. Doran (2012, Ignatius Press, Fiction)

My rating: 5 out of 5 stars

I have had my eye out for another novel by T.M. Doran since I picked up his last novel, Toward the Gleam, last year. Terrapin is just as compelling and well-told, with a full-blown mystery thrown in. I'd tell you more, but...I don't want to spoil it for you...

Catholic Spirituality: A Treasury of Prayers and Practices, edited by Colleen Griffith and Thomas Groome (2012, Paraclete Press)

My rating: 3 out of 5 stars

Confession: I would not have picked this book up on my own. But I'm so glad it was placed into my hands. Not only will it make a great gift for about five different people on my shopping list, but it was really a good read. It's accessible and well-organized. The sections are short--you can read them in a sitting even while the kids are bouncing off the ceiling fan and the beeper for dinner's about to go off. (Or is that just me?) I learned quite a bit, and I think this book is a great addition to the library of your parish, that new or young Catholic in your life, or even the person you don't know what to get.

The Christian World of the Hobbit, by Devin Rose (2012, Abdingdon Press)

My rating: 5 out of 5 stars

I am a Tolkien fan, but I'm sort of a slacker (surprise, surprise). I don't speak Elvish (nor do I want to, truth be told) and I have only read the books a handful of times (as opposed to yearly). That said, I am a fan, and so I was really interested in this book. It delivered beyond my expectations. I felt like it reached beyond The Hobbit, into the fuller world of The Lord of the Rings, but that's natural. And wonderful. It made me want to drop everything and read the books again. And maybe I will! Well-done and highly recommended.
Current Reads
Cravings: A Catholic Wrestles with Food, Self-Image, and God, by Mary deTurris Poust (2012, Ave Maria Press)
I started this over the weekend, longing, truth be told, for a good novel. What I found was wisdom and insight combined with brilliant writing. I am not just being nice, either. Two chapters in, and I find myself itching to grab it and read another section. If you're a woman, just plan to buy this: you deserve to read the encouragement and beauty within its pages.
Ora et Labora et Zombies, by Ryan Charles Trussell (2012 & beyond, Labora Editions, fiction in serial letters)
A few of my favorite things: letters in the mailbox and good stories. Add them together and you can't go wrong, right? RIGHT! Each week, I look forward to the hand-addressed envelope that has the hand-written installment of Ora et Labora et Zombies by Catholic author and genius Ryan Charles Trussell of Labora Editions. I may or may not be guilty of shamelessly trying to get a review copy of the ENTIRE THING (in the interest of promoting it, yes, but also because I am *NOT* a patient person and the suspense may just kill me!!!). Highly recommended.
What have YOU been reading lately?
*Are you on Goodreads? Well, then, I'll see you there!
Purchasing from the Amazon links in this post benefits the work we do at CatholicMom.com. So thank you. And enjoy! :)
Copyright 2012, Sarah Reinhard
About the Author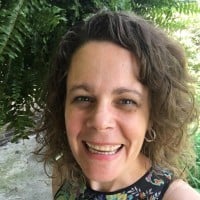 When she's not chasing kids, chugging coffee, or juggling work, Sarah Reinhard's usually trying to stay up read just one…more…chapter. She writes and works in the midst of rural farm life with little ones underfoot. She is part of the team for the award-winning Catholic Mom's Prayer Companion, as well as the author of a number of books. You can join her for a weekday take on Catholic life by subscribing to Three Shots and follow her writing at Snoring Scholar.