Book Notes!
Welcome back to our Tuesday binge on the books that have had my nose in or around them recently.
Recent Reads
I got nothin. I've read plenty this year, just haven't finished anything new in the last week....so we'll focus on my Current Reads and New to My Review Shelf sections, k? :)
Current Reads
The Seven Deadly Sins: A Visitor's Guide, by Lawrence Cunningham (2012, Ave Maria Press)
I should have finished this over the weekend, but I was so tired the other night and I didn't. Chances are that I'll whip through the last section (the epilogue, which is more like a wrap-up chapter) and be able to write a full review at my blog this week. Bottom line: I'm loving it. Down-to-earth, entertaining, and educational. Could be a great group study or even a Lenten read (or, hey! Advent!).
Jesus of Nazareth: The Infancy Narratives, by Pope Benedict XVI (2012, Ignatius Press)
True story: I have not read any of the other Jesus of Nazareth books by the Pope. I've meant to, but...well, let's just say I started the first one on audiobook, realized it was more than I could handle by ear (you can't notate or highlight when you're listening, for one thing), and I've just never gotten back to it. This one landed on my desk with a deadline, and I need it. I do. And I'm enjoying it. I hope/plan to finish it this week.
Cravings: A Catholic Wrestles with Food, Self-Image, and God, by Mary deTurris Poust (2012, Ave Maria Press)
I haven't been devouring this as a result of reading other things, but each chapter I've read so far (I'm up to three or four--can't remember offhand) has made me look at my approach to food differently. This book is definitely going on my gift list for at least four of the people I know and love.
Daily Reflections with Mary, by Fr. Rawley Myers (1991, Catholic Book Publishing Corp.)
I picked this up at our local Catholic bookstore a while back when I was in the neighborhood doing some Christmas shopping. And wow! I'm loving it. Two small pages (I'm betting 300-400 words a day) with a reflection about Mary in some aspect and then a short prayer. Perfect for me. It's like a bite-sized bit of Mary every morning when I remember. There are 30 days in it, so it would be ideal for a month. Betting it's going to take me more like six weeks, but I'm no worse for it. So far, highly recommended.
New to My Review Shelf
The History of the Catholic Church: From the Apostolic Age to the Third Millennium, by James Hitchcock (2012, Ignatius Press)
I was at the post office right before I popped in for our parish staff meeting, and I couldn't resist showing this tome to Father Pat, who's a history buff and a fabulous catechist. He said, "Interesting approach to history; I haven't seen that before." I asked him to clarify, and he said it was along the lines of how he would teach it. So I'm going to be reading it indeed!
Blurb from Amazon:
The Catholic Church is the longest-enduring institution in the world. Beginning with the first Christians and continuing in our present day, the Church has been planted in every nation on earth.

The Catholic Church claims Jesus Christ himself as her founder, and in spite of heresy from within and hostility from without, she remains in the twenty-first century the steadfast guardian of belief in his life, death, and resurrection. The teachings and redemptive works of Jesus as told in the Gospels are expressed by the Church in a coherent and consistent body of doctrine, the likes of which cannot be found in any other Christian body.

The history of the Catholic Church is long, complicated, and fascinating, and in this book it is expertly and ably told by historian James Hitchcock. As in the parable of Christ about the weeds that were sown in a field of wheat, evil and good have grown together in the Church from the start, as Hitchcock honestly records. He brings before us the many characters--some noble, some notorious--who have left an indelible mark on the Church, while never losing sight of the saints, who have given living testimony to the salvific power of Christ in every age.

This ambitious work is comprehensive in its scope and in incisive in its understanding, a valuable addition to any school or home library.
Navigating the Interior Life: Spiritual Direction and the Journey to God, by Daniel Burke (2012, Emmaus Road Publishing)
Blurb from Amazon:
What is spiritual direction and my spiritual direction? What are my "blind spots" and how can I uncover them? What keeps me from all the spiritual riches Christ has for me? How can I better understand where I am in my spiritual progress?

Daniel Burke's Navigating the Interior Life will give you the tools you need to understand how and why we grow and die in the spiritual life and what we can do about it.
Frozen Footprints, by Therese Heckenkamp (2012, Tumblar House) - Fiction
Blurb from Amazon:
"Thou shalt not be afraid of the terror of the night."

Eighteen-year-old twins Charlene and Max Perigard have grown up under the wealthy but tyrannical rule of their oil-tycoon grandfather. When Max disappears and a ransom note shows up, Charlene's world is shattered. She desperately tries to persuade her tight-fisted grandfather to pay, but the old man is convinced that Max is merely faking his kidnapping to extort money. Fearing the worst, Charlene determines to find her brother before it's too late. Her quest hurls her into a twisted, frigid world of snow and ice that leads to terror in an isolated cabin. Together the twins struggle for survival while enduring fierce trials of mind, body, and spirit. Devoid of all worldly comfort and consolation, will faith and hope be enough to get them through this chilling nightmare?
What have YOU been reading lately?
*Are you on Goodreads? Be sure to connect with me there!
Be sure to check out our Book Notes archive.
Copyright 2012, Sarah Reinhard
About the Author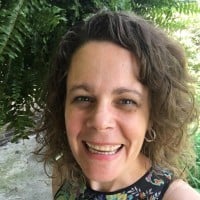 When she's not chasing kids, chugging coffee, or juggling work, Sarah Reinhard's usually trying to stay up read just one…more…chapter. She writes and works in the midst of rural farm life with little ones underfoot. She is part of the team for the award-winning Catholic Mom's Prayer Companion, as well as the author of a number of books. You can join her for a weekday take on Catholic life by subscribing to Three Shots and follow her writing at Snoring Scholar.