Books come in every week, it seems, and there are more books than time to read them.
This, my friends, is BLISS for a bookworm. But for a slightly OCD-list-crosser-offer it is a bit frustrating.
For one thing, I debate to myself: do I tell you what's new to my review shelf or do I tell you what I'm looking forward to reading? Or do I only share the intersection of those two lists?
I don't know. Today, I'm going to share three books that are not so new—only one of them has a 2013 publish date—but that I still haven't read. But I want to. And my goal is to read them by the end of the month. (I'm not sure if I'll hit that goal or not. We'll see.)
So here you go: here are three books I'm going to try to read by the end of the month. How about you?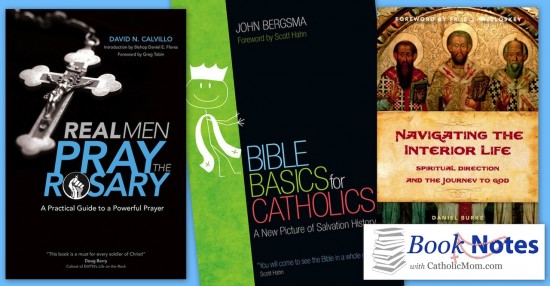 Real Men Pray the Rosary: A Practical Guide to a Powerful Prayer, by David N. Calvillo (Ave Maria Press, 2013)

I will read this in October, I will!
As you know, I'm a biiiiiig fan of the rosary, and my devotion is always looking for fuel. I have no doubt that Calvillo will fan the flame of my devotion with this book:
The Rosary is for old ladies and funerals. Or is it? In David N. Calvillo's debut book, he reveals how each week thousands of men of all ages and backgrounds join together each week in the Real Men Pray the Rosary movement and are seeing the fruit of this spiritual discipline in their lives and families. A new centerpiece of Catholic men's spirituality, this dynamic book and movement brings men together, deepening their devotion to Christ through Mary.

Often surprising and always inspiring, Calvillo combines storytelling with a profound, inviting guide and convincingly shows how the Rosary is alive and well today for men. In a world filled with ubiquitous distractions and technology, Calvillo helps men to unplug from time to time and tap into this simple system of prayer that takes only minutes each day, but whose transformative power is beyond measure. He shares why the Hail Mary is the perfect prayer and concludes with a 33-day Rosary Challenge so readers can experience for themselves how praying several minutes each day for thirty-three days radically changes their lives.
Bible Basics for Catholics: A New Picture of Salvation History, by John Bergsma (Ave Maria Press, 2012)

This book has waited long enough. When Greg mentioned it on the Catholics Next Door podcast this week, I knew that the time had come. I've been very convicted recently (since this summer, really) that I need to study the Bible more deeply and seriously. And what's not to love about a book with the Bible and stick figures?
From biblical scholar John Bergsma--two-time teacher of the year at the Franciscan University of Steubenville--comes this fresh, fun, and authentically Catholic introduction to the "big picture" of salvation history.

This overview of the Bible is based on Bergsma's wildly popular introduction to theology course at Franciscan University, where he is a colleague of Scott Hahn. Bergsma combines sound theology, academic expertise, pastoral wisdom, and an endearing playfulness to draw readers into the connection between the great stories of the Bible and salvation in Jesus. Central to the book's themes are Bergsma's signature illustrations of key biblical characters, which are deceptively simple but profound.
Navigating the Interior Life: Spiritual Direction and the Journey to God, by Daniel Burke (Emmaus Road Publishing, 2012)

Again, this is a book that has waited long enough. Do I need to go deeper and better in my interior life, in my spiritual directioning, etc etc? Hmm, the fact that I'm asking makes me think that yeah, I probably do. Scratch the probably. I do. And this book came to my attention a few times recently in a way that seemed a little reminiscent of a two-by-four to the temple.
What is spiritual direction and my spiritual direction? What are my "blind spots" and how can I uncover them? What keeps me from all the spiritual riches Christ has for me? How can I better understand where I am in my spiritual progress?

Daniel Burke's Navigating the Interior Life will give you the tools you need to understand how and why we grow and die in the spiritual life and what we can do about it.
So tell me, readers, what is up soon on YOUR reading list?
Be sure to check out our Book Notes archive.
Copyright 2013, Sarah Reinhard
About the Author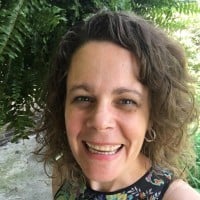 When she's not chasing kids, chugging coffee, or juggling work, Sarah Reinhard's usually trying to stay up read just one…more…chapter. She writes and works in the midst of rural farm life with little ones underfoot. She is part of the team for the award-winning Catholic Mom's Prayer Companion, as well as the author of a number of books. You can join her for a weekday take on Catholic life by subscribing to Three Shots and follow her writing at Snoring Scholar.