Here in Ohio we're in prime reading weather: it's cold and all I want to do is curl up with a good book. That said, I've been immersed in some home organization (my bookshelves are on The List soon!) that has kept me from doing as much reading as I'd like. Here's what's new for this week:
And don't forget: you support CatholicMom.com when you purchase through the links in this post.
Recent Reads
Blessed, Beautiful, and Bodacioius: Celebrating the Gift of Catholic Womanhood, by Pat Gohn (Ave Maria Press, 2013)
My rating: 5 out of 5 stars
Wow! I'm so impressed with this book. It educates without looking down its nose, is up-close-and-personal without being too familiar with you, and brings the voice of a friend to your eyes. This book is a must-read, must-have, must-cuddle-up-with book for every Catholic woman I know. Preorder your copy now and give yourself a gift that will keep on giving.
Daily Reflections with Mary, by Fr. Rawley Myers (1991, Catholic Book Publishing Corp.)
My rating: 5 out of 5 stars
I'd call this an impulsive purchases, but it was such a great little read that I can't help but recommend it. You spend 30 days reading short (400-500 words) reflections on the Virgin Mary. There's a brief prayer (about two sentences) to close each day. Highly recommended.
Current Reads
Flight of the Earls, by Michael K. Reynolds (B&H Books, 2012, Fiction)
I keep finding myself reading books I'm not sure I would have picked up if someone hadn't specifically asked me to read them. I'm almost 25% of the way through this novel, and I'm really enjoying it. I would have finished it over the weekend (and was planning to, in fact) but for that home organization project mentioned above.
Moments with God: Turn Waiting into Praying, by Jacquelyn Graham (Liguori Publications, 2012)
I didn't ask for this book, but when it arrived in my mailbox, it was as though God himself had reached out to me. I do try to remember to pray during my moments of waiting, but this book makes it intentional in a way that's both simple and lovely. Definitely a book I'll be sharing at length and giving as a gift to lots of people.
How Far Is It to Bethlehem: The Plays and Poetry of Frances Chesterton, compiled & edited by Nancy Carpentier Brown (CreateSpace, 2012, Collection)
I'm making slow progress on this book, but I'm so enjoying it! It's hard to read plays usually (maybe because I don't do it much), but in this case, they're so delightful that I can't help but enjoy them. This book is quickly becoming my "reward" book for when I'm trying to bribe myself through some difficult task. Highly enjoyable and very fun reading.
New to My Review Shelf
Cultivating God's Garden through Lent, by Margaret Rose Realy (Patheos Press, 2013)
The synopsis:
These daily reflections for Lent offer tranquility and simplicity by finding God through nature. Readers who love gardens and woods and find solace in experiencing the Creator through these environments will enjoy these prayerful reflections, which allow us to regain the balance that Pope Benedict XVI so urgently promotes in order that we may share the faith more fully in a world of new media.

The seven chapters represent each week of Lent, beginning with Ash Wednesday and concluding with Holy Saturday. Each week has a theme based on the following Sunday's gospel message, a theme found running within the combined gospels of Cycles A, B or C, making this a timeless book.
Navigating the Interior Life: Spiritual Direction and the Journey to God, by Daniel Burke (Emmaus Road Publishing, 2012)
What the synopsis says:
What is spiritual direction and my spiritual direction? What are my "blind spots" and how can I uncover them? What keeps me from all the spiritual riches Christ has for me? How can I better understand where I am in my spiritual progress?

Daniel Burke's Navigating the Interior Life will give you the tools you need to understand how and why we grow and die in the spiritual life and what we can do about it.
Love and Salt: A Spiritual Friendship Shared in Letters, by Amy Andrews and Jessica Griffith (Loyola Press, 2013)
Synopsis from Amazon:
When Amy Andrews and Jessica Mesman Griffith met in a creative writing class in graduate school, they both confessed to writing about God. They bonded one night while reading the Book of Ruth and came to truly understand the unlikely friendship of Ruth and Naomi. In these two Old Testament women, they witnessed a beautiful spiritual friendship and a way of walking with one another toward God.

But how could they travel this path together when they would be separated by distance and time and leading busy lives as they established marriages and careers? They decided to write letters to each other--at first, for each day of Lent, but those days extended into years. Their letters became a memoir in real time and reveal deeply personal and profound accounts of conversion, motherhood, and crushing tragedy; through it all, their faith and friendship sustained them.

Told through the timeless medium of letters--in prose that is raw and intimate, humorous and poetic--Love & Saltis at its core the emotional struggle of how one spiritual friendship is formed and tested in tragedy, tempered and proven in hope.
What have YOU been reading lately?
*Are you on Goodreads? Well, then, I'll see you there!
Be sure to check out our Book Notes archive.
Copyright 2013, Sarah Reinhard
About the Author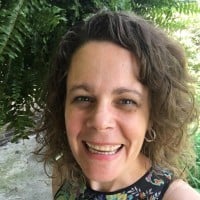 When she's not chasing kids, chugging coffee, or juggling work, Sarah Reinhard's usually trying to stay up read just one…more…chapter. She writes and works in the midst of rural farm life with little ones underfoot. She is part of the team for the award-winning Catholic Mom's Prayer Companion, as well as the author of a number of books. You can join her for a weekday take on Catholic life by subscribing to Three Shots and follow her writing at Snoring Scholar.