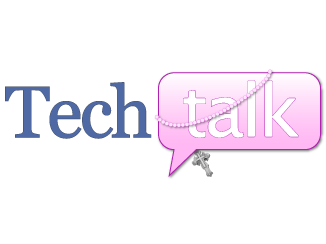 Seeking holiness through your ordinary life and work? This app just might be for you!
Before I dive into the in's and out's of the app, let's recap the life and legacy of this saint. St. Josemaría Escrivá, a 20th-century Spanish priest and founder of Opus Dei, is known as the saint of ordinary life.
He preached that all of us, by God's grace, can achieve holiness through our ordinary life and work. Opus Dei is Latin for "work of God." It is neither a religious order, such as Franciscan or Jesuit, nor is it a religious movement, such as Charismatic. Opus Dei is a personal prelature --- that basically means it is an organized group authorized by the Holy See to work on behalf of the Church. 95% of its members are laity; 5% are clergy. Members of Opus Dei make a contract to live a "plan of life," as it is called. The plan of life includes certain daily spiritual practices referred to as "norms of piety."
I was astonished to learn that these norms consist of 15 different spiritual tasks and exercises, and Opus Dei members pledge to complete each one, every day. The acts range from saying a morning prayer and offering, to attending Mass and visiting the Blessed Sacrament, to praying a Rosary, Angelus, and Memorare, then reading a spiritual work, completing a daily examen, and more. Intense! But I imagine over time a routine is developed and the norms become integrated into the ebb and flow of one's day.
Disclosure: Joining the ranks of Opus Dei is a vocation, a call from God. It is not for everyone. And while Opus Dei members might find this app most helpful, you don't need to be one to use it. I'm not, yet I'm finding plenty of ways to incorporate it into my daily spiritual journey.
App features
So let's walk through the features of the app. The home screen is shown here:
From here you can choose to explore the following.
Prayer Card:
Not only will you find the saint's prayer card in twelve languages, you can add prayers and create prayer cards for your favorite devotions and saints.
Writings by St. Josemaría Escrivá:
You can read his most popular writings including The Way, Furrow, The Forge, Friends of God, Christ is Passing By, and Conversations. Yes --- all available on this app … and in six languages! The Writing section also provides guided reflections to pray both The Way of the Cross (Stations) and the Holy Rosary. In addition to Escrivá'swriting, you can also access the entire New Testament with the ability to search by book, chapter, and verse; a monthly reflection from the Opus Dei prelate, Bishop Echevarria; and other smaller writings by St. Josemaría. Your reading position on all writings is remembered for easy return where you left off. All this available at your fingertips … now that's an app in itself. But wait, there's more!
Daily Norms:
The practical portion of the app.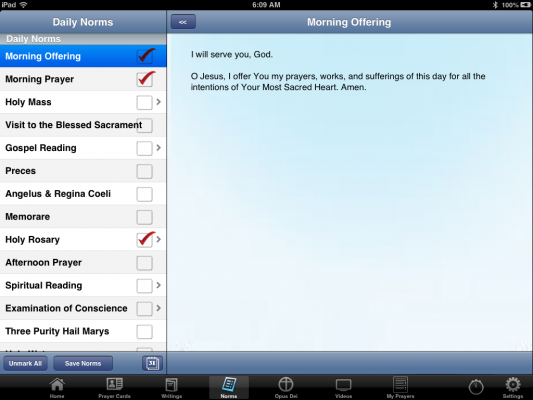 From this screen, users can keep track of their Daily Norm progress. Once a norm is fulfilled, a check mark can be placed next to it. Each norm also has the text of the prayer listed. A practical function here is the ability to add your own prayers --- I added the Prayer to St. Michael the Archangel on mine. The Examination of Conscience comes with password protection and recovery service. Here again, you can add your own Examen.
Opus Dei:
This section dives into Escrivá's biography and the history and heartof Opus Dei --- a great overview.
Videos:
This section basically serves as a YouTube channel within the app. You can watch many videos about Opus Dei, including some starring St. Josemaría Escrivá himself (a benefit of a modern-day saint!).
How I use the app
Those who frequent my personal blog might recall the story about the spiritual board of directors I developed on my 36th birthday to guide and support my year of life. The twist? All board members are saints. And one of the saints who occupies a seat on my board Josemaría Escrivá (his feast day is my birthday!).
The St. Josemaria Institute got word that I'm keeping their guy a little busy this year, and reached out to me. Several months ago, I was given a complimentary copy of the app to use and review.
While I don't fulfill all daily norms, I do many of them and keep track of my progress on the app. This is very helpful given most days I can't remember my middle name. But where I've found the app most useful is having the library of St. Josemaría Escrivá's writings at my fingertips. I wanted to get to know the "saint of ordinary life" better, and this app certainly has provided that opportunity.
The basics of the app
It's compatible with iPhone, iPod touch, and iPad (requires iOS 3.0 or later). Get the app from iTunes here.
It's also compatible with Droid (1.6 and up) --- get the app from Google Play here. App is available in English, Spanish, German, Portuguese, French, and Italian.
Cost: $14.99. That may seem pricey, but I imagine members of Opus Dei would tell us it's worth every penny. It really is a beautifully loaded app!
Here's your chance to win the app!
We are giving away one app, courtesy the St. Josemaria Institute. Leave a comment below by midnight PT on Sunday, December 23, 2012 and one winner will be randomly selected to receive the app. Hot diggity!
Read more of our Tech Talk columns.
Copyright 2012 Lisa Schmidt
About the Author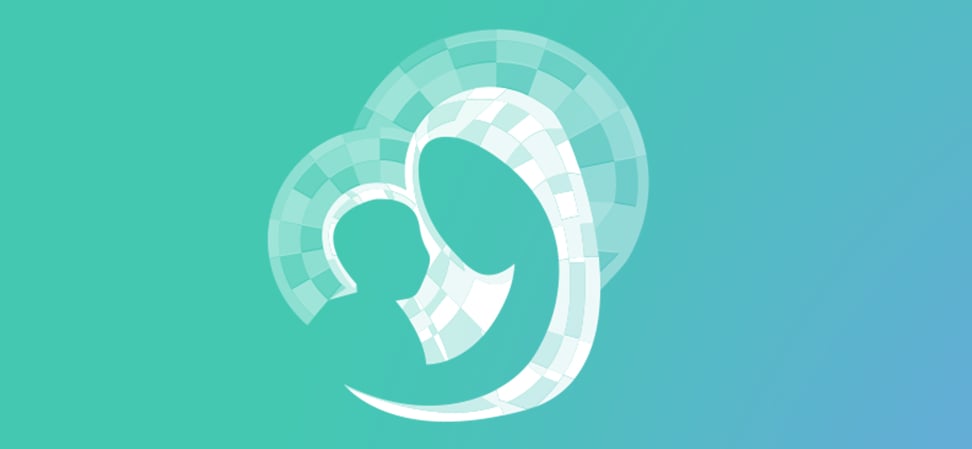 We welcome guest contributors who graciously volunteer their writing for our readers. Please support our guest writers by visiting their sites, purchasing their work, and leaving comments to thank them for sharing their gifts here on CatholicMom.com. To inquire about serving as a guest contributor, contact editor@CatholicMom.com.