Anyone who knows me well knows that when I say I'm excited, there is usually some jumping around and loud squees involved.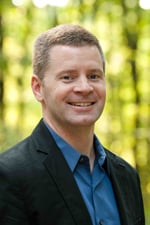 Folks, I am EXCITED!!! I've been a Christopher West fangirl since before I did any writing and just after I became Catholic.
I had been on the fence about this "Theology of the Body" stuff I'd been hearing about (this was back in 2004, when it was all still new stuff) and I picked up one of his CDs.
And then I picked up another. And listened to his "Naked without Shame" series.
I spent my hours in Adoration with both West's companion and John Paul II's Theology of the Body. (The links go to the new, updated versions, which is not what I read back in the good ole days.) In the midst of this, I led a book study in our parish on West's book The Good News about Sex and Marriage.
So I was a bit excited when I heard about West's new book, Fill These Hearts: God, Sex, and the Universal Longing, and was offered the chance to review it.
But when I found out that Christopher was available for an interview? Let's just say there was some loud rejoicing in the Reinhard House that day.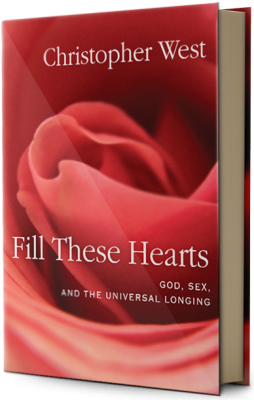 So grab your coffee and remember that when you purchase through our affiliate links, you support the work we do here at CatholicMom.com.
Christopher, as I read about Fill These Hearts on your website, I just had to ask this: are you a pop culture junkie? I've heard you quote certain songs and movies in your talks and read them in your books. What work of popular culture has had the most impact on you and why?
If you've noticed, most of my pop culture references are from the eighties. I suppose then I was something of a junkie. Music, movies, and TV shows – they were just the air we breathed growing up.

What I really like looking back on all that stuff is finding the elements of truth that were in the culture. They're there, and it's very important that we learn how to tease them out.

And, on the other hand, when we encounter really twisted stuff in the culture, it's critical that we learn how to untwist it. That's how redemption takes place. Evil is the twisting or distortion of good. To reclaim the good, we have to learn how to untwist what evil distorts.

In answer to the second part of your question, it's hard to point to one thing. But there are certain movies I return to again and again to draw out their lessons for my kids, my students, and myself. I've seen the movie The Truman Show over twenty times because I show it to my students in the week-long intensive I teach. That movie is a gold mine – a truly profound allegory about the journey of discovering the truth.
What was the most exciting aspect of writing Fill These Hearts?
Fill These Hearts is a book about desire, about the deepest ache we feel inside for something. What are we supposed to do with that cry of our hearts? Where are we supposed to take it?

I put forth certain ideas in the book that I think some people–namely, those who have been taught that holiness demands we suffocate or repress our desires–will find troubling. Desire can get us in trouble, it's true. But the solution is not death of desire, but depth of desire.

In that context, the most exciting aspect of writing this book came well after I was finished with it. On November 7 of last year, Pope Benedict gave an address in the context of the Year of Faith about the importance of desire. When I read it I got chills: it was such an affirmation to me of what I had written.

Pope Benedict is inviting the whole Church in that address to foster what he calls "a pedagogy of desire." In the Christian life, we are pilgrims seeking the redemption of desire. The Christian life, he says, is not "about suffocating the longing that dwells in the heart of man, but about freeing it, so that it can reach its true height." That, in a nutshell, is what my new book is all about.
What do you hope for those who join you on this "life-altering journey through classical art, pop music and film by way of the Christian mythical tradition"?
It's very simple to summarize: I want people to know in the depth of their being that there is a banquet that corresponds to the hunger we all feel inside; there is a sweet wine that corresponds to the thirst we feel inside; there is a balm that corresponds to the "ache" in our hearts.

Life, yearning, suffering, love, our cry for intimacy and union – all begin to make sense when the Church's teaching is properly framed and presented as the beautiful invitation that it is. It's an invitation to an eternal "wedding feast" where a bliss and ecstasy awaits us beyond what we can think or imagine.

This message desperately needs to be shared because, for lack of it, we are turning to so many false promises of happiness and fulfillment in the world today. And they lead to tragic suffering, disillusionment and despair.
Christopher, you were studying Theology of the Body before it was popular. You met with JP2 and even shared with him some of the work you are doing. At what point do you think you'll be "done" writing about TOB? Do you have more topics in the works for us, your avid fans and readers?
When John Paul II died, someone asked me: "Gee, what are you going to do now?"–as if somehow, because the author of the TOB was dead, my work would also end. It was an honest question, but it betrayed a real failure to see what the TOB is and what John Paul II has bequeathed us. The Church will be unpacking John Paul II's TOB for centuries. And it is so important to understand that TOB is not just about marriage and human sexuality.

The "theology of the body" gives us a frame in which to understand the whole "body of theology." So, will I be branching out in future works? Yes, but not in the sense of leaving TOB behind. Rather, I hope to be applying TOB to all kinds of areas of our faith and our lives. So, in that sense, I'll never be "done" writing about the TOB.
If you were sharing your book with the Blessed Mother, what aspect of it do you think she would most enjoy?
That's a great question. I love it. I love it because I love Mary. And I love Mary because she is the woman of desire par excellence!

Pope Benedict calls Mary "the open vessel of human longing." I love that expression! That's who Mary is – she's the only woman who ever walked the planet who never repressed her desire on the one hand, and who never directed it towards things that couldn't satisfy on the other. Mary is the one who shows us what to do with our hungry hearts: open them to God so that he can "fill these hearts"! Remember what she sings in her Magnificat: He has filled the hungry with good things! In this sense, Mary is the fulfillment of what I write about in my book.

What would she most enjoy? Probably the challenge I set forth to readers to follow Mary in getting in touch with our desire for infinity, aiming that desire heavenward, and then letting it go wild in God. That's what she did. That's who she is: the woman of rightly directed desire. And that makes her desire more wild than anyone else's: a totally wild desire for God. And God filled her with himself. Oh glory!
--
Don't waste a moment pre-ordering Fill These Hearts -- using that link supports our work here at CatholicMom.com. It's all I can do to keep myself on task and refrain from putting everything on hold to read it, but it looks great and I'm looking forward to curling up with it!
Copyright 2013, Sarah Reinhard
About the Author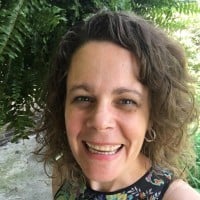 When she's not chasing kids, chugging coffee, or juggling work, Sarah Reinhard's usually trying to stay up read just one…more…chapter. She writes and works in the midst of rural farm life with little ones underfoot. She is part of the team for the award-winning Catholic Mom's Prayer Companion, as well as the author of a number of books. You can join her for a weekday take on Catholic life by subscribing to Three Shots and follow her writing at Snoring Scholar.