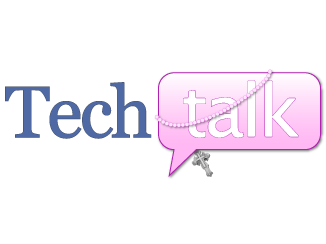 If you don't know Marcel LeJeune, you probably know his work, at least if you've been in the Catholic blogosphere any length of time.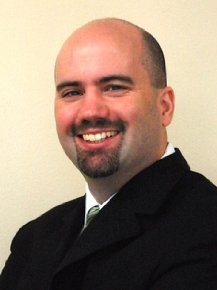 He's the man behind the St. Mary's Catholic Center at Texas A&M (at least the web presence) and the Aggie Catholics blog. He calls himself a speaker, author, and evangelist on his personal website, but I think we could add a few things to that, like "hilarious guy."
You see, in my interactions with Marcel, he's always the guy with a smile and something to lighten the load I put on myself. He writes beautifully and his work resounds with a love of Christ I hope to emulate and learn from.
So, with that, let's spend some time with Marcel, shall we?
Tell us about yourself in five words or less.
Husband. Father. Bald. Aggie. Catholic.
Of your pursuits, what's your favorite?
Helping my family pursue holiness. That is, when I am not messing it up in the process. I get such joy out of my wife and kids.
When you think of the New Evangelization from your approach as a "Catholic Techie," what excites you? What makes you want to continue?
What excites me is that we have such fertile ground. My passion is effective evangelization, regardless of the medium. Ultimately we have to incarnate the Gospel in meeting people face-to-face and taking them by the hand and walking them toward Christ. But, the initial dimension of preaching the Gospel at all times and places can be done in an electronic format in creative ways. More specifically, the ground is so fertile because the culture is so sick that the alternative is radical, but very appealing. Where else can you find such hope, joy, peace, faith, and love than in a relationship with the person of Jesus Christ? Catholics, including those of us involved in electronic evangelization, need to become better skilled at reaching those far from God, because they are yearning for it.
What's the most rewarding aspect of your work?
Main job – Watching the conversion process of young adults who are so very open to allowing God to change their lives is the most fulfilling thing I could possibly do as a "job" (read as "life-giving career vocation").

Secondary job – I get the crazy opportunity to speak (and write a bit) for audiences all over the country. This is when you will see me the most engaged and hyped. I really get a buzz from engaging audiences, esp. when it is about evangelization and spreading the Good News of Christ.
In your spare time, what are we likely to find you doing? Do you have a gadget in hand or do you go native and screenless?

Depends. I try to unplug when I for extended periods in order to be present to my family. I also enjoy running, working out, reading, and working on a cure for boredom for others (which I NEVER suffer from).
You can find Marcel on Twitter and Facebook, and be sure to check out the great writing at the Aggie Catholics blog. Aggie Catholics is also on Twitter and Facebook (with Marcel behind the scenes).
Read more of our Tech Talk columns.
Copyright 2013 Sarah Reinhard
About the Author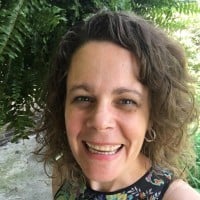 When she's not chasing kids, chugging coffee, or juggling work, Sarah Reinhard's usually trying to stay up read just one…more…chapter. She writes and works in the midst of rural farm life with little ones underfoot. She is part of the team for the award-winning Catholic Mom's Prayer Companion, as well as the author of a number of books. You can join her for a weekday take on Catholic life by subscribing to Three Shots and follow her writing at Snoring Scholar.