At the age of fourteen, Rosario Rodriguez was innocently unaware that she'd become one of many young women to be stalked by a serial rapist and murderer. According to police, the suspect would choose and follow his victim for months near local high schools before he attacked. Rosario was abducted on her way to the bus stop and she was dragged into a wooded area.
The attacker attempted to rape Rosario as he firmly pressed his hand against her mouth. Rosario screamed the words of the Hail Mary as he fought to break her and silence her forever. In a 2011interview with Tony Rossi, host and producer of Christopher Closeup, Rosario recalled, "His eyes got really big. He looked afraid, jumped up and ran away. My first reaction was to turn around to see what he saw, but I saw nothing . . . We've always had guesses [that he saw] St. Michael or my guardian angel or our Lady because I was screaming the Hail Mary. But I believe he saw something divine."
Rosario was the first and only victim to have escaped the clutches of this man with her life and without physical injury.
Rosario was raised in a loving family with a vibrant Catholic faith. For five years following the attack, Rosario sought healing in her personal relationship with the Lord through the Holy Mass and Eucharistic adoration. Her faith and the Sacraments of the Church undoubtedly held Rosario back a step from the brink of total collapse. Admittedly, as time passed, the cross of her interior wounds – unforgiveness, crippling depression, anxiety, self-loathing, hatred and rage – became too heavy for Rosario to humanly bear on her own.
Jesus accepted the help of Simon of Cyrene to carry His Cross.
Understanding that God often fulfills His will in our lives in relationship with others, Rosario accepted both spiritual and psychological guidance from her parish priest and a Catholic therapist. With much intensive work and prayer, these two men of God helped Rosario carry her cross and led her to a place of peace, joy and healing through the virtue of forgiveness.
Unknown to all, Rosario's personal journey to the top of Calvary was not ended. The first attack served only to pave Rosario's path for another Via Dolorosa – a way of grief and suffering - that she would be forced to walk many years later, with a heavier cross, bringing her closer to death in a second act of unimaginable violence.
In 2009, at the age of 31, Rosario became the victim of a gang-related robbery on an otherwise peaceful Los Angeles street. A woman grabbed Rosario's purse from around her arm and shot her point blank in the chest with a nine-millimeter gun.
The bullet tore Rosario's esophagus and collapsed her lungs. According to the attending physicians, Rosario should have died instantly. Miraculously, not only did she survive, but the bullet missed Rosario's heart by one centimeter and she was able to pursue the attacker and remember the license of the fleeing vehicle, which led to her capture and conviction.
Rosario's three-year journey of healing and recovery following the robbery and attempted murder came with many heavy and painful crosses. One cross she refused to carry was the cross of unforgiveness toward the woman who shot her.
"I knew I didn't ever want to live the way I lived before. I didn't want to live shackled. I wanted the freedom of forgiveness. In December at one of the hearings… I looked at her and told her that I've forgiven her and that I pray she might come to know the incredible love, mercy and forgiveness of our Lord Jesus Christ."
"Rosario Rodriguez has cheated violent death twice. In her body she still carries a bullet; in her soul, only forgiveness." - Cheating Death and Loving God, Tony Rossi
Rossi's statement of Rosario resounds of grace rarely grasped by one who has endured such evil. It is an all-too-rare gift to the world that someone who has risen from, not one but two life-threatening attacks, is willing to forgive and re-live the horror, in the telling, for the purpose of witnessing the necessity, the beauty and the healing power of faith, forgiveness and the mercy of God.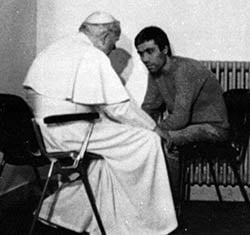 Consider the witness of Immaculee Ilibagiza, whose story of faith and forgiveness, Left To Tell, has been translated into fifteen languages. Consider the powerful witness of Blessed Pope John Paul II as he visited and forgave his would-be-assassin, Turkish terrorist, Mehmet Ali Agca.
"When we forgive evil, we do not excuse it, we do not tolerate it, we do not smother it. We look the evil full in the face, call it what it is, let it's horror shock and stun and enrage us, and only then do we forgive it." - Lewis B. Smedes
As Christians, we understand that God does not restrict our free will. We understand that God has not caused such wickedness to befall His children. The terror of Auschwitz, Rwanda, Columbine, Virginia Tech, 9/11, Tucson, Aurora and Newtown is incomprehensible but we know from the heart-piercing agony of Calvary on Good Friday – we must trust - that though God has allowed evil to occur, in His infinite love and mercy, He will always bring a greater good from it.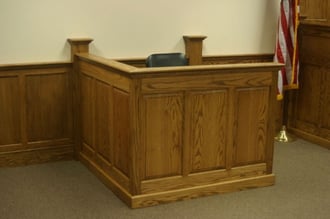 The world is searching for witnesses of the greater good. Humanity is desperately in need of these witnesses and God is raising them up. They are few but their testimony is strong and universally inspiring. Rosario understands worth in brokenness, joy in suffering and peace in forgiveness.
Rosario Rodriguez is poised to be that witness.
Visit www.rosariorodriguez.org
+JMJ+
Email Rosario@RosarioRodriguez.org
Watch Rosario's Forgiveness Video
Purchase Rosario's Testimony on CD for $3
Copyright 2013 Brian K. Kravec
About the Author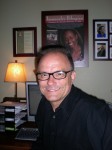 Brian is a cradle Catholic, husband and father. He's the Co-Founder and Executive Director of Possibility Productions, a 501(c)(3) faith event evangelization apostolate in service of the Body of Christ. Brian has proudly served the Roman Catholic Diocese of Fresno on the Board of Directors for KNXT Catholic Television, is the Steward of St. Patrick's Faith Event Ministry for his local parish and a 4th degree member of the Knights of Columbus. Brian and his wife are consecrated members of the Militia Immaculata. For information on the MI and Total Consecration visit Consecration.com.