Msgr. Patrick McCormick and Roy Guzman cordially invite you to enter in His presence for an hour of Eucharistic Adoration featuring the music of Catholic singer, songwriter and recording artist, WiL Frey. This Holy Hour will take place at St. Patrick's Church, Merced, Wednesday, February 26 from 7-8PM in prayerful support of the Diocese of Fresno Confirmation class of 2014.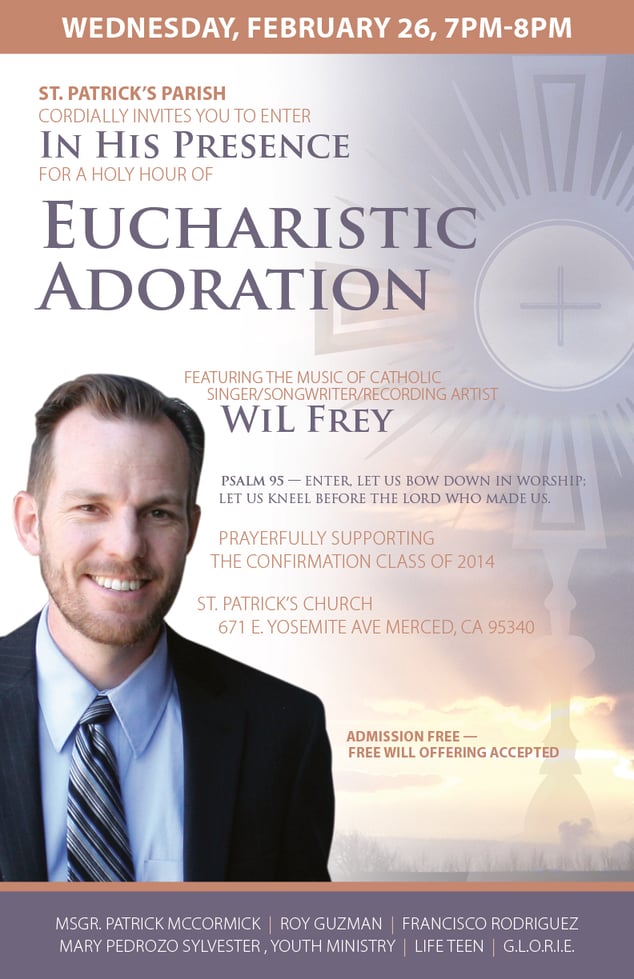 WiL Frey, a convert to the Catholic faith, is a man after the very of Heart of God. The extraordinary fruit of his prayerful pursuit - this mysterious, mystical exchange between the love of Christ and the love of man in Adoration of the Most Blessed Sacrament - is WiL's first solo album, In His Presence.
WiL was attracted to the Catholic Church because of the beauty, peace, and joy he found in Eucharistic adoration. He formally entered the Church on the Easter Vigil of 2002.
In His Presence is a collection of eight original contemporary songs and four beautifully re-arranged classics that were inspired and written in the presence of Jesus in the Blessed Sacrament. WiL's pure vocals and acoustic guitar anoint and sooth the soul while joyfully lifting our prayerful spirits as sweet-smelling incense rising to the throne of God.
"I really wanted the album to be as if it was just myself, my guitar, and Jesus…It is really meant as a collection of hymns of Eucharistic praise." - WiL Frey
WiL Frey is climbing to the mountaintop and he's taking us along on the journey with all the saints and angels to a place where we "feast" on the Living Bread and there is no hunger – a place where we are "warmed with His radiance" – a place where our parched hearts are quenched and we are "filled to overflowing" In His presence.
You can find WiL on iTunes, NOISETRADE, YouTube, and Amazon.com.
WiL is very excited to share his music and prayerfully enter with us in His presence, Wednesday, Feb 26 at St. Patrick's Church, 671 E. Yosemite Ave, Merced, CA at 7PM.
"Come, bow down and worship. We are His people and He is our God." Call to Praise (Psalm 95) - WiL Frey
This is an admission free event. A free will offering will be accepted.
[youtube_sc url="http://www.youtube.com/watch?v=c5vI-SbfP9k"]
Copyright 2014 Brian K. Kravec
About the Author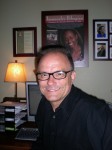 Brian is a cradle Catholic, husband and father. He's the Co-Founder and Executive Director of Possibility Productions, a 501(c)(3) faith event evangelization apostolate in service of the Body of Christ. Brian has proudly served the Roman Catholic Diocese of Fresno on the Board of Directors for KNXT Catholic Television, is the Steward of St. Patrick's Faith Event Ministry for his local parish and a 4th degree member of the Knights of Columbus. Brian and his wife are consecrated members of the Militia Immaculata. For information on the MI and Total Consecration visit Consecration.com.