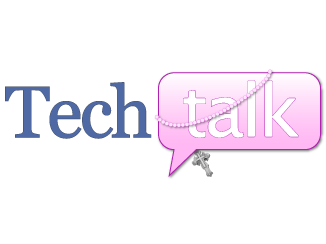 She's Inspired Angela to the Catholic blogosphere and on Twitter, and she's no less delightful than that handle would imply. Angela Sealana seems to type with a smile, and I dare you to not be amused and entranced by her.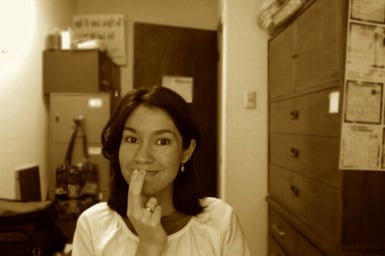 Back when her last name had different letters after the S (Santana), she wrote an honors thesis about new media and the New Evangelization and also put together a pretty awesome presentation about the same.
Grab your coffee and cozy up for a bit of time with a woman who's doing amazing things.
Tell us about yourself in five words or less.
Newlywed. Evangelizer. Listener. Graphic designer.
Of your pursuits, what's your favorite?
I enjoy anything that allows me to teach or mentor others. My blog highlights resources, tools and inspiration for fellow Catholics in ministry. At work, I created a Media & Ministry Internship program through which I pass on tips and lessons I've learned while forming college students who are passionate about their faith.

If you're reading this, in ministry professionally, and in a position to mentor, I encourage you to consider doing so. The Church currently has more young people open to lay ministry positions than perhaps ever before, and they need encouragement and direction.
When you think of the New Evangelization from your approach as a "Catholic Techie," what excites you? What makes you want to continue?
As a digital native, tech has always been part of my life. I get much of my knowledge about Church teaching, history, devotions, and news online. So, when more Church leaders understand the importance of excellence in Catholic communications - when they "get it" - and when they seek opportunities to "step up" their efforts, to "be not afraid," and " duc in altum" as John Paul II said... that's when I get a rush of excitement.

The apostles had no clue - and probably little understanding - what would happen when they cast their nets "into the deep," and still our Lord rewarded their obedience and small step of faith with an abundant catch! So I admire and appreciate that same spirit of openness from clerical and lay ministry leaders who open themselves to the possibilities of evangelization through new media. In their openness, God can - and will - do great things.
What's the most rewarding aspect of your work?
What's better than working for God? Each morning, I visit Jesus in our ministry's chapel and thank him for the chance to give him back the gifts he's given me. I ask the Holy Spirit to make me an instrument and to give me the charisms & creativity I'll need in the day ahead. I ask the Father to make my work a fruitful and pleasing gift to him.

The rewards are in every interaction my coworkers and I have with someone who has grown in their faith. There's no better possible result - that's the pearl of great price.
In your spare time, what are we likely to find you doing? Do you have a gadget in hand or do you go native and screenless?

Most of my free time is spent praying / with my husband, or cleaning! We've made scheduling prayer and together-time a priority as newlyweds so that all our interactions, decisions and family life will maintain a firm foundation and focus.

I don't have a smartphone since I'm a simple girl at heart, but I use an iPod touch to keep up with podcasts while cleaning, or to read blogs and news. Print magazines are one of my favorite splurges, and I love reading about the saints.
Read more of our Tech Talk columns.
Copyright 2013 Sarah Reinhard
About the Author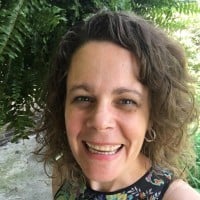 When she's not chasing kids, chugging coffee, or juggling work, Sarah Reinhard's usually trying to stay up read just one…more…chapter. She writes and works in the midst of rural farm life with little ones underfoot. She is part of the team for the award-winning Catholic Mom's Prayer Companion, as well as the author of a number of books. You can join her for a weekday take on Catholic life by subscribing to Three Shots and follow her writing at Snoring Scholar.