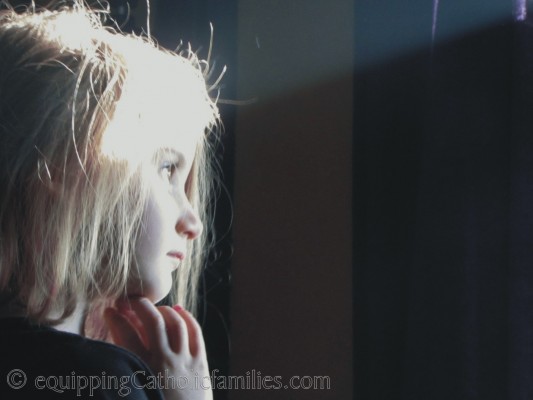 Every Lent, I start out with a lot of plans, to give up things, to do extra things, to clean closets and give away clothing and toys we don't need, to go to weekday Masses, to bring out our Passion Play Peg People or the Stations of the Cross Carousel and to be strict about meatless Fridays. We all have our good intentions for carrying out special sacrifices and good deeds cheerfully and consistently.
Good intentions sometimes give way to ordinary family chaos, with business and conference travel and ensuing logistics. Among other things, I inevitably give up munchies... and end up getting just plain grumpy, with not a cheezie, cheeto or chocolate chip cookie in sight to ease the stress. As the Lenten weeks progress, I feel discouraged with lowered expectations and waning enthusiasm.
In addition to a few things I have in mind for this Lent, I'm hoping to lead my family in a deeper commitment to family prayer. Sometimes a program or a craft is just what we need to build momentum for a good habit to keep all year. We already have some regular prayer habits, but I thought it could be a neat opportunity to introduce some new-to-us Catholic classics, as well as promote spontaneous and heartfelt prayers.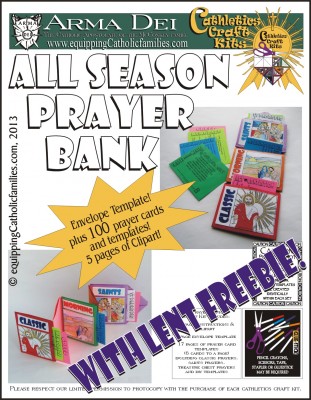 At Arma Dei: Equipping Catholic Families, we have just released our latest, new and significantly expanded All Season Prayer Bank. It is a free standing, homemade paper prayer bank template, along with over 100 carefully selected Classic Catholic Prayers, Saint Devotions, custom prayers and prayer card templates for your own family prayers. I think you will find that the little heartfelt prayers that your kids come up with will be cherished prayer cards, for years to come! I'm hoping that adding this colorful Prayer Bank to the family table, packed with prayers both new and old, will be the reminder we need to better integrate prayer into our family life.
To help launch the All Season Prayer Bank, we are offering a LENTEN PRAYERS FREEBIE to help refocus our Lenten Journey throughout the 40 days of Lent. Renewed by His Sacrifice for our sins and enkindled by the Glory of His Resurrection, we use the traditional Day of the Week Devotions to refocus our journey toward Easter Sunday.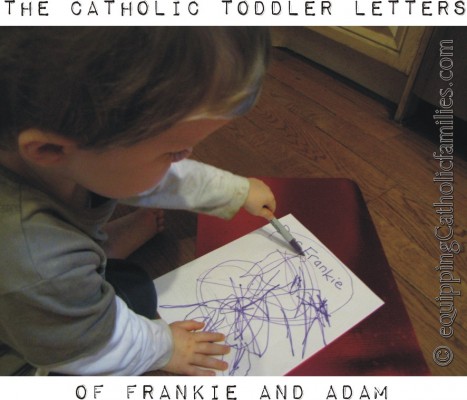 Also, are you following the Catholic Toddler Letters of Frankie and Adam? Two toddlers, the sons of two Catholic Bloggers discuss being Catholic, attending Mass and family traditions as the youngest members of their large families. Adam's latest letter offers a weekly Lent challenge for families…and there will be prizes!
Copyright 2013 Monica McConkey
About the Author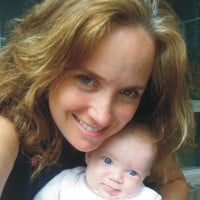 Monica, mom of 5, blogs about Catholic crafts and family traditions at EquippingCatholicfamilies.com. She is an author and creator of Super Saints quizzing cards and over 45 Saint, Sacrament, Catechism and Prayer-packed Craft Kits to help teach the Catholic Faith. The Catholic teaching tools and gifts are available through Arma Dei, the Catholic family publishing company founded with her husband Bill.