It's that time of year when my flower garden is in full bloom. The coneflower are bright pink, the yarrow is a yellow mass in the middle, and the lavendar's wafting my way as I type. There are geraniums and lady's mantle and purple salvia. The petunias and impatiens are spreading in their pots even as the beebalm is almost ready to send out its pink bursts of bloom.
I sit on my front porch swing and take all this in, in between chapters and responsibilities and kids screaming. (The last is not ideal, but I'm keepin it real here. Don't want you to give me more credit than I'm due.)
Recent Reads
On Heaven and Earth: Pope Francis on Faith, Family, and the Church in the Twenty-First Century, by Jorge Bergoglio (Pope Francis) & Abraham Skorka (Image Books, 2013)
My rating: 5 out of 5 stars
I read this as spiritual reading for the last month or so, and I can't emphasize enough how wonderful a read it is. The book is a conversation between Pope Francis (back when he was Cardinal Archbishop of Buenos Aires, Jorge Bergoglio) and Rabbi Abraham Skorka. They cover all sorts of topics, some of which I had no interest in until I read what they had to say. I found myself highlight as much of Skorka's thought as I did Bergoglio's. Overall, highly recommended.
Current Reads
Rapunzel Let Down: A Fairy Tale Retold (Book 6), by Regina Doman (Chesterton Press, 2013, fiction)
Oh. My. Word. I'm a longstanding fan of Regina Doman's work and I was anticipating this book in a biiiiig way. I'm about halfway through and I don't think I'll quit shaking my head. How does Doman DO THAT?!?!? If you haven't started reading the Fairy Tale Novels, don't wait. Here's your summer reading tip from me: READ THEM. And I'll be back next week with a lengthier review of Rapunzel. :)
Anna Mei: Blessing in Disguise, by Carol Grund (Pauline Books & Media, 2011, middle grade fiction)
I meant to finish this before I started anything else, but you can see what happened...I put it down to whip through Rapunzel Let Down, and I haven't picked it back up (because Rapunzel owns me right now).

Youcat: Youth Prayer Book (Ignatius, 2013)
It's rare that I review a book before I'm finished, but then, this is a rare sort of book. I reviewed it in full last week, but I'm still working my way through it, because yes, I really want to read the whole thing. And I'm really, REALLY enjoying it.
What have YOU been reading lately?
*Are you on Goodreads? I'll see you there!
Curious about what my ratings mean? Here's an explanation of what the stars mean to me.
Be sure to check out our Book Notes archive.
Copyright 2013, Sarah Reinhard
About the Author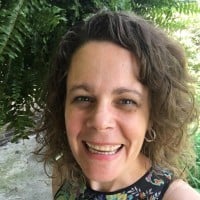 When she's not chasing kids, chugging coffee, or juggling work, Sarah Reinhard's usually trying to stay up read just one…more…chapter. She writes and works in the midst of rural farm life with little ones underfoot. She is part of the team for the award-winning Catholic Mom's Prayer Companion, as well as the author of a number of books. You can join her for a weekday take on Catholic life by subscribing to Three Shots and follow her writing at Snoring Scholar.