I'm a HUGE FAN of good fiction. I've come to see, over the years, that what I really love isn't as much fiction as it is a good story. Even so, I love a good novel, especially one that makes me want to own multiple copies and start a library of my own. I want it to have a good story, a tight plot, and impeccable grammar and editing. To me, these are fundamentals, things that can't really be compromised.
So, with that groundwork down, here are three new novels I can't wait to read. And a friendly reminder: using our affiliate links helps us and costs you no extra. So we thank you for that. :)
Save, Send, Delete, by Danusha Goska (John Hunt Publishing, 2012)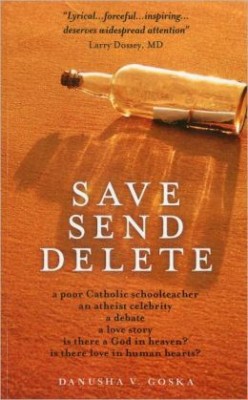 I'm currently reading this, and I'm really enjoying it. It's a fictionalized memoir based on the author's experience. It caught my eye when Julie Davis wrote an intriguing rave review of it over at Happy Catholic. I like that it's written as emails and I'm also amused by the fact that you get to see, in some cases, the evolution of a thought or a message, from when it's saved to when it's either sent or deleted.
I've read the synopsis on Amazon, but I'm not copying that here because I don't think it's completely accurate and I also don't think it properly conveys the book. There's an unevenness that truly speaks to human experience and a rawness that can be off-putting, but which you cannot deny as you read it.
In other words, I'm loving it. I can't wait to keep reading and reading and finishing!
Rapunzel Let Down: A Fairy Tale Novel Retold, by Regina Doman (Chesteron Press, 2013)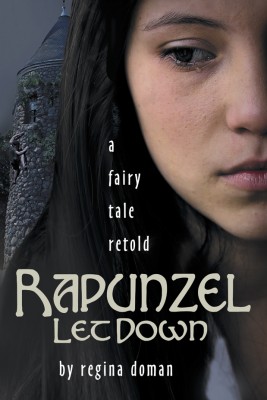 Why yes, I am a Regina Doman fangirl. Why yes, I have been waiting for this installment of the Fairy Tale Novels since I finished her last one. Why yes, it is all I can do not to drop everything and just read this book!
Here's what the synopsis says about it:
Hermes McCaffrey is sick and tired of sharing his life with his father's political career and his overbearing older brothers. So during his family's vacation in New England, when he meets Raphaela, a lovely and brilliant girl dreaming in a hidden tower, is it surprising that he wants her all to himself?

But visiting Raphaela is dangerous, and not just because of her mother's paranoia about strangers or her estate's sinister caretaker. When Hermes decides to go too far, the results are devastating for Raphaela … and for Hermes as well.

What happens when falling in love means falling into deep sin? Can sex destroy love? And when you do fall from grace, is there any way back?
There are so many levels of this that have me intrigued. For one thing, I love these books. LOVE! THEM! For another, this is a topic I want to see handled, and and handled well. It's critical, really, and I'm curious as to how Doman does it.
Do No Harm: A Novel, by Fiorella de Maria (Ignatius Press, 2013)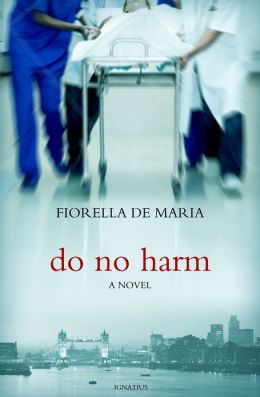 De Maria's last novel, Poor Banished Children, was so well-written and heart-wrenching that I not only recognized her name but flagged this book to my "WANT to read very soon" pile.
Here's the synopsis:
When a British emergency room doctor saves the life a woman who apparently attempted suicide, he is accused of committing a crime and stands trial. Not only is Dr. Matthew Kemble's medical practice at risk, but also his liberty. If he is found guilty of trespassing on a woman's right to die, he could go to jail.

The novel Do No Harm exposes the dangers faced by conscientious doctors in Britain. Dr. Kemble's decision to treat a patient in defiance of her Living Will pits him against English Law, public opinion and his own profession. The legal and personal battles he faces raise many questions about the role of the physician in the modern world, contemporary beliefs about autonomy and human rights, and the increasingly bitter clash of values in twenty-first century Britain.

Set in and around London, the story explores the interrelated stories of a physician facing ruin and imprisonment at the height of his career, his old friend and doggedly determined lawyer, Jonathan Kirkpatrick, and Maria, a passionate, dedicated but intensely lonely young campaigner who while working for the defense proves incapable of staying out of trouble herself.
I'm excited to see how de Maria's poetic writing and razor-sharp observations play out in this context. I also found that her writing in Poor Banished Children wasn't just "writing," it was literature. I could see rereading it in 20 years and finding it to be a classic piece of work. It's the kind of writing that makes everything else seem sort of lacking.
And this is a storyline that covers a hot topic, one that really speaks to concerns I have about our world right now.
Be sure to check out our Book Notes archive.
Copyright 2013, Sarah Reinhard
About the Author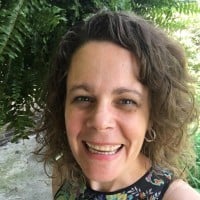 When she's not chasing kids, chugging coffee, or juggling work, Sarah Reinhard's usually trying to stay up read just one…more…chapter. She writes and works in the midst of rural farm life with little ones underfoot. She is part of the team for the award-winning Catholic Mom's Prayer Companion, as well as the author of a number of books. You can join her for a weekday take on Catholic life by subscribing to Three Shots and follow her writing at Snoring Scholar.