I've had a reading "crush" on YA fiction for quite some time. And given the number of young readers in my life, I have an interest in it on a lot of levels.
In the last couple of months, I've read some books that bear mentioning here. These are all worthy of being read whether you're an adult looking for a book (which will be a fairly quick read) or a parent looking for something for the younger reader in your life.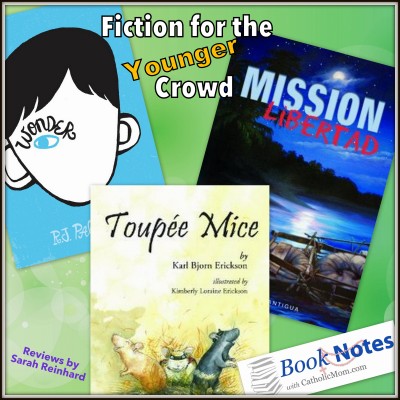 Wonder, by R.J. Palacio (Knopf Books, 2012)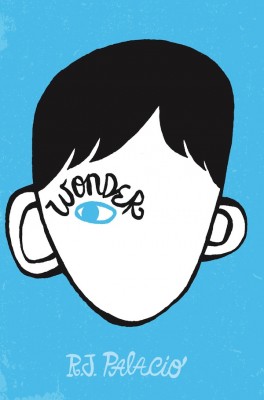 This was a book that made me stop and think more than once. Dare I add it to my "best of 2013″ list already? Quite possibly. Dare I call it a "must read" for parents and youth alike? I think so.
A few weeks ago, the topic of people who are different from us came up while I was teaching 5th grade religious education. I asked if anyone had read Wonder and was shocked when every single student had. Apparently it's school reading already.
Had I known how popular it was, I probably would have really had a mental resistance to reading it, but as it was, I walked into it knowing that the friend who picked it for our monthly fiction book club felt really compelled to read it. I trusted her.
It's a book that's written from the heart and one of the things that I loved about it was the author's use of point-of-view. You don't just hear the story from the boy with the deformed face; you also get a good view of how things are for other characters in the story.
And this book is nothing if not totally, completely, wholly Catholic. It invites conversation that kids want to have, though it's never easy and hugely uncomfortable. This is a book I'd encourage you to buy, because there are passages you'll want to mark. The descriptions are vivid, heart-wrenching, and so real you'll look over your shoulder.
Highly, HIGHLY recommended.
From the publisher:
August Pullman was born with a facial deformity that, up until now, has prevented him from going to a mainstream school. Starting 5th grade at Beecher Prep, he wants nothing more than to be treated as an ordinary kid—but his new classmates can't get past Auggie's extraordinary face. WONDER, now a #1 New York Times bestseller and included on the Texas Bluebonnet Award master list, begins from Auggie's point of view, but soon switches to include his classmates, his sister, her boyfriend, and others. These perspectives converge in a portrait of one community's struggle with empathy, compassion, and acceptance.
Mission Libertad, by Lizette M. Lantigua (Pauline Books & Media, 2012)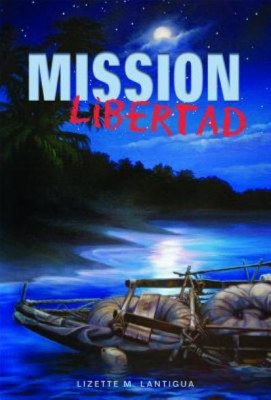 It's an adventure story and a history lesson, packaged with some cultural tidbits on top. I wasn't sure how that cocktail would "taste," but I found myself enjoying it, guessing what would come next, and even dreaming Mission Libertad-inspired dreams.
This is a look at America a few decades ago, and I had to remind myself of that as I read it. (And I had a bit of a "Yeah, we WERE that cool, weren't we?" reaction, I'll admit.) I haven't talked to anyone in the YA/MG age-range to see what their reaction to that was, but I'm sure it will feel like it happened a lonnnnng time ago to them.
I especially liked how this book makes something that is a hot topic—immigration—and puts it into perspective. This book lays the foundation for what poverty could really look like in a Communist third-world country and contrasts it with the things Americans take for granted. It's not done in a "open up and take THIS" kind of way, but as part of the setting and plot.
In other words, this is well-written, fun to read, and worth your time. And you should share it with your kids, too!
From the publisher:
Fact and fiction converge in this thrilling tale of 14-year old Luisito Ramirez-a courageous boy who daringly escapes from 1970s communist Cuba-as he becomes immersed in American culture, and sets out on fulfilling a secret religious mission under the eyes of spies.

Integrating Spanish vocabulary and Cuban culture, this novel offers young people ages 10-14 an exciting story of the Catholic faith lived out during turmoil. Based on real events, the historical, political, economical, and cultural realities of the time period are fused in the fictional story of Luisito. Author Lizette M. Lantigua achieves this fusion through combining her historical knowledge and experiences as a newspaper reporter interviewing Cuban exiles with her craft for storytelling.

The story opens with Luisito and his family aboard a raft as they escape under the cover of darkness to the United States. Leaving behind his grandmother until she can be safely transported to freedom, this getaway to a better life is bittersweet. Luisito cannot help but think about her, especially because she entrusts him to carry out a secret mission when he arrives in the United States. She leaves him with a place to visit, a Biblical passage, and a person to deliver an obscure message to. Luisito must use his wit and courage to decode his grandmother's secret-all the while being followed and watched by Cuban spies!

Will Luisito fulfill his grandmother's mission, and will they be united in the land of freedom? Accompany Luisito on his Mission Libertad to find out!
Toupeé Mice, by Karl Bjorn Erickson (Rafka Press, 2013)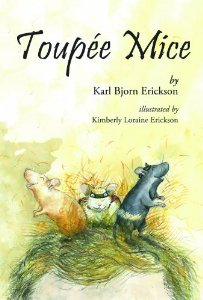 This is the latest book by Karl Bjorn Erickson, and it's every bit as delightful as the cover makes it seem.
It's the tale of a mouse who really just wants to sing in the church choir but is so misunderstood. (He's a rodent. I can't blame the humans, myself.) Consequently, he lands an adventure of both survival and finding a way to get back to the church choir. He just wants to praise God with the gift he's been given!
The sidekicks he finds are as charming as they are unexpected (and I forgive them for being rodents, and so will you by the end of the book). It's not a long book, and it's designed to be middle grade.
I have intentions of hiding this in a place where my 8-year-old will find it and devour it.
Highly recommended.
From the publisher:
All Ian wanted to do was sing in the church choir.

However, he is a mouse, not a human. The choir members were not too happy to hear him - or see him! Join Ian and Pierre, along with their "big-boned" dwarf-hamster friend, Fred, as they disguise themselves to hide from Ludwig, the house cat afraid of dust bunnies. Along the way the determined and witty friends learn about St. Cecilia and the importance of singing praise to God.

Did Ian ever get to squeak along with the choir? Read his "tale of tails" and find out!
Be sure to check out our Book Notes archive.
Copyright 2013, Sarah Reinhard
About the Author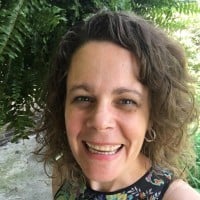 When she's not chasing kids, chugging coffee, or juggling work, Sarah Reinhard's usually trying to stay up read just one…more…chapter. She writes and works in the midst of rural farm life with little ones underfoot. She is part of the team for the award-winning Catholic Mom's Prayer Companion, as well as the author of a number of books. You can join her for a weekday take on Catholic life by subscribing to Three Shots and follow her writing at Snoring Scholar.