I'm never short on ideas for Father's Day. I have an addiction like books. My husband...doesn't like reading as much as I do.
So I was expecting that when I showed him my pile for this post, he'd look at them and shrug them all off. When he didn't, I realized that we both may end up reading a few of these!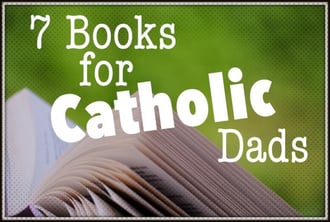 I haven't yet read all of these (I've only read one of them).
If any of the dads in your life are like the men in mine, at least one of these books will be a win. When I took the pile and ran them by my non-reader husband, there were TWO wins. So there you go: hope for the shopping.
Note: these are affiliate links, and the kickback goes right back into making CatholicMom.com better and better. Thanks for your support!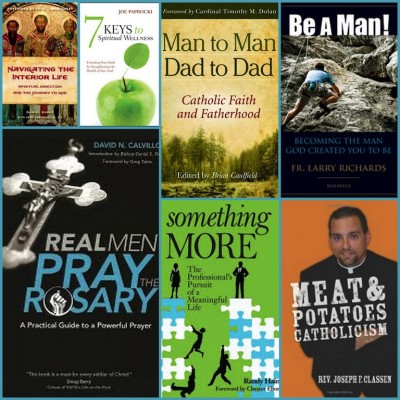 And because I can't have a random list at this stage in my life, I've alphabetized this by title. :)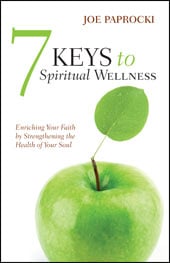 7 Keys to Spiritual Wellness: Enriching Your Faith by Strengthening the Health of Your Soul, by Joe Paprocki (Loyola Press, 2013)
From the back cover:
Most of us have a pretty good idea of what we need to do to maintain our physical well-being: watch the calories, exercise regularly, take those vitamins. But how many of us know what we must do to keep ourselves spiritually well? And what are the root causes that lead to spiritual sickness in the first place?

Joe Paprocki's a name I've heard touted again and again and again. He seems like a nice enough guy and, in fact, I have other books of his on my unread shelf. Our diocese hosted him last year for a presentation for catechists and I really wish I had gone...the word "amazing" kept coming up whenever anyone talked about it.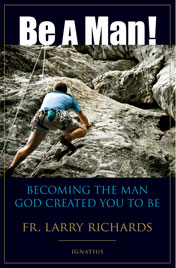 Be a Man! Becoming the Man God Created You to Be, by Fr. Larry Richards (Ignatius Press, 2009)
What's not to love about Fr. Larry Richards? In this book, according to the back cover,
[Fr. Larry Richards] recounts his struggles to learn true manhood, as well as the inspiring stories of others he has served in his decades as a priest. He tells men how to focus on the right goal, how to live as a beloved son of God, of the need to acknowledge one's faults and to live according to the Holy Spirit, to be a man of true love and of wisdom, to appreciate properly the differences between men and women, to pursue holiness, and to make a difference in the world. Not preachy but direct, Father Richards challenges men to be strong, without putting on a mask of false strength or machismo. He calls men to admit their weaknesses and limitations, while urging them to find strength in faith and genuine love to overcome their sins and faults.
I don't think you can read this book without a beer in hand. I also think this is a book that a lot of men need to read.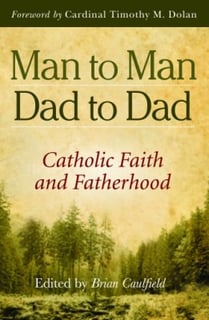 Man to Man, Dad to Dad: Catholic Faith and Fatherhood, edited by Brian Caulfield (Pauline Books & Media, 2013)
Of this pile of books, this is one of the two that my husband picked. (Whether he will actually read it in the next five years remains to be seen.)
This is a collection of 14 essays by Catholic men I greatly admire, including Mike Aquilina, Cardinal Timothy Dolan, Dr. Ray Guarendi, and Patrick Madrid. These faith-filled reflections explore various topics related to being a Catholic man and father today. Some of the topics include integrating faith with marriage, parenting, and work.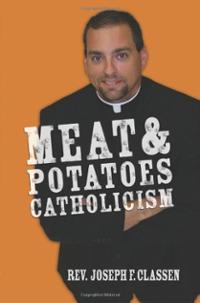 Meat & Potatoes Catholicism, by Rev. Joseph F. Classen (Our Sunday Visitor, 2008)
Fr. Joseph Classen tackles real questions with direct answers. He's a passionate, engaging young priest who shares his Catholic faith in real-life terms.
And I'm guessing he loves a good steak. :)
This book wins the "awesome title of the decade" award from me, and though I haven't yet read it, I am pretty sure it has "book for men" on every page.
Navigating the Interior Life: Spiritual Direction and the Journey to God, by Daniel Burke (Emmaus Road Publishing, 2012)
This isn't a book just for men, and it is a book that I think we should all read. (Not that I have yet, mind you. But soon. Soon!)
From the publisher:
What is spiritual direction and my spiritual direction? What are my "blind spots" and how can I uncover them? What keeps me from all the spiritual riches Christ has for me? How can I better understand where I am in my spiritual progress?

This book will give you the tools you need to understand how and why we grow and die in the spiritual life and what we can do about it.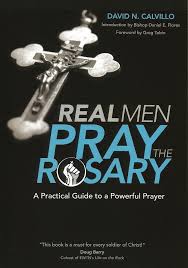 Real Men Pray the Rosary: A Practical Guide to a Powerful Prayer, by David N. Calvillo (Ave Maria Press, 2013)
Someday, I will have this t-shirt. This book is high on my "read soon" list:
The Rosary is for old ladies and funerals. Or is it? David Calvillo reveals how each week thousands of men of all ages and backgrounds join together each week in the Real Men Pray the Rosary movement and are seeing the fruit of this spiritual discipline in their lives and families. A new centerpiece of Catholic mens spirituality, this dynamic book and movement brings men together, deepening their devotion to Christ through Mary. Often surprising and always inspiring, Calvillo combines storytelling with a profound, inviting guide and convincingly shows how the Rosary is alive and well todayfor men. In a world filled with ubiquitous distractions and technology, Calvillo helps men to unplug from time to time and tap into this simple system of prayer that takes only minutes each day, but whose transformative power is beyond measure. He shares why the Hail Mary is the perfect prayer and concludes with a 33-day Rosary Challenge so readers can experience for themselves how praying several minutes each day for thirty-three days radically changes their lives.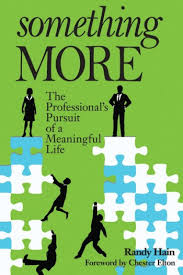 Something More: The Professional's Pursuit of a Meaningful Life, by Randy Hain (Liguori Publications, 2013)
I've actually read this book and let me tell you: yes, read it. Randy Hain (who may just be the Catholic Peter Drucker) has tapped into his immense business network. He's used his experience and a series of interviews with incredible people to articulate what it means to integrate meaning into life. It's one part entertaining and two parts useful, whether you're in an office or just a business book junkie.
Be sure to check out our Book Notes archive and stop on over to visit Jen at Conversion Diary, too, where you'll find Quick Takes of every variety.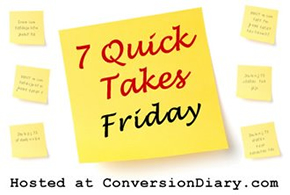 Copyright 2013, Sarah Reinhard
About the Author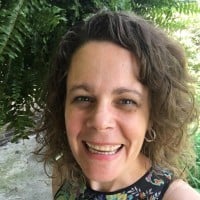 When she's not chasing kids, chugging coffee, or juggling work, Sarah Reinhard's usually trying to stay up read just one…more…chapter. She writes and works in the midst of rural farm life with little ones underfoot. She is part of the team for the award-winning Catholic Mom's Prayer Companion, as well as the author of a number of books. You can join her for a weekday take on Catholic life by subscribing to Three Shots and follow her writing at Snoring Scholar.