Editor's Note: Today we're kicking off a new feature as part of our Tech Talk: a Catholic blogger highlight. I'll be sharing these interviews on alternating Mondays with the Catholic Techie interviews I know many of you enjoy already. - Sarah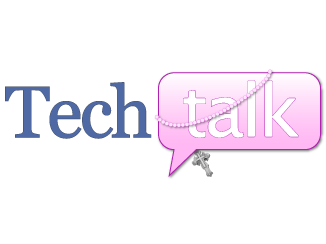 Today's Catholic blogger needs no introduction. In fact, I'm pretty sure that when the phrase "Catholic blogger" is typed, her name is the first that comes to mind.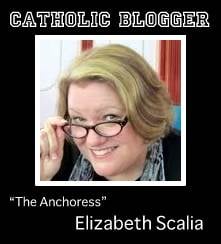 Elizabeth Scalia has been blogging since the good ole days of the Catholic blogosphere, when we didn't know her real name and had only vague suspicions that a real person was on the other side of the screen. Her witty commentary, insightful essays, and heart-wrenching wisdom have been a staple in the Catholic blogosphere and it's only gotten better: now in addition to the wonderful writing she does, she's managing the Catholic Channel at Patheos.
Like so many others, I know Elizabeth as The Anchoress, and I have to confess something: I think her best work is her newly-released book, Strange Gods: Unmasking the Idols Within (here's my review, if you need your arm twisted to convince you to buy it NOW).
That said, I can't help but love her better after this interview...so, with that, enjoy!
Tell us about your blog in five words or less.
Religion, politics, culture, baseball.
Why did you start blogging?
I discovered through internet religion and political forums that I have an opinion on everything, even when I have no idea what I'm talking about! But I also found that, in needing to back up my opinions, I had to do research and so blogging became a way to kind of force-educate myself in new ways.

I love everything I have learned about the faith, about God, about the world. Like Flannery O' Connor, I learn what I think by writing, and so blogging sort of brings information to me and then allows me to internalize it in a kind of organic whole that just works for me.
Why do you keep blogging? What's your inspiration to continue?
Well, partly what I just said -- I feel like I get a continual education and an opportunity to really think, by blogging. Also, I love the give-and-take, the back-and-forth between readers and other bloggers. Right now, for instance, I have atheists and Christians in my combox. It's good to be talking; it's a gift to be able to facilitate discussion! I've met wonderful people through the blog and friends who have taught me so much! People who have inspired me to keep learning, to dig deeper, to be open to the Holy Spirit. Thanks to them I have gained a better understand my faith -- they've evangelized me! Helped me to get to know Christ Jesus in new, deeper ways.
When you think of the New Evangelization as a Catholic blogger, what excites you? What makes you want to continue?
I think I feel more evangelized to, than like an evangelist, myself. These 8 years blogging have shown me the wideness of God's mercy, in new ways and from surprising quarters. New Evangelization is so much a collaberation between clerics, religious and the laity, from which we all learn together! And I think we become more relaxed -- not toward our duties, but relaxed in the sense that as we know our faith better, we gain more of a certainty about the notion of truth -- that truth is knowable and real because it resides within the person of Christ Jesus, and our faith is, as Pope Benedict XVI taught, "an encounter" with the person of Christ, who is Truth. That understanding helps to facilitate trust; trust helps us to relax, to find some peace, within; it's like a circle. Even better, as we grow in trust we grow in peace and gratitude and -- as Pope Francis just said recently -- all of that: trust, peace, gratitude, leads inexorably to joy. It is a joy the world alone cannot bring. This excites me.

This good news excites me and I want every day -- no matter what is going on with the world -- to spend time pondering this great mystery and encouraging others to do so. Perhaps I need this because I am naturally deviant and wayward, and very aware of my sins; I know where I have come from and don't ever want to go back to where I was. St. Benedict of Nursia teaches that we are given what we need to the extent of our need. The day-to-day blogging confrontation with elements of faith is perhaps the mechanism the Holy Spirit -- knowing my weakness -- has provided for me, to help me maintain the encounter. So yes, I intend to continue until I can't type no more!
What's the most rewarding aspect of your blogging?
Blogging brought me to the attention of Patheos, which kind of re-charged old managerial skills I hadn't really valued, and I've enjoyed acquiring material, bringing other bloggers aboard and kind of playing "den mother" to the gang at the Catholic Channel. Being able to connect with my brothers and sisters in the faith and having the chanch to meet them, from time to time...that's the special sauce.
In your spare time, what are we likely to find you doing?
Trying very, very hard to catch up with my family, first off...and also to catch up on all the reading I commit myself to...I'm really struggling with that, lately. And knitting. I am learning to love to knit, even though, like everything else, I only do a half-baked job of it!
Read more of our Tech Talk columns.
Copyright 2013 Sarah Reinhard
About the Author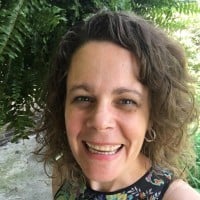 When she's not chasing kids, chugging coffee, or juggling work, Sarah Reinhard's usually trying to stay up read just one…more…chapter. She writes and works in the midst of rural farm life with little ones underfoot. She is part of the team for the award-winning Catholic Mom's Prayer Companion, as well as the author of a number of books. You can join her for a weekday take on Catholic life by subscribing to Three Shots and follow her writing at Snoring Scholar.