Frequently on "Book Notes", Sarah and I profile books by authors we greatly admire but will never really "know" in person. Such is not the case today! Although I don't think I've ever formally "met" Patti Maguire Armstrong in person, our work together here on CatholicMom.com and my admiration for her amazing writing makes her feel like an old and trusted friend. Today, I'm happy to share the first part of my two-part conversation with Patti about her writing and her two new books. Enjoy!
Q: Please briefly introduce yourself and your family to our readers.
I have 10 kids (8 boys and 2 girls) and 9 books in print—all my babies but some come with royalties and others with everlasting souls. I was the managing editor and co-author with Jeff Cavins and Matthew Pinto of the "Amazing Grace" book series, and have appeared on TV and radio stations across the country.
Q: Thank you s for being a part of our CatholicMom.com family Patti! Before we jump into discussing your two new books, tell our readers how you got started as a writer and how you've accomplished so much in your career.
When I was in second grade, I wrote books with crayon illustrations and stapled cardboard covers. I wanted to be an author. I majored in journalism and was a reporter for the school newspaper at University of Detroit. Then, I transferred to Michigan State University, switched majors and graduated in social work with a minor in psychology. After graduation I met my husband Mark in the Peace Corps in the Marshall Islands, Micronesia—just a speck on the globe.
I earned a masters in Public Administration and worked in the field for a few years, including as a program manager at a sheltered workshop and running a group home for delinquent boys (good training for future parenting.) Writing became a hobby, aka therapy. I only wrote for secular publications, including Women's World Magazine for 10 years. I even wrote a few articles for the National Enquirer before my conscience kicked in.
After a spiritual renewal and discovery of my Catholic faith, I stopped thinking religious writing was boring. Instead, I came to see that nothing was more exciting! After all, God is awesome!
Q: Congratulations on the publication of Big Hearted! Tell us about this book - how was it conceived and what will readers find here?
The publisher at Scepter Publishers had this book idea for years. He brought it up to me and I asked if Theresa Thomas, who had previously co-authored an award-winning book with me, could join me. She is a cancer survivor and mother of nine children. We work very well together and I consider her a good friend. Although we have 19 children between us, we wrote this book for families of all sizes. It's about celebrating life and love while visiting the worlds of other families. We often compare ourselves with others but these stories are a blueprint for loving our way through whatever life throws at us.
Q: With families facing so many challenges these days, how can the stories shared in Big Hearted help parents make the most of their vocations?
Support groups work because there is a camaraderie and feeling of: "We are all in this together." And we are. Some of the stories are very emotional and dramatic, for instance: not loving a new baby because of a handicap, feeling overwhelmed by an adopted child's emotional damage, overcoming alcoholism, and struggling to find a rental with a large family. Then there are light-hearted stories such as a family vacation, a mother who comes to see herself as the most successful woman in the world, and reflecting on the relationship between a teenage brother with his baby sister.
Q: Were there any stories in the book that particularly touched you?

Many of them touched me but I'd have to say a father's reflection on his daughter's out-of-wedlock pregnancy and how they dealt with it, and then another story shared by a father on the death of his disabled son were especially touching.
Q: What type of feedback are you getting for Big Hearted?
All good and very enthusiastic. People have shared with me which stories are their favorites and have told me it's like picking up aspects of parenting through osmosis. No one feels preached at. The dramatic personal stories draw people in while they see love in action.
Q: Thank you for sharing on this book Patti - we'll see you again next week with a follow up interview on another special project.
Thanks Lisa. I'm honored that you are taking the time to help spread the word.
Order Big Hearted: Inspiring Stories from Everyday Families and support CatholicMom.com with your purchase
Copyright 2013 Lisa M. Hendey
About the Author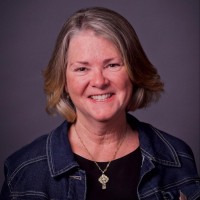 Lisa M. Hendey is the founder of CatholicMom.com, a bestselling author and an international speaker. A frequent radio and television guest, Hendey travels internationally giving workshops on faith, family, and communications. Visit Lisa at LisaHendey.com or on social media @LisaHendey for information on her speaking schedule or to invite her to visit your group, parish, school or organization. Visit Lisa's author page on Amazon.com.