Oh how I love it when my house is surrounded by a privacy fence of corn. It happens on alternating years, and this is a Corn Year.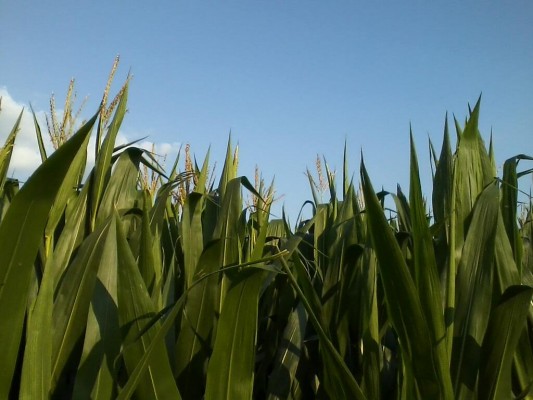 And the corn, it is tasseling!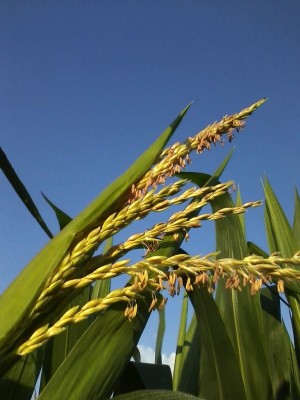 It's been a year when the corn is growing gangbusters because of all the rain and humidity we've had. As I've watched it leap out of the ground, reaching for the sky, I've been struck again by how I love this life I have.
And with that little bit of philosophy, let's dive into the piles I've read through this week...
Recent Reads
Francis: Man of Prayer, by Mario Escobar (Thomas Nelson, 2013)
My rating: 4 out of 5 stars
This was a quick read and a fairly good look at our new pontiff. I appreciated the inclusion of information about Argentine history and the Jesuits was included: this background helped me get a better feel for Pope Francis's background and what helped form his as a man, a priest, and a bishop. I felt that this book definitely helped me respect and know our pope better. As a biography, I can say that it felt like something was lacking, and I can't put my finger on just what it was.
The Mouse in the Mountain, by Norbert Davis (fiction, as read by Julie Davis at Forgotten Classics)
My rating: 5 out of 5 stars
I listened to this book as part of the loveliness that is the Forgotten Classics podcast. Julie Davis (of Happy Catholic fame) narrates and she took a book that would have been delightful anyway and made it even more so. I had half a thought of looking up Norbert Davis for myself, but she mentioned that she'll be reading another Doan and Carstairs book, so I'll probably just wait. Who knew being read to would be so much fun?
Waking Up Catholic: A Guide to Catholic Beliefs for Converts, Reverts, and Anyone Becoming Catholic, by Chad Torgerson (Assisi Media, 2013)
My rating: 4 out of 5 stars
I enjoyed reading this book, which is designed to be a starter guide for those who are interested in becoming Catholic. It was well done and I wouldn't have any hesitations in sharing it with nearly anyone who expressed interested in Catholicism.
Lumen Fidei, by Pope Francis
My rating: 5 out of 5 stars
I was pleasantly surprised by the Holy Father's first encyclical. I've read enough Pope Benedict XVI to have a sense of his voice, but this was different, and not in a bad way. I tried to read it slowly, and I plan to read it again with a group of friends in the fall. There's a lot of good in this, and I'd even go so far as to call it must-read reading for anyone who wants to grow in their faith.
The Social Media Gospel: Sharing the Good News in New Ways, by Meredith Gould (Liturgical Press, 2013)
My rating: 5 out of 5 stars
Gould has put together a practical guide that's appropriate for anyone who's involved with church communications, whether you're an expert with social media or a bit terrified of it all. She explains (without putting those of us who have been around the web to sleep), enlightens, and, best of all, encourages. Highly recommended for nearly everyone, especially if you're involved in any way with parish or church communications.
A Hero for the People: Stories of the Brazilian Backlands, by Arthur Powers (fiction, Press 53, 2013)
My rating: 5 out of 5 stars
This book was wonderful, compelling, and engaging. I could go on with the adjectives, too. It's a collection of vignettes, and they highlight the Brazilian people in an anecdotal way. I found it utterly delightful and so well-written as to make me want to purchase a hard copy (I was reading it for review for a Catholic Writers Guild project). Highly, highly, HIGHLY recommended.
Current Reads
Unwind, by Neal Shusterman (Simon & Schuster, 2009, fiction young adult)
Oh, this book is so good. And...so disturbing. I'm reading it because my 12-year-old niece read it as required reading for her 7th grade English class. (I have mixed feelings about that.)
Lord, I Hurt! The Grace of Forgiveness and the Road to Healing, by Anne Costa (Word Among Us Press, 2012)
I started this yesterday at Adoration and plan to read a chapter a day. It's not that long, and I think it's going to be a resource and a journey that I've long needed. For that matter, I think most people probably need it.
How Far Is It to Bethlehem: The Plays and Poetry of Frances Chesterton, compiled & edited by Nancy Carpentier Brown (CreateSpace, 2012, Collection)
I'm going to finish the poems this week. I AM. They're good, they're just not fast reads, not if they're done justice. And they deserve justice because...well, they're good! ;)
New to My Review Shelf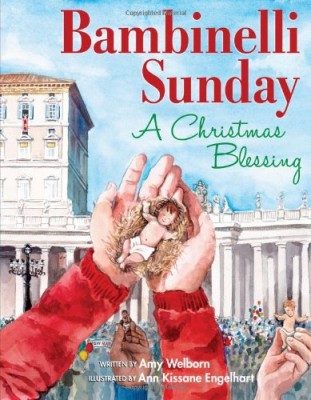 Bambinelli Sunday: A Christmas Blessing, by Amy Welborn, illustrated by Ann Kissane Engelhart (Franciscan Media, 2013)
I'm a big fan of Amy Welborn, and I've had to hide this book from my kids, who are a big fan of any books that look like they're for small people. From the publisher:
Alessandro is staying with his grandparents, who run a small shop that sells figures for the presepe (Nativity scene), while his parents look for work in another country. To help with the boy's loneliness, his grandfather encourages Alessandro to make his own figure of the baby Jesus. They will bring that figure to Rome in two weeks to have it blessed by the Holy Father on Bambinelli Sunday. Through the events that occur in the time leading up to receiving the blessing in St. Peter's Square, Alessandro comes to see his world in a new way, and receives the best surprise of all in the end.

This book for children ages 7-10 tells a wonderful story about sharing, comfort, generosity, and forgiveness through the lens of a long-standing Italian tradition. The beautiful illustrations and timeless story make this a treasure Advent and Christmas resource for generations to come.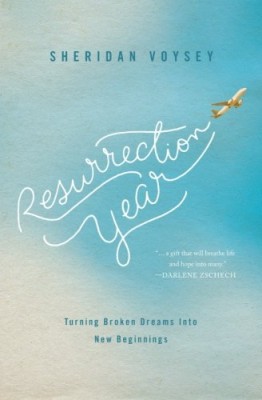 Resurrection Year: Turning Broken Dreams into New Beginnings, by Sheridan Voysey (Thomas Nelson, 2013)
I'll be reading this soon for the Patheos Book Club. Here's what the publisher says about it:
A hope-filled story about starting again after a dream has died—an emotive, poetic, and at times humorous discovery of the healing qualities of beauty, play, friendship, and love.

Expectation. Expectation. Expectation. Disappointment. After ten years of tear-soaked prayers, repeatedly dashed hopes, and multiple failed rounds of IVF, Sheridan Voysey and his wife come to a heart-breaking conclusion—their dream of having a child is over. Empty and confused from a decade of disappointment, they leave their jobs, pack their bags, and embark on a journey in search of restoration.

Voysey chronicles their return to life. From the streets of Rome to the Basilicas of Paris, from the Alps of Switzerland to their new home in Oxford, they begin the healing process while wrestling with their doubts about God's goodness. One part spiritual memoir and one part love story,Resurrection Year is an honest, heart-felt book about recovering from broken dreams and reconciling with a God who is sometimes silent but never absent.
What have YOU been reading lately?
*Are you on Goodreads? I'll see you there!
Curious about what my ratings mean? Here's an explanation of what the stars mean to me.
Be sure to check out our Book Notes archive.
Copyright 2013, Sarah Reinhard
About the Author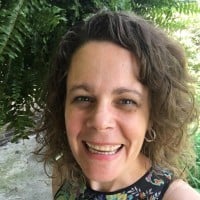 When she's not chasing kids, chugging coffee, or juggling work, Sarah Reinhard's usually trying to stay up read just one…more…chapter. She writes and works in the midst of rural farm life with little ones underfoot. She is part of the team for the award-winning Catholic Mom's Prayer Companion, as well as the author of a number of books. You can join her for a weekday take on Catholic life by subscribing to Three Shots and follow her writing at Snoring Scholar.