This is my response post to a great series over at Enter Under My Roof, celebrating Marriage, Passion, Love and Faith.
These are some of our go-to, at-home dates...at times accommodating limited funds and limited babysitting!
1. Early in our marriage, we lived with my in-laws for 9 months. It was a nice set-up...an already furnished lower wing of a side split with its own entrance and full apartment. My mother-and-father-in-law tried hard to give us our space, but being the family home and a base to siblings when they worked in Toronto or wanted to visit the parents, we looked forward to having our own place with fewer unexpected visitors. I remember trying to establish a date night back then....usually comprised of blankets and pillows on the living room floor, watching a VHS movie, with our favorite snacks and wine.
Family movie time is a pretty regular thing and usually sees at least a couple kids and Bill stretched out on blankets and pillows on the floor, but occasionally we manage to stay awake after the kids go to bed and recreate those at-home movie dates.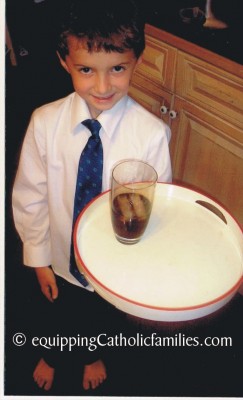 2. We have had a few anniversary dinners at home, when babysitting and available income were a little light. Our kids designed menus and even made some of the food, and served it as part of a candlelight dinner for two. The older kids have been known to entertain the younger kids...and even clean up the dishes. I like hearing about how the Tierney kids host romantic dinners for their parents over at Catholic All Year.
3. A few years ago, we built an addition...and it's our 'wing'. It's an office for Arma Dei, along with our bedroom, balcony looking over the backyard and an ensuite with a nice jacuzzi tub. We have on occasion had our own special dinner for two, beside the fireplace or sitting on the balcony.
We have discovered that enjoying White Russian drinks in the hot tub is an excellent at-home date.
We have also been known to enjoy a late lunch on the balcony, before the kids get home from school. It's like our own little private café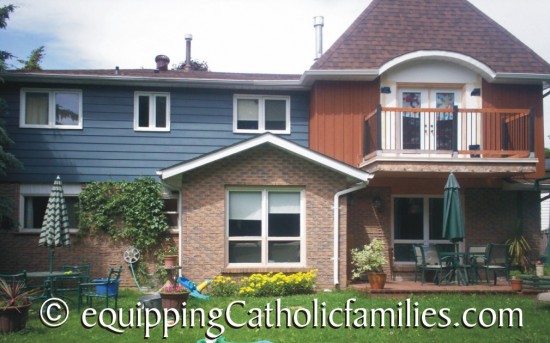 4. Coming up to our 19th anniversary later this month, I think it's time we watch our wedding video! We didn't have a fancy videographer...but we have 3 home videos that I hope to one day merge into one. I'm looking forward to showing it to the kids!
This isn't as much of a romantic date idea ...at least not viewing the video with all of our kids, but it brings back precious memories, reinforces our family values of the Sacrament of Marriage... and perpetuates the bond of a Happy-Mom-and-Dad-who-are-still-very-much-in-love.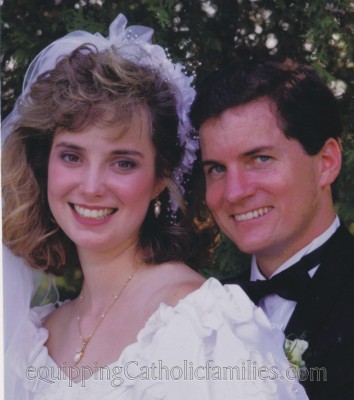 5. On occasion, we have sent our kids to the park with a picnic, requesting the kids to come back in 2 hours...for some much needed alone time during the summer when everyone is home. It's pretty cool having 3 of the 5 kids over 12 years old!
We love our family time....and we have managed to maintain large amounts of it, even as the kids get older, and feel the pull of their friends outside of the home. We do recognize the importance of quality couple time too and we agree that it's important to make the time... to enjoy those Hot Summer Nights.
Copyright 2013 Monica McConkey
About the Author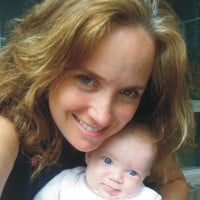 Monica, mom of 5, blogs about Catholic crafts and family traditions at EquippingCatholicfamilies.com. She is an author and creator of Super Saints quizzing cards and over 45 Saint, Sacrament, Catechism and Prayer-packed Craft Kits to help teach the Catholic Faith. The Catholic teaching tools and gifts are available through Arma Dei, the Catholic family publishing company founded with her husband Bill.