Have you made a resolution to celebrate family patron saints more consistently, learning more about our holy heroes and infusing more Catholic culture into your family time? How about making a simple Saint Day Plate to draw more attention to each family member's Patron Saint?
There are so many posts out there about decorating a plate with a sharpie, that I thought that I would give it a try...and convert it to Catholic!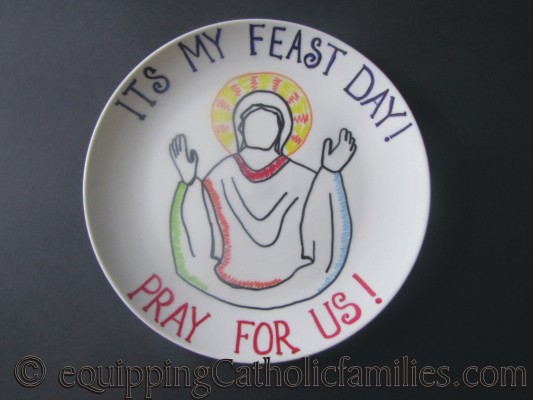 I have a little plastic plate for the kids that says "it's my special day" and it's amazing how it still appeals to the kids, even though it has definitely lost that new plate shine!
I have decided that we need to make a bigger deal about our Patron Saint Feast Days, but life happens and I don't always manage to cook up something special! I thought it could be handy to have a special Saint Day Plate for those special Feast Days.
I deliberately made my Saint illustration a little ambiguous, so that it can hopefully pass for any of our favorite saints! I created a Saint Plate Template and tried to use carbon paper to transfer the drawing. That didn't work at all! (Does anyone know how to transfer a drawing to porcelain or china?)

I then just copied the drawing freehand with pencil and the simple design wasn't too difficult to duplicate! I re-traced with markers, allowing the ink to dry to avoid smudges. Corrections can easily be made with just a wipe while the ink is wet. I understand that rubbing alcohol helps to remove the ink once it is dry, but before it is baked.
I baked the plate in a preheated oven (@ 350) for 30 minutes. I actually used Bic markers because I liked the package of colors, but I understand that sharpies work just as well. The package says that these markers conform to creative material standards (ASTM D 4236) and are non-toxic. The baking seems to set the ink, but I will watch how the design fares in the dishwasher. If I were a little more cautious, I would probably limit the artwork to surfaces that won't touch food. At a minimum, it's going to look great on the table and an exciting reminder of our special Family Feast Days!
If you have seen any of my Painted Wooden Saints posts, you'll know that I have created an army of little Saint peg people and I keep finding new ways to introduce them into our regular family activities. Check out how we use them in Checkers, Snakes & Ladders and Trouble to add a little Catholic culture to regular family fun!
I was happy to find these little dollar store plastic clips and the little wooden peg people fit right in place to join the festivities on the special Feast Day!
Copyright 2013 Monica McConkey
About the Author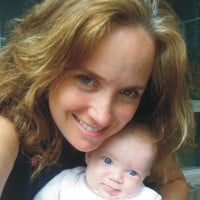 Monica, mom of 5, blogs about Catholic crafts and family traditions at EquippingCatholicfamilies.com. She is an author and creator of Super Saints quizzing cards and over 45 Saint, Sacrament, Catechism and Prayer-packed Craft Kits to help teach the Catholic Faith. The Catholic teaching tools and gifts are available through Arma Dei, the Catholic family publishing company founded with her husband Bill.