My husband woke me up tenderly, excitement in his voice even though he was trying to be gentle and soft-spoken in the very early morning before leaving for work. He whispered that I should look along the fence for the gladiolas he had planted too late in the season. We thought they'd never bloom, but hadn't quite given up hope that they would someday flower.
This morning, two beautiful blooms greeted him when he let out the dog. He was so pleased that he had to wake me to share.
I don't know what made me happier, that the flowers bloomed, or that he couldn't wait another minute to tell me. Well. Yes, I do know what made me happiest -- that something as small and insignificant as a flower would give him such immense joy that he had to share, and that it's me that he had to share it with.
I'm going to pause here to beam a little.
Some of my girlfriends might call him a hopeless romantic, but I want to nip that in the bud (pun intended). There's nothing hopeless about him. In fact, he's the one who kept checking on the mound of dirt, looking for the blooms.
I loved the symbolism of two blooms. It was the first thing that came to my mind. You see, after years of hustling and bustling in the mornings to get three kids off to school without losing our minds, we're back to just the two of us.
Mornings are a lot calmer, for sure, but everything else has slowed down. Part of it is that we, too, are slowing down, but there's more to it than that. There's something about this season in our lives that begs us to stop the racing around. The hard work of raising children is past. We're shifting into new relationships with them, less physical involvement, more listening. More praying, too.
We're closer to retirement than the risk-taking of getting careers launched.
And we find ourselves rediscovering the little joys of being a couple. Uninterrupted. Unencumbered. Unabashed.
It's kinda nice.
And it's a lovely, hopeful time, too. Especially as we reflect on the blessings in our lives, from the beautiful little flowers that peek out from weeds to remind us of the beauty in God's world, to the smiles of our grown children experiencing their first big successes, to the joy we find in our family and friends.
The virtue of hope responds to the aspiration to happiness which God has placed in the heart of every man; it takes up the hopes that inspire men's activities and purifies them so as to order them to the Kingdom of heaven; it keeps man from discouragement; it sustains him during times of abandonment; it opens up his heart in expectation of eternal beatitude. Buoyed up by hope, he is preserved from selfishness and led to the happiness that flows from charity. CCC 1818
I dutifully got up and wandered into the back yard to see the flowers. It made me happy. It made us happy. And I felt God's smile in the bright blooms.
Copyright 2013 Maria Morera Johnson
About the Author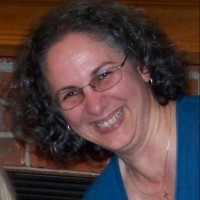 Maria Morera Johnson, author of My Badass Book of Saints, Super Girls and Halo, and Our Lady of Charity: How a Cuban Devotion to Mary Helped Me Grow in Faith and Love writes about all the things that she loves. A cradle Catholic, she struggles with living in the world but not being of it, and blogs about those successes and failures, too.