Weeks ago, actually six weeks ago now, I signed up for boot camp at a cross fit type gym. I had decided to take control of my physical self as it was out of control. At the end of five weeks I was weighed and measured and lo and behold, there is less of me. While there is less of me physically, there is more of me mentally and spiritually.
I have begun to conquer fears and become more aware of my negative thinking. One way I have done this to exert myself by putting forth effort to do things when I am convinced I will fail or in some cases, literally fall. I have fallen, but I got up and kept trying or did a modification. I am learning to do pull ups, and every time we do dead lifts I lift more than the time before. My energy level is up and the endorphin high is unbelievable.
I realize in a new and heightened way how all of me is tied together into one person. My spiritual life is better since tiredness is not an excuse and I am more alert. I am making better use of my time since I have added "gym class" (as my husband calls it) to my daily routine. I am more focused. And for one hour, Monday through Friday, I give up control and do the workout.
Giving up control is probably the biggest challenge I face in my life. I like control. I like telling people what to do and how to do it. In class now, by letting go of control I have also let go of the fear of looking bad. So what if I fail? Now, I look and think, it is not failure, it is trying. Effort counts. I often tell people that the spiritual life is about progress, not perfection. And I am reminded of this every day I go to class.
Exercising my body has given me a new hope and outlook in all that I do. I believe much more strongly in the possibilities. I have become stronger mentally, spiritually and physically.
And yes, I am still going.
Copyright 2013 Deanna Bartalini
About the Author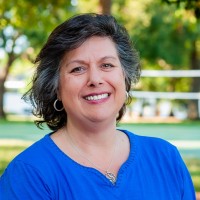 Deanna G. Bartalini, MEd, MPS, is a Catholic writer, speaker, and educator. Her Bible study, invite the Holy Spirit into Your Life, is published by Our Sunday Visitor. Her website, DeannaBartalini.com, is for the Every Day Catholic. There you can find Deanna's writing, free webinars on Catholicism, her podcast and social media services, and invite her to speak to your group, in person or virtually.