You likely don't know the name "Tom Leopold", but you definitely know his work! Tom is the comedic genius behind such classics as Seinfeld and Cheers. These days, following his conversion to Catholicism, you'll find Tom behind the microphone on Sirius XM's Catholic Channel program "Entertaining Truth" with Fr. Leo Patalinghug.
Today, we're pleased to share the following Q and A with Tom. It takes on the topic of his spiritual conversion, which was prompted by challenges within his own family. You can read about Tom's background, his daughter Gussie's challenges with a life threatening eating disorder, and his "one man show" here. And we've got an interview with Tom Leopold below too! Enjoy learning more about this special gentleman and please keep Tom, his family and all of those who entertains in your prayers. LMH
Q: Your spiritual search was spurred by your daughter's battle with a life-threatening eating disorder. Tell us about that.
A: It was Christmas Eve, my wife and I and our older daughter were staying in a Dude Ranch motel in the Arizona desert. Our youngest daughter was in a hospital nearby. The doctors only allowed us Christmas day with her. The three of us decorated our room with Christmas stuff from the only store still open in town, The Dollar Store (the Tiffany's of Wickenberg, Arizona) and we went to bed early. I took the upper bunk (my wife won the toss) and it was pretty much the saddest moment I can remember. That night I prayed for real for the first time in my life: "God help me, I just can't make it alone." The next morning, Christmas morning, my wife and I took a walk in the desert. Here we were, in a desert, not unlike the one Jesus walked, on our Lord's birthday when a man appeared out of nowhere on a motorcycle he built himself, that had deer antlers for handlebars. His name was Shepard (Jesus is the Good Shepherd). He told us "God is watching you," and that his wife brought him to Christ on his 33rd birthday (Jesus' age when he died). Well, this got my attention.
Q: What drew you to the Catholic Church?
A: After that prayer Jesus was the first to show up! I always felt like something was "written on my heart" about the Catholic Church. I truly loved Blessed Pope John Paul II, and Jesus had always had a James Dean, Bob Dylan rebel attraction for me.
Q: What did you learn about finding grace in suffering?
A: They say "suffering is the chisel the Lord uses to sculpt you into holiness." God has a whole lot more chiseling to do on me but I'm getting the idea.
Q: In what ways has your life changed since finding faith?
A: It woke me up. I see now that there is a supernatural reality and that God has a plan. I've also met some of the most wonderful people I've ever known.
Q: Did any of the troubles in the Church make you hesitant about joining?
A: I've been in show business all my life...now THAT'S trouble!
Q: Does God have a sense of humor?
A: How else would you explain the fact that a former Jewish comedy writer would end up hosting a weekly radio show with a priest named Father Leo Patalinghug ?
Q: How did your show business friends react to the news of your conversion?
A: Since most of my friends are incredibly funny, they tortured me in the most loving, brutal way. In fact it kicked my love for my friends up a few notches!
Q: What do you mean when you describe your religious upbringing as "culturally Jewish"?
A: We were (and I remain) very proud to have been Jewish. But neither my three brothers nor I were Bar Mitzvah'd and apart from my grandfather hiding the matzos under his Barcalounger on Passover we really had no religious training at all. But humor, a very honest and sorrow-relieving humor, was a huge part of our lives, as it is for most Jewish people.
Q: How did you break the news of your conversion to your mother?
A: I said "Mom, your hair looks great and I'm gonna be Catholic." Fortunately she didn't hear anything after "your hair looks great."
Q: What do you hope your audience will take away from your story?
A: Besides one of my CDs, I hope a little less pain for their own sorrows than they came in with. Plus, please God, a little stomach soreness from all the laughs!
Q: Tell us about your one man show, "A Comedy Writer Finds God: My Journey to Faith, One Laugh at a Time."
A: Well, there's a lot of laughs! And people seem to find it very touching. I'm a comedy writer after all and I can't go more than a few minutes without getting a laugh. It's how I talk, how I see the world, and how I keep on going. It's the story of my life as a sickly kid, my life in Hollywood working with some of the biggest stars,and how everything, all of it, led me to Christ.
Q: Aside from that show, you also speak about parenting children with life-threatening illness. What is your best advice to parents who are going through what your family is experiencing with your daughter's illness?
A: I'd say get all the advice and help you can find and then give yourself permission to trust your instincts. With any luck you'll come to a place where you know you've done your job and it's time to lean on "The Everlasting Arms!"
About the Author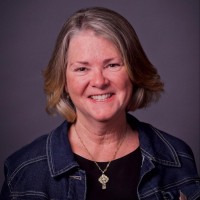 Lisa M. Hendey is the founder of CatholicMom.com, a bestselling author and an international speaker. A frequent radio and television guest, Hendey travels internationally giving workshops on faith, family, and communications. Visit Lisa at LisaHendey.com or on social media @LisaHendey for information on her speaking schedule or to invite her to visit your group, parish, school or organization. Visit Lisa's author page on Amazon.com.