When it comes to books about saints, I can never seem to have enough on my shelves. So imagine my joy when I received Sisterhood of Saints: Daily Guidance and Inspiration by Melanie Rigney! A daily devotional, Melanie's book includes many of our favorites but also introduces new saints and blessed who will be beautiful companions for your spiritual journey. I hope you'll enjoy my recent conversation with Melanie -- be sure to check out Sisterhood of Saints: Daily Guidance and Inspiration.

Q: Congratulations on the publication of Sisterhood of Saints: Daily Guidance and Inspiration! Please briefly introduce yourself and your family to our readers.
My name's Melanie Rigney, and I live in the Diocese of Arlington, Virginia, with my sister. By day, I work for the federal government. In my "spare" time, I write (regular contributor for Living Faith and a local Catholic blog, Your Daily Tripod). I am also the co-author of When They Come Home: Ways to Welcome Returning Catholics (Twenty-third Publications), book for parish leaders on how they can reflect Christ to those contemplating a return to our Church. I speak from personal experience; I left shortly before my 16th birthday and did not receive the Holy Eucharist again until Christmas Day 2005, when I was 49. I'm back, baby, and sooo grateful! Divorced and annulled after 22 years of marriage, no kids, but a spiritual mother to several. Grew up in South Dakota, spent most of my adult life in Chicago, and am now a happily adopted daughter of the Commonwealth of Virginia.
Q: Could you give us an overview of the book? What will readers discover about this book that is unique and different from other lives of the saints?
It's a page-a-day devotional with an easy-to-read format: a paragraph about something from the female saint or blessed's life, a paragraph about how that aspect of her life relates to today's busy woman; a bit of inspiration from her writings or Scripture; and finally, a challenge item. It shouldn't take more than five or ten minutes to read any page, but my prayer is that the lesson will resonate with the reader all day. I think the compact format and the combination of the number of women and the relevance to today's life make Sisterhood a bit different. Each day is a short, quick read; it's not meant to provide everything you would like to know about the women. There are a number of books listed in the bibliography, including your own wonderful A Book of Saints for Catholic Moms, that I hope women also will consult.
Q: How is the book organized?
The best-known saints and blesseds appear on their feast days. Our newer friends appear on their feast days wherever possible; obviously, there was some overlap, so in those cases most women are listed by another significant date in their lives. Some had to fill in the remaining dates, but that doesn't mean their stories are any less compelling or their lives any less important to us.
Q: How did you decide which saints and blesseds to include in the book?
I consulted two dozen books and countless Web sites, and made a list of the saints and blesseds I felt women would expect to see: The Blessed Virgin Mary, of course; Therese of Lisieux, Teresa of Avila, Maria Goretti, Teresa of Calcutta, Joan of Arc, Bernadette, and so on. Then I made a list of all the remaining women who were canonized or beatified in the past 100 years and researched their stories. Most are included; I believe there are a few whose stories were too similar to others I had already selected. Then I went back and consulted the books and Web sites, in particular the Vatican site and the Catholic Encyclopedia, to identify the remaining women. All told, I did at least preliminary research on more than 700 women.
Q: Who are some of your favorite saints? Who did you discover for the first time in writing the book?
Ah, that's like asking a mother who her favorite child is! Going in, Teresa of Avila was a favorite, and she's still a touchstone for me; I love her writings. Same goes for Julian of Norwich. Having been away from the Church for so long, it was a wonderful formation experience to immerse myself in these women. I knew about Therese, Maria Goretti, and Bernadette, of course, but their strengths speak much more to me today. Same goes for Elizabeth Anne Seton; during the writing, I was blessed to be able to touch a theca with a relic from her. She spoke to me: "Listen, and you will find your vocation." I took that literally, and listened and prayed with each one of the women. I discovered so many beautiful women; the one I keep coming back to is Blessed Agnes Phila of the Martyrs of Thailand, who was extremely in-your-face with the Thai authorities… and paid for it with her life. Our faith and Christianity as a whole are under attack in so many places and ways, including here at home. Blessed Agnes reminds me that we must always defend our faith even to the point of being prepared to die for it, for life on earth is by its nature temporal.
Q: Why is a relationship with sisterly saints particularly helpful to women?
These women ROCK—and so do each of us. They were flesh and blood human beings who had flaws and trials and joys, just like all of us. They loved God through it all, even with the occasional detour. And they knew God loved them. I think sometimes that second one is very hard for us to accept, and talking with our sisters with these exemplary lives helps. They represent virtually every journey a woman can have… mothers, businesswomen, women religious, social workers, teachers, you name it. They are us… and we are them. They help us identify with the powerfully important role women have always had in our Church… and continue to have today.
Q: What are readers saying about this book?
The comments have been humbling. In general, I've heard that people like the tight format… and are struck by how often the challenge item relates to something they're struggling with. The Holy Spirit gets the credit and the glory for that, of course. Often, they comment they didn't know we even had that many women saints and blesseds, and like meeting new friends.
Q: How can our readers learn more about you and your writing?
My writing side is at www.melanierigney.com; I'm also on Twitter, have a Facebook author page, and a Pinterest page that was so much fun and so inspirational during the writing process. Sisterhood of Saints also has a YouTube channel. The editing side of my life is at www.editorforyou.com. I'm represented by CMG Booking for speaking events, and am hoping to meet a lot of readers at the National Council of Catholic Women national conference in September in Fort Lauderdale. I'll be speaking there about the women saints and blesseds.
About the Author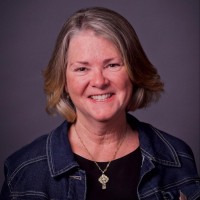 Lisa M. Hendey is the founder of CatholicMom.com, a bestselling author and an international speaker. A frequent radio and television guest, Hendey travels internationally giving workshops on faith, family, and communications. Visit Lisa at LisaHendey.com or on social media @LisaHendey for information on her speaking schedule or to invite her to visit your group, parish, school or organization. Visit Lisa's author page on Amazon.com.