I've already given my strongest endorsement to Vinny Flynn's new book, 7 Secrets of Confession. I'll repeat it here, because this is a book I can't endorse enough.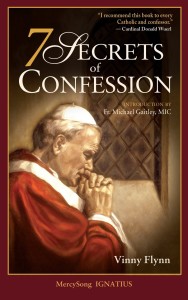 Brace yourself, and don't say you haven't been warned. In this book, Vinny Flynn will guide you to a closer relationship with Jesus and a deeper appreciation for this important sacrament. This book will definitely be on my "best of 2013" list.
The only reason my copy's not marked up to high heaven is because I read an unbound advance copy. (Not bragging. Just explaining.)
But now that I have the actual book in my house, I am already dipping back into it. There's a lot to chew on. Like this, where Flynn is talking about his examination of conscience:
My list still included behaviors, but now I also had to consider anything that seemed wrong in my relationship with God. I had to look deeper into my daily life and ask myself some hard questions.

In what areas of my life am I not at peace? Where am I angry , depressed, discouraged, anxious, bitter, resentful? Where am I too focused on myself? What areas of my life, my thoughts, my desires, have I not yet given over to Jesus as Lord? What wouldn't I want to talk to Jesus about? What would I not want Him to see? In what ways am I not responding to what God wants me to do?
I have been unsuccessfully looking for an examination of conscience that works for years. YEARS. And here, in a paragraph within an amazing book, is a series of questions that turned my approach to confession on its head.
It's not an exaggeration that this book spoke to me on many levels and definitely impacted my relationship with Jesus. Thanks to Flynn's insight and wisdom, the way he uses humor to tease out the truth, and the practicality throughout the book, I'm having a more mature confession experience.
Would I have had it anyway? Probably, but I'll bet it would have taken me another five to ten years to get there.
There's a lot--A LOT--of good and great in this book. I don't say lightly that this is the best book I've read and used for growing in my relationship with Jesus through Confession. Buy it. Read it. Share it. Buy another copy to reread. You won't be sorry you did.
And don't forget, when you use our links, you support the work we do here at CatholicMom.com and you pay nothing extra!
Be sure to check out our Book Notes archive.
Copyright 2013, Sarah Reinhard
About the Author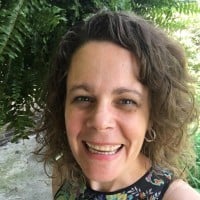 When she's not chasing kids, chugging coffee, or juggling work, Sarah Reinhard's usually trying to stay up read just one…more…chapter. She writes and works in the midst of rural farm life with little ones underfoot. She is part of the team for the award-winning Catholic Mom's Prayer Companion, as well as the author of a number of books. You can join her for a weekday take on Catholic life by subscribing to Three Shots and follow her writing at Snoring Scholar.