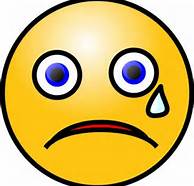 "Tommy is a crybaby. Tommy is a sissy."
Whether young boys or older men, we don't like to cry in front of anyone, if at all. But in the last fifteen or so years, I've developed a 'condition' that took a while to identify. Luckily I can now be quite tender (read: emotional or 'with tears') and I don't get overly worried about it. It's called the Gift of Tears.
As a busy deacon, I don't think I would have expected as much reaction to the topic of crying, as I've found in the two earlier reflections I've done in this space (here and here). Many people have found and responded with their observations or further discussions about this (perhaps strange) gift.
In my first article, written in July of 2009, I suggested that innocence and beauty can contribute to (my) tears. And if you know and truly believe how beautiful the Mass is, you would know why Saint Ignatius of Loyola often cried at Mass: a lot and often. Ignatius said we would do well to pray for this gift. So too Saint Patrick (ah, good Irish tears :-), St. Francis, Saint Anthony and Saint Paul. A Jesuit named Gonclaves de Camara said he considered himself deprived if he didn't weep at Mass. Our current Holy Father Francis also speaks of this gift, and we'll come to that momentarily.
In that first article, I also suggested a reaction to sin in our lives can be causative for tears. That's called 'compunction.' When someone feels great emotional distaste, and a measure of concern for the sins committed, he can worry about what was done even though it is already confessed.
In The Imitation of Christ on the topic of Compunction of Heart, there are these words:
"If you wish to make any progress, keep yourself in the fear of God... give yourself to compunction of heart and you will find devotion."
Even if the sin has been confessed, do you have deep compunction of heart, and perhaps weep over what you have been or done? This is a gift from God and worth the 'bath of cleansing tears.'
I wonder if you know that even children...holy and beautiful and mostly innocent children...may experience this gift? If you know of someone like this, please do not discourage or suggest stopping the tears. Innocent children are closest to the throne of grace and mercy. As I mentioned in the second article, Theresa of Avila had this childhood gift long before she became the revered mystic.
There is a Ph.D. priest mentioned in that second article who says that the Gift of Tears is like God bathing us, washing us from the sins we've committed. I like that because the affirmation I get during and at the end of a 'session' always reinforces in me that this is a holy gift. It is from the Lord.
And that leads to a closing point I have written about. I believe the proximity to holiness—proximity to God's grace even working in others—is a cause for this to happen in my life. I wrote about being in the presence of Blessed John Paul II before he died. I couldn't help myself—I just had tears of holy joy rolling down my cheeks.
All of this can be summarized as a strong experience of God, found in various facets of our faith walk. Whenever it happens, I sense God's great love and presence in my soul.
Now in regard to proximity, I haven't been physically close to Pope Francis yet. But I did experience tears when I saw him come out on the balcony just after his election. I cried more when he asked for prayers from the world. And now I hear that the Holy Father is asking, perhaps almost begging, for us to weep.
Speaking at a Mass for the Feast of the Exaltation of the Holy Cross, the Pope said,
"Mary will make us understand how great and humble this mystery [of the cross] is; how sweet as honey and how bitter as aloe. That she will be the one who accompanies us on this journey, which no one can take if not ourselves. Each one of us must take it. With the mother, weeping and on our knees."
Francis has also said if we let ourselves cry, we can then recognize "the cry of the penitent, the cry of the brother and the sister who are looking upon so much human misery."
Our world seems to have become so hard, so harsh. Would you be willing to join me in praying for more tenderness? If you ask for and receive this gift, I believe your faith will grow and grow. And it is in that growth that you will not feel silly about the tears. In fact, it will connect you with a beauty that has been inside you all along.
Copyright 2013 Deacon Tom Fox
About the Author

Deacon Tom Fox and his wife Dee are co-hosts of the CATHOLIC VITAMINS Podcast for over 6 1/2 years. Tom has also been a member of the Catholic Mom columnists team for eight years, and was a regular contributor to the Catholic Moments Podcast for three years. Most recently, Deacon Tom has been leading a project to bring Catholic radio to the north central Arizona community where he and Dee reside. Blessings!