So I was searching for "turkey and glasses" on Google Images, and I found this: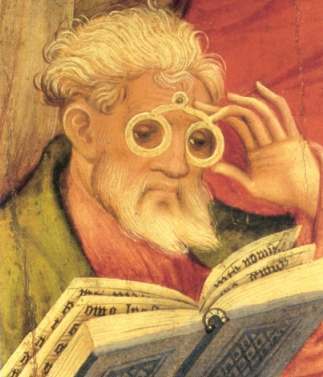 There's nothing like the idea of a belly full of turkey for me to relate with this handsome gentleman. It turns out that this image is "The 'Glasses Apostle' by Conrad von Soest, painted in 1403.
At about this time every year, I start to think about the week between Christmas and New Year. For the last couple of years, I've taken it off, as in "completely offline." I don't know if I'll do that this year, but I always get a LOT of reading done that week when (and if) I do. So there's that. :)
That time in the middle? That begins with an A? Well. I'm in denial this year. The irony is that I've already given one talk and have two more to give, all talking about discovering the joy in Advent. I am not going to accomplish some of my own advice (namely the "shop before Advent starts" advice), but I'm very much listening to the Holy Spirit's "Keep it simple" whisper in my ear.
And with that, let's talk books!
Recent Reads

These Beautiful Bones: An Everyday Theology of the Body, by Emily Stimpson (Emmaus Road Publishing 2013)
My rating: 5 out of 5 stars
Brace yourself, because I didn't just love this book. I am not about to just expound about one of my favorite author's genius lightly. No, when I call this book a modern masterpiece, I'm not exaggerating. I'm probably understating by a factor of 100.
If you've spent the last ten years watching "theology of the body" become a catchphrase and still not understanding it...
If the phrase "theology of the body" has you (a) rolling your eyes, (b) running in fear, or (c) puking in the toilet...
If you don't even know just what in the world that phrase "theology of the body" means (and don't really want to)...
This is the book for you.
If you love good writing, appreciate practical wisdom, and desire to grow closer to God, this is the book for you.
Stimpson has managed to make theology of the body something everyday, and by doing that, she's made it accessible for even the most mundane and ordinary among us. She has taken the dust of our lives and the reality of our experience and woven a book that applies theology of the body to such as that.
In short, it is a brilliant book. Don't believe me? Get a copy and prove me wrong. :)
Current Reads

When Faith Feels Fragile: Help for the Wary, Weary, and Wandering, by R. Scott Hurd
This book is pure gem. It seems like light reading, but I think it's really more like my Grandma's bits of wisdom. They make you chuckle at first, but they stick with you and come back when you need them. I've marked this book up so much that not only can I not lend it out but it's already become an old friend. And if I ever get to meet Fr. Hurd, I shall hug him for having written it.

Totus Tuus: A Consecration to Jesus through Mary with Blessed John Paul II, by Fr. Brian McMaster (Our Sunday Visitor, 2013)
I am loving this. It is JUST what I needed right now. And the fact that the Feast of the Immaculate Conception isn't a holy day of obligation gives me a way to still observe it in a special way (don't lecture me about how I could anyway: know me for the lazy bum I am), arguably the most special way.

Ora et Labora et Zombies, by Ryan Charles Trussell (fiction, in letters!)
This has been a brilliant ride. It ends soon, though I'm in denial (and hoping Trussell has something new up his sleeve). Also, this. Even in the midst of total fiction fun, Mary pops in. No joke.
Up Next

Ceremony of Innocence: A Novel, by Dorothy Cummings McLean (Ignatius Press, 2013)
Why yes, I am reading this lovely new novel next. Forget preparing for Advent, shopping, or any of the rest. I want to REEEEAAAAD during the holiday break. (We'll see how THAT goes.)
Here's a preview of what it's about (besides the rather awesome cover):
Riots. Terrorist attacks. Neo-Nazi violence.

In modern-day Germany, journalist Catriona McClelland has seen it all while covering the contemporary European scene for a Catholic news organization. Keeping herself above the political fray in her professional life, she has also managed to keep herself from personal entanglements-still hurt from the wounds of a broken relationship. Things come to a head when her boyfriend Dennis, frustrated with a lack of commitment, leaves her for Suzy Davis, an idealistic young Canadian who is involved with a left-wing protest movement. But when Suzy is murdered... who is complicit and who is innocent?

Ripped from the headlines, Ceremony of Innocence is a very contemporary novel of Europe on the edge of social breakdown. Train stations are bombed and migrants targeted for violence as journalists and other tastemakers watch from their positions of privilege.

Dorothy Cummings McLean's realistic narrative does not describe the feats of heroes. Rather, it unnervingly lays bare the way religious faith and moral reasoning can be easily manipulated and compromised.
What have YOU been reading lately?
*Are you on Goodreads? I'll see you there!
Curious about what my ratings mean? Here's an explanation of what the stars mean to me.
Be sure to check out our Book Notes archive.
Copyright 2013, Sarah Reinhard
Image: The 'Glasses Apostle' by Conrad von Soest (1403)
About the Author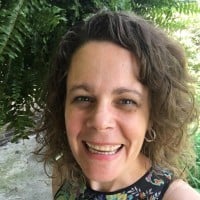 When she's not chasing kids, chugging coffee, or juggling work, Sarah Reinhard's usually trying to stay up read just one…more…chapter. She writes and works in the midst of rural farm life with little ones underfoot. She is part of the team for the award-winning Catholic Mom's Prayer Companion, as well as the author of a number of books. You can join her for a weekday take on Catholic life by subscribing to Three Shots and follow her writing at Snoring Scholar.