So, as it turns out, I have finished some books! Can I hear some cheering?
Recent Reads
Called to Love: Finding Your Path as a Gay Christian, by Eve Tushnet (advance copy, Ave Maria Press, expected publication 2014)
My rating: 5 out of 5 stars
This is, hands down, some of the best writing I've read. It's also a raw and honest look at some issues I think that, too often, we hide from. I consider this required reading for pretty much everyone I know. Be warned: it's not easy. It will challenge you and it will probably be uncomfortable. But the conversations we need to have need this sort of shared background.

Three Gifts of Thérèse of Lisieux: A Saint for Our Times, by Patrick Ahern (Image Books, 2014)
My rating: 5 out of 5 stars
I started out trying to read this book like a normal book, and I kept not being able to find the time to read. Then, in what must have been a Holy Spirit-inspired move, I started reading a bit in the mornings after my scripture reading time.
This book was a great complement to the scriptures and a look at Therese's life in a way that was neither too sentimental nor too factual. Ahern's love for Therese comes through and, as a reader, you can't help but appreciate how the Little Flower really became a part of his love of Jesus.
I caught myself highlighting and underlining and I know this is a book I'll come back to. It made me want to reread Story of a Soul (and maybe I will...someday...).
All in all, a great book, and one you should make time to read. It will lead you closer to Christ and help you love St. Therese more or maybe learn to like her a little, if you're not such a fan of hers.
Current Reads
Journey to Heaven: A Road Map for Catholic Men, by Randy Hain (advance copy, Emmaus Road Publishing, expected publication 2014)
When Randy asked me to read his upcoming book, I couldn't say no. And from what I've read so far (I started it yesterday and am almost finished with the first chapter), it's a good read. The foreword is by Patrick Madrid and was quite a read in itself.

The Voyage to Alpha Centauri, by Michael O'Brien (fiction, Ignatius Press, 2013)
I squeezed in some of this novel over the weekend, and only reluctantly put it down (again) to do some other reading. I WILL finish it this year, oh yes, I will. It's quite good, and, in the usual O'Brien way, disturbingly prophetic. I can already recommend it. By the time I review it properly, his next novel may well be out, but oh well. :)
Up Next

The Girl of Fire and Thorns, by Rae Carson (YA fiction, Greenwillow Books, 2012)
My fiction book club has this selected, and given the slooooow rate at which I'm reading, I know I need to start it soon (specifically, this week). The person who recommended it is someone I trust completely, so I'm prepared to enjoy this.
From the Amazon blurb:
Once a century, one person is chosen for greatness.

Elisa has always felt powerless, useless. Now, on her sixteenth birthday, she has become the secret wife of a handsome and worldly king—a king who needs her to be the chosen one, not a failure of a princess. And he's not the only one who seeks her. Savage enemies, seething with dark magic, are hunting her. A daring, determined revolutionary thinks she could save his people. And he looks at her in a way no man has ever looked at her before. Elisa could be everything to those who need her most. If the prophecy is fulfilled. If she finds the power deep within herself. If she doesn't die young.

Most of the chosen do.
What have YOU been reading lately?
*Are you on Goodreads? I'll see you there!
Curious about what my ratings mean? Here's an explanation of what the stars mean to me.
Be sure to check out our Book Notes archive.
Copyright 2014, Sarah Reinhard
About the Author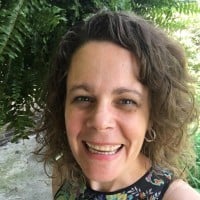 When she's not chasing kids, chugging coffee, or juggling work, Sarah Reinhard's usually trying to stay up read just one…more…chapter. She writes and works in the midst of rural farm life with little ones underfoot. She is part of the team for the award-winning Catholic Mom's Prayer Companion, as well as the author of a number of books. You can join her for a weekday take on Catholic life by subscribing to Three Shots and follow her writing at Snoring Scholar.