It's easy to see why When Calls the Heart made the No. 1 movie of the week on the Hallmark Channel. The film is directed by Michael Landon, Jr. (son of the late television legend, Michael Landon) and is based on the best-selling books by Janette Oke.
It tells the story of a young high society teacher, Elizabeth Thatcher (Poppy Drayton), receiving her first classroom post in a prairie town in the Western Frontier. She's determined to prove to her family that she is brave enough to live on her own, and she struggles with her own fears and doubts until she discovers her late Aunt Elizabeth's diary.
In the diary, Elizabeth discovers that her aunt (Maggie Grace) had set off on a similar adventure as a teacher into the frontier, where she struggled with prairie life and eventually met and fell in love with a Royal Canadian Mountie (Stephen Amell). Her aunt's diary entries encourage Elizabeth to put her future in God's hands and embark on her own adventure, using the diary as her guide and accompanied by Edward (Daniel Sharman), another Mountie sworn to protect her on her journey.
This is truly a family-friendly movie, although very young children may not find it as interesting as their older siblings and parents. The topics of fear and romance are handled with both taste and wholesomeness, which is a gratifying and refreshing respite from mainstream movies that play on our fears and degrade the Godly relationship between man and woman.
For the most part, the acting was adept, and the characters both believable and enchanting. Only occasionally did the acting seem strained and ungenuine. This was most noticeable in the relationship between Elizabeth Thatcher and her sister. Still, this in no way interfered with the ability of the characters to connect with their audience.
The plot was a marvelous string of twists and turns, most of which were intriguing and believable. There was some level of predictability, but it was prudently used in order to draw the viewer in and give them a sense of being "in the know" about circumstances of which the characters themselves were not yet aware. The plot moved well and kept the viewer's interest.
Overall, When Calls the Heart is well-done and well-intentioned. Not only does it entertain, but also it teaches the vital lesson that we must place our lives entirely in God's hands, facing our fears with his grace and allowing him to guide us each step along the way. It also teaches an ancillary and beautiful lesson about chaste courtship, seldom seen in today's media. This is an excellent quality movie that families not only will enjoy, but also will find useful as a springboard for discussion.
When Calls the Heart was released to video November 19. It runs 89 minutes and is available for $19.99 from Word Entertainment, a Warner/Curb company.
Copyright 2013 Marge Fenelon
About the Author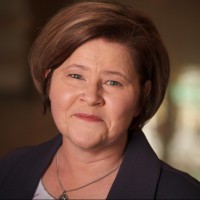 Marge Steinhage Fenelon is a wife, mother, award-winning author and journalist, retreat leader, internationally-know speaker, podcaster, and Catholic media personality. She's author of the best-selling Our Lady, Undoer of Knots: A Living Novena, award-winning My Queen, My Mother: A Marian Pilgrimage Across America, Forgiving Mother: A Marian Novena of Healing and Peace and other books on Marian devotion and Catholic spirituality. Learn more at MargeFenelon.com.