This week, we have books from one of our very own contributors, Nancy Carabio Belanger. As it turns out, she's celebrating the release of her newest novel, The Gate.
This week's giveaway: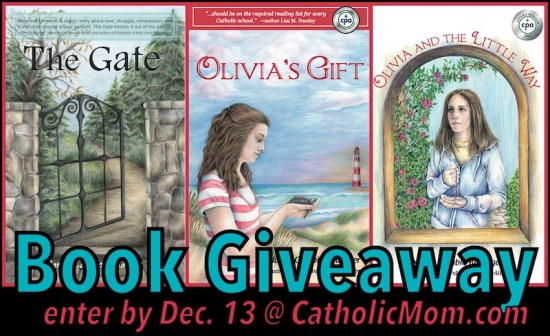 The Gate

By Nancy Carabio Belanger (Harvey House Publishing, 2013)
About the book:
For smart-aleck Josh, being a Christian in the eighth grade is completely irrelevant, especially with the temptations that middle school can bring. For him, life is all about playing video games, getting money, and causing trouble. He doesn't need anybody and he makes his own rules. When his teacher assigns a pen-pal project, Josh meets Pie, a spunky senior citizen with a love of his Catholic faith, Saint John Bosco, and the New York Yankees. But much to Josh's surprise, Pie creates his own project for Josh, and Josh realizes that God has a plan—even for him.

In this inspiring novel that radiates the dignity of the priesthood and the discovery of God's calling for each of us, Josh is shocked to find himself fighting hard on a spiritual battlefield, but often for the wrong side. As the friendship with his new mentor deepens, Josh learns that God has more in store for him than he could have ever imagined.

By Nancy Carabio Belanger (Harvey House Publishing, 2008)
About the book:
Fifth grader Olivia Thomas has moved to a new school in a new state, and is eager to make friends! Her best friend quickly becomes someone she has never seen: St. Therese of Lisieux. Follow Olivia's trials as she tries to fit in at St. Michael's School. With the help of her grandmother, she learns about the Little Way of serving God and how it can change everything! 2009 Catholic Press Association award winner, children's books.
By Nancy Carabio Belanger (Harvey House Publishing, 2010)
About the book:
2011 Award winner, Catholic Press Association. 2011 Royal Dragonfly Book Award winner, children's chapter books. In Olivia and the Little Way, Olivia Thomas was the new girl in school when she felt St. Therese of Lisieux enter her life. Now her relationship with the Little Flower has blossomed into a beautiful friendship as she prepares to follow the Little Way into 7th grade.

School is out for the year and it's time for a fun beach adventure. However, Olivia discovers that sometimes it can be difficult to be a good Catholic when you're in middle school -- she discovers that she needs God and St. Therese more than ever.

In this beautiful novel that celebrates modesty and the precious gift of life, Olivia learns that it takes blind faith every day -- and that God is never far away, even on vacation.

This captivating story is accompanied with beautiful illustrations by returning artist Sandra Casali LewAllen.
Be sure to check out our Book Notes archive.
About the Author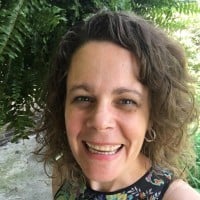 When she's not chasing kids, chugging coffee, or juggling work, Sarah Reinhard's usually trying to stay up read just one…more…chapter. She writes and works in the midst of rural farm life with little ones underfoot. She is part of the team for the award-winning Catholic Mom's Prayer Companion, as well as the author of a number of books. You can join her for a weekday take on Catholic life by subscribing to Three Shots and follow her writing at Snoring Scholar.