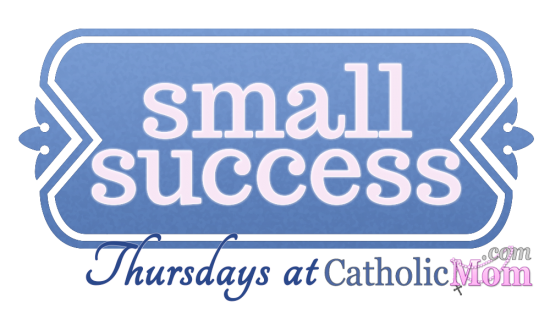 From last Friday to now, life has been…full. Without going into details, I noticed the need for the hope of the pink candle. The darkness of everyday life, bills you didn't expect, grades you didn't expect, scheduled events you forgot to expect, and repairs that need dealing with that haven't yet happened—all of this (and more) threatened to choke off the joy of this blessed waiting season.
Advent isn't a time of perfection. It is a time of progress, of walking to the stable, of clearing out the sin and clutter that mars the beauty of the family and the soul, of trying to make the world beautiful and welcoming, warm and light, echoing the angels in their songs and tributes with our own efforts and prayers and disposition.
My disposition this week started with the best of intentions. I went to confession. Two of my children ran in the Baltimore Celtic Solstice 5-mile run with their aunt and uncle and one of their cousins, while I watched the remaining siblings and brought a few of my own for a family visit.
It was a quiet sort of visit, the kind of unstructured unfolding of the morning I didn't expect to experience with my nieces. We watched a movie and played a game, we made and ate lunch. It was lovely bit of ordinary time, unrushed and unstructured. My son and daughter had a great time at the run and hope to sign up for
another one soon.
But the driving took its toll on me, slowing down the rest of the weekend. Come Monday, I hadn't paid the bills, we hadn't shopped for groceries, the laundry remained unfolded, and I feared the state of the basement. Add to that extra trips to the school and kids needing to study for exams and not one but three lost shoes all for the same child (meaning she had no shoes other than ones that were too big for her), and Monday night I crashed hard.
It (the crash) was over a stupid little thing, but I stressed. I crumpled. I cried. In that dark moment, everything felt spent, exhausted, unfinished, and unlikely to get finished.
I'd been doing so well and, in an instant, all of that deliberate desire to try and really savor Advent felt like I'd slothed my way into disaster. This is the temptation, to fall into the trap of trying to DO the season (rather like meriting Heaven), as opposed to letting one's self experience Advent.
I call her the Ghost of Christmas Imperative. "GET EVERYTHING and GET IT NOW or IT WON'T HAPPEN!" she screeches. I'm learning to plug my ears and say, "Nyah Nyah Nyah! Can't hear you!" or, alternatively, crank up the Christmas Carols.
It is progress, albeit slow, from the hills with the sheep to the stable. But the rewards are that you get sung to by angels and you meet the Holy Family. AND you see Jesus, face to face. We just have to hold onto the hope of getting there.
I need that pink candle.
My Small Successes this week include:
1. Making it to see my six year old sing in her Christmas play. She was in the angel chorus, but when she saw me come in with Paul and Anna to watch, you would have thought from her smile that she was the star.
2. Going out on Saturday night with my husband to a Christmas party. It was a fun splurge to be able to hang out with adults for an evening.
3. Getting my laptop back from the store. It still needs some tinkering, but it's been gone for a month so just being able to now access my materials is a great blessing. (Yes, this was the little thing that made me lose it).
(P.S. We will be doing Small Success Boxing Day (the day after Christmas).)
[inlinkz_linkup id=352782]
Copyright 2013 Sherry Antonetti
About the Author

Sherry Antonetti is a mother of ten children, published author of The Book of Helen and a freelance writer of humor and family life columns. You can read additional pieces from her blog, http://sherryantonettiwrites.blogspot.com.