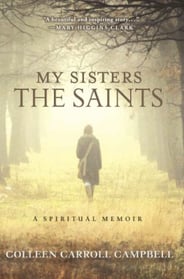 Of all her gifts, Mary's contemplative approach to life—her habit of prayerfully pondering life's joys and sorrows in her heart—surprised and challenged me the most. Like most women raised in the wake of the modern feminist movement, I grew up equating feminine strength with outspokenness and action. I knew that godly women often are called to stand up and speak out. Mary reminded me of another truth: that a woman's greatest strength comes from silent communion with God, and sometimes the most radical thing she can do is not rant and rave but watch and pray.

Colleen Carroll Campbell in her book, My Sisters the Saints
I go through spurts with resolutions, and January 1 has always been meaningful to me. But it wasn't until I became Catholic, with a devotion to Mary I couldn't really understand (much less explain), that it became really significant.
And then, in 2005, after an Advent of journeying with Mary to Christmas during my first pregnancy, January 1 became something entirely different.
It became the day I held my first child.
Though I have a philosophical streak and I am a bit of a thinker, Mary as a model of pondering and prayerful reflection has always been a bit of a challenge. I continue to earn my Mom Badges and learn just what motherhood is all about, stumbling and grumbling. The more I turn to Mary, the more I realize that watching and praying is a wiser approach, a more mature approach, a closer-to-Jesus approach. But that doesn't make it any easier.
Though Colleen Carroll Campbell only spends a chapter on Mary in her book My Sisters the Saints, it's a chapter that resonated with me. (Every chapter resonated with me, it's true.) It's the last chapter, and it holds surprises that the reader can't be sure of (don't worry: I'm spoiler-free here!). But as she did throughout the book, Campbell taps into more than just the facts. She gets to the heart.
Which is a very Marian thing to do:
Just then, my eyes landed on a statue of Mary near the altar. As arresting as the royal blue of her robes was the message I heard interiorly: This is your mother; this is the perfect mother you long to have and to be. I realized that Mary was as real a mother to me as the one who bore me in her womb, and that she loved me with the same fierce, fathomless love that any good mother feels for her child—a love all the more powerful because it stems from her uniquely pure maternal heart.

I looked over to Mom, her eyes closed in prayer before the same altar and same statue, and realized: Mary is her mother, too. Mary's motherhood is universal. It encompasses everyone yet seeks to possess no one. Rather than driving a wedge between earthly mothers and their children or making ordinary mothers feel inadequate, Mary's maternal love allows us to respond with gentleness to our own failings and those of our loved ones, because we know that our heavenly mother can help fill in the gaps of our imperfect human relationships. She even can help fill in the gaps of our relationship with her son, by interceding for us to receive the grace to follow him more closely in every part of life, including family life.
As I celebrate today with cake and pork, as I look at the amazingly nine-year-old person who came from inside me and has inspired me to know Mary better and more deeply than anyone else, I'll be watching and praying. I'll be pondering. And I'll be turning to Mary.

Interested in My Sisters the Saints? It's a great book, and my full-length review is here. Purchase My Sisters the Saints and support CatholicMom.com with your purchase.
Be sure to check out our Book Notes archive.
Copyright 2014, Sarah Reinhard
About the Author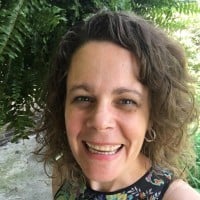 When she's not chasing kids, chugging coffee, or juggling work, Sarah Reinhard's usually trying to stay up read just one…more…chapter. She writes and works in the midst of rural farm life with little ones underfoot. She is part of the team for the award-winning Catholic Mom's Prayer Companion, as well as the author of a number of books. You can join her for a weekday take on Catholic life by subscribing to Three Shots and follow her writing at Snoring Scholar.