Editor's Note: We're continuing our journey through the rosary with Jesus as our guide.
As we continue on our journey to the New Year through the Rosary we look at the third Joyful Mystery, The Birth of Jesus.
"She gave birth to her firstborn Son and wrapped Him in swaddling clothes and laid Him in a manger, because there was no room for them in the place where travelers lodged." (Luke 2:7)
The Fruit of the Mystery is Poverty.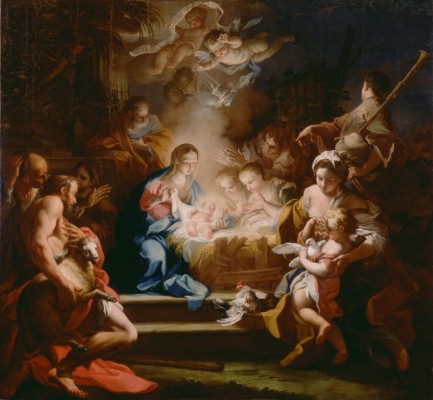 Over the years I have spent a great deal of time pondering the fruit of this mystery. These thoughts have taken me in several directions.
The one I want to share with you helps guide us through the New Year through the Rosary. My initial thoughts lead me to the fact that the greatest being born man was born in a simple, humble manner. What is beautiful about Jesus being born in such a humble place is that no one was expecting this.
Often our plans don't go as planned, but Jesus' birth reminds me that being flexible is essential as is trusting in God. Jesus' birth teaches me that things may not go as we plan, but they certainly go as God plans.
Today, we move forward with the comfort that God have great plans for each of us. Let us move on with the faith that Mary and Joseph had on the day of Christ's birth…faith in God's plans.
Read all the reflections in the "Jesus' Guide to the New Year through the Rosary" series.
Copyright 2014 Lorrie Lane Dyer
The Adoration of the Shepherds
Sebastiano Conca (Italian (Neapolitan), 1680 - 1764)
The Adoration of the Shepherds, 1720, Oil on canvas
Unframed: 243.8 x 264.2 cm (96 x 104 in.)
The J. Paul Getty Museum, Los Angeles
About the Author

Lorrie Lane Dyer is a facilitator for the Virtual Learning Community for Faith Formation with the University of Dayton as well as religious education and parish coordinator. She is working on her Masters of Leadership Development, with a focus in Military Chapel programs at St. Mary of the Woods College. Her faith provides her with inspiration for many of her poetry collections, columns and short stories.