Editor's Note: We're continuing our journey through the rosary with Jesus as our guide.
Today we are rounding out our first series in Jesus' Guide to the New Year through the Rosary. I hope this journey has been as beneficial to each of you as it has been to me on your journey towards a deeper relationship with Christ.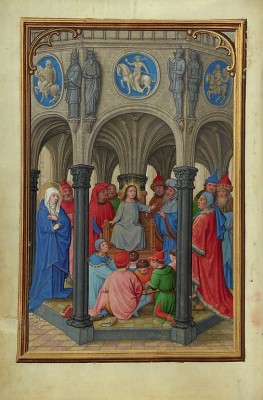 The fifth Joyful Mystery is the Finding the Child Jesus in the Temple. "On the third day they came upon Him in the temple sitting in the midst of the teachers, listening to them and asking them questions." (Luke 2:46)
This mystery produces the Fruit of the Mystery that is vital as we go through the New Year. The Fruit of the Mystery is the Joy in Finding Jesus.
In this Joyful Mystery we find Mary and Joseph searching for Jesus. Often we find ourselves searching for something. Filling our lives with "things" never replaces the joy that we find in Christ. We too can experience the same joy that Mary and Joseph did when they found Jesus. When we turn to Jesus in our search for happiness and peace we find joy. Our final Joyful Mystery serves as a beautiful guide towards Christ in the New Year.
Our next series in Jesus' Guide to Life through the Rosary is the Sorrowful Mysteries. Can't wait to continue this journey with each of you.
Read all the reflections in the "Jesus' Guide to the New Year through the Rosary" series.
Copyright 2014 Lorrie Lane Dyer
Simon Bening, illuminator (Flemish, about 1483 - 1561)
The Dispute in the Temple, about 1525 - 1530, Tempera colors, gold paint, and gold leaf on parchment
Leaf: 16.8 x 11.4 cm (6 5/8 x 4 1/2 in.)
The J. Paul Getty Museum, Los Angeles, Ms. Ludwig IX 19, fol. 53v
About the Author

Lorrie Lane Dyer is a facilitator for the Virtual Learning Community for Faith Formation with the University of Dayton as well as religious education and parish coordinator. She is working on her Masters of Leadership Development, with a focus in Military Chapel programs at St. Mary of the Woods College. Her faith provides her with inspiration for many of her poetry collections, columns and short stories.