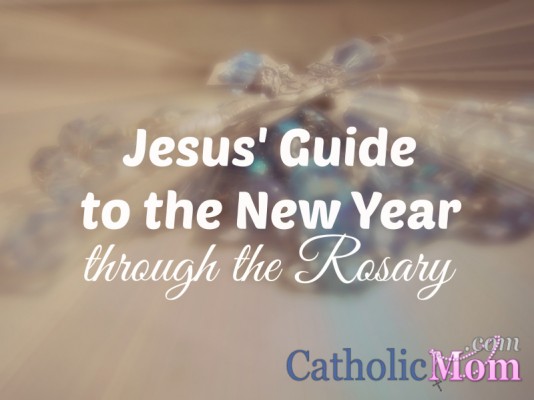 Editor's Note: We're continuing our journey through the rosary with Jesus as our guide.
The other day I was thinking about the Luminous Mysteries and this series. Initially, I thought…darn it I should have started off the year with the Luminous Mysteries! Yet, after a couple of days with this on my mind it occurred to me that ending this series with the Luminous Mysteries is most appropriate.
My hope is that your journey through this series has enlightened you and lead you to where we are today with a renewed love of our faith and the benefits the Rosary offers us in ever situation. The Luminous Mysteries give us an insight to Jesus' ministry. When I study the Luminous Mysteries I feel as if I am standing nearby, witnessing firsthand Jesus in action. The feelings that stir within my heart call me to go share Jesus' ministry. They give me a glimpse of how the disciples must have felt. Such joy, I can only imagine and such a responsibility. We are all called to this responsibility, the responsibility of sharing our love and knowledge of Christ with others.
As we take our final journey in this series, this is the perfect time for us to take a few moments to ask ourselves how we are responding to this shared responsibility. We can ask ourselves if we are sharing the responsibility fairly. Are we carrying out Jesus' ministry in our every day lives?
Now let's take a closer look at Jesus' Guide to the New Year through the Rosary: Luminous Mysteries.
The first Luminous Mystery takes us to the Jordon. Here John the Baptist baptizes Jesus. I can imagine John was very hesitant to do so. He understood that Jesus was God's son and he was not worthy to baptize Jesus. However, Jesus knew he must show us the way and the way required him to be baptized by John.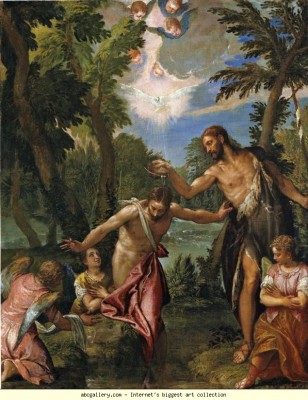 Jesus illustrated to us the need to be open to the Holy Spirit. He was…
"And when Jesus was baptized, … the heavens were opened and He saw the Spirit of God descending like a dove, and alighting on Him, and lo, a voice from heaven, saying 'this is My beloved Son,' with whom I am well pleased.'" (Matthew 3:16-17)
Jesus shares with us the path to salvation. Through our baptisms we are open to the Holy Spirit. As many of us know, sometimes through our actions and thoughts we put up barriers to the Holy Spirit and we close the door. What we must remember is that the door is not cemented shut. We can open that door again and live out our baptism promises.
Today, let us take the Fruit of the Mystery of Openness to the Holy Spirit to heart. If the door has been closed all the way, or just partially, let us unit in our efforts to open the door once again and welcome the Holy Spirit in our lives to guide us closer to God.
How can we be open to the Holy Spirit?
Read all the reflections in the "Jesus' Guide to the New Year through the Rosary" series.
Copyright 2014 Lorrie Lane Dyer
Paolo Veronese (Paolo Caliari) and workshop (Italian, 1528-1588)
The Baptism of Christ, about 1580-1599, Oil on canvas
Unframed: 104.5 x 83.2 cm (41 1/8 x 32 3/4 in.)
Framed: 132.4 x 112.1 x 6.4 cm (52 1/8 x 44 1/8 x 2 1/2 in.)
The J. Paul Getty Museum, Los Angeles
Digital image courtesy of the Getty's Open Content Program
About the Author

Lorrie Lane Dyer is a facilitator for the Virtual Learning Community for Faith Formation with the University of Dayton as well as religious education and parish coordinator. She is working on her Masters of Leadership Development, with a focus in Military Chapel programs at St. Mary of the Woods College. Her faith provides her with inspiration for many of her poetry collections, columns and short stories.