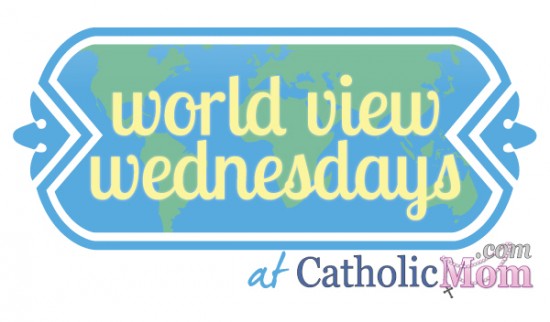 Editor's note: Today, we are happy to welcome Marianna Bartholomew to our family of contributors. Marianna is an award-winning journalist who contributes "Missionary Moments" to the Catholic Vitamins podcast, and blogs at Finer Fields , Dalit Journal , Catholic News Agency and New Evangelizers.
Downstairs, in the weathered Victorian house, a nun sat at a newspaper-covered desk, carving fancy designs into pillar candles. Proceeds from selling her wedding and baptismal candles funded outreach to the poor.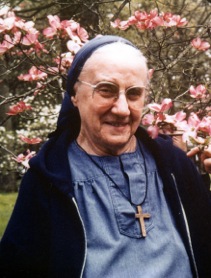 The convent dogs stretched with half-closed eyes near the couch, paws forward like hairy sphinxes. Sister Mary Elizabeth Gintling, LSJM, and another nun sat nearby intently watching the local news. A newscaster had interviewed Sister Mary Elizabeth about her new congregation's service to Salisbury, Maryland's needy.
People liked to pretend poverty didn't exist in this town of gracious antebellum mansions and attractive businesses. But daily, the nuns discovered pockets of poverty. They found an elderly couple living in a home walled by jungle-like thickets. The house had no electricity, and chickens roosted in light fixtures and on top of the refrigerator.
Visiting Salisbury in 1989, I wrote a story for the Sept/Oct Catholic Church EXTENSION Magazine.
"We saw people living with no heat or indoor plumbing and paying outrageous rents of $100 per week," I quoted Sister Mary Elizabeth. "In one warehouse, eight families lived in windowless cubicles. Every 20 minutes the landlord pumped air in. The people were so miserably hot they went about naked, the sweat pouring off of them."
On that night of my visit 20-some years ago, I took a chair in front of the sisters' TV. I had trotted all day at Sister Mary Elizabeth's heels as she moved from visiting locals in their homes, to Joseph House, an old Campbell's Soup warehouse that served as the congregation's food distribution and aid center. I joined the nuns in wondering if a 2-3 minute news blip would do justice to the stories of the Salisbury poor.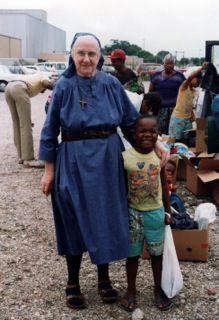 Everyone leaned forward as a nun in coarse blue habit and veil appeared on the screen. But the interview was over in a flash and Sr. Mary Elizabeth grimaced. After cuts and splices, precious few seconds covered the sisters' work, how they were slowly dissolving racial divides, and how locals were teaming up to help.
But pity the poor newscaster who tries to contain the sheer energy and scope of a missionary like Sister Mary Elizabeth into a convenient sound bite.
At age 50, the short, stocky nun had felt an overwhelming call to found a new order. She followed her spiritual director's advice in leaving the Little Sisters of the Poor and setting out alone into the ghettos of Baltimore. She served for nearly a decade before new postulants arrived, living with an African-American family, accepting table scraps to survive, and working from a tiny basement room donated to her by a nearby parish.
In those years, she had a knife held to her throat; a gun aimed at her, close range. But her will to embrace life in the ghetto in God's service won people's respect. After she relocated to Salisbury, Maryland, projects for the needy unfolded, one after the other.
She and her sisters followed the spirituality of 19th century desert hermit Blessed Charles de Foucauld, beatified by Pope Benedict XVI in 2004. A former soldier, the Blessed said, "Cry the Gospel with your life."
Following his example, the nuns' every activity was underpinned by contemplative acts -- Mass, liturgy of the hours, adoration hours. Even after Sister Mary Elizabeth's legs started swelling as she walked and she developed emphysema, she headed her congregation, and continued living and breathing to serve the poor.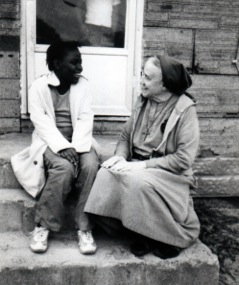 Quoted in that Sept/Oct EXTENSION article, a volunteer said to the nun, 'Telling you that something is impossible just means it will take you a little longer."
Sister laughed at that, explaining. "I'm constantly accomplishing impossible things, but it's really God who's doing them."
"If you trust in God," she said, "anything is possible."
When people give funds to mission organizations, that's fantastic. But spending time with someone on a God-given mission, ignites a flame inside. If every Christian were missionary-minded, none would find a life of faith boring.
When Sister Mary Elizabeth and I met in a quiet room for a final chat, something mysterious happened. I smelled a lovely fragrance. It wasn't there…and then it was. I looked around for the cause, as I kept asking Sister questions. But that scent wafted in, lingered so persistently, was so unexpected, it caught my attention.
I had read about people dying in the "Odor of Sanctity," and assumed that was a fancy way of saying someone was truly holy. But I later learned the Odor of Sanctity is a real phenomenon. Heavenly scents have long been associated with blessed objects or holy people.
So I thank God for that heavenly scent that turned the room into a garden as I spoke with Sister Mary Elizabeth. The nun died in 2004 at the age of 89, and was called affectionately in the local papers, the Mother Teresa of Salisbury. Many believe she is a saint. Her Little Sisters of Jesus and Mary continue their outreach to the poor.
Perhaps within a few miles of where you live, a lay or religious missionary is running a soup kitchen or home for unwed mothers and needs a hand.
The missionary might even tear up at night while trying to sleep, from the sheer burden of carrying a ministry alone and on a shoestring budget. A helper or two, a friendly face to brighten the labor…makes all the difference.
Say a little prayer, and then head out to find your own Sister Mary Elizabeth. You'll be blessed.
Salisbury, Maryland is in a region of beautiful antebellum homes, but also great need. Sister Mary Elizabeth Gintling founded the Little Sisters of the Poor in 1974 to "Cry the Gospel" with her life, after the spirituality of desert hermit Charles de Foucauld. St. Joseph House offers assistance to the homeless of the lower shore counties of Maryland, Delaware and Virginia. A total of 40% of those served with shelter, hot meals, groceries and other support, are children.
This post first aired as a Missionary Moment podcast for Deacon Tom and Dee Fox's SQPN-affiliated Catholic Vitamins Show #206, F--for Faith2.
View our World View Wednesday archives
Copyright 2014 Marianna Bartholomew
About the Author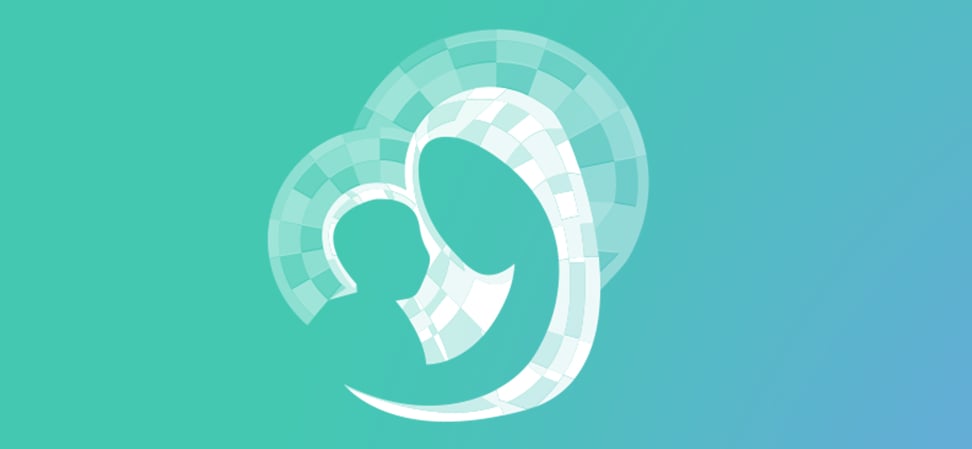 We welcome guest contributors who graciously volunteer their writing for our readers. Please support our guest writers by visiting their sites, purchasing their work, and leaving comments to thank them for sharing their gifts here on CatholicMom.com. To inquire about serving as a guest contributor, contact editor@CatholicMom.com.