For centuries the Catholic Church has been an advocate, a resource, a champion of the poor and those in need, and continues to be so, through large international organizations such as Catholic Relief Services and Catholic Charities, and through small, grassroots and local efforts, such as the Haiti Humanitarian Fund in Conyers, Georgia.
It is who we are and what we do as the faithful.
Pope Benedict XVI observed in his first encyclical, Deus Caritas Est (God is Love), in 2005, that:
Concern for our neighbor transcends the confines of national communities and has increasingly broadened its horizon to the whole world.
— Deus Caritas Est


His Holiness Benedict XVI
Love of God and love of neighbor go hand in hand. As Catholics, we understand that we are the Body of Christ, and put it into action. We do this by serving our neighbors, especially those in great need of our help and support, regardless of political or geographical borders.
The parish community of St. Pius X Catholic Church in Conyers, Georgia embraced this attitude early in 2000 when then-pastor Father John Kieran proposed the idea of participating in a community-to-community twinning project with a parish in Haiti. A fact-finding mission followed, which identified healthcare as a pressing need in Los Palis, Haiti. The Haiti Humanitarian Fund was created to address this need.
[gallery columns="2" ids="57119,57120,57121,57122"]
In 2001, a medical mission went to Los Palis, and worked with Père Robert, the pastor of Notre Dame de la Présentation, to serve the community with medical care since no healthcare was available. The mission continues to operate today out of a rented house off a dirt road that has a propensity to wash out during the rainy season.
Since that first mission over a decade ago, the community now enjoys a full time doctor and two medical assistants. The Humanitarian Fund hosts fund raising events, including an annual gala dinner and silent auction, to continue to provide quality care for the people of Los Palis, and to one day soon purchase land in order to build a permanent and suitable medical facility for the community.
In anticipation of this year's mission trip, the basement of Dr. Michael Manning's medical practice is filled with the joyful voices of volunteers from the parish who have gathered to pack medical supplies and clothes for the trip. Each person traveling is allowed one carry-on bag for personal items. The two suitcases allowed per person by the airline are used by the mission to transport necessary medical supplies. Volunteers pack strategically, spreading the meds across all the bags in case some of the bags are lost or damaged, or in some cases, confiscated. Upon the team's arrival, additional medical supplies will be purchased in-country to help stimulate the local economy.
The medical mission is more than an isolated service that goes in, gets a job done, and gets out. It's about building community and creating long term relationships. Because of this attention to the dignity of the persons who make up the community, other needs have emerged.
The Humanitarian Fund has added an education component, helping to fund the education of primary and secondary students in the community. A huge push to sponsor a clean water campaign has yielded the most impressive results to date. Dr. Manning notes a significant change in the healthcare needs of the community since implementing the water filtration system.
Electricity is now available throughout the town, and a small restaurant/bar has opened close to the parish. This signals that the local economy is strengthening since the community can sustain a small business.
The impact of this work has definitely had a positive effect on the people of Los Palis, but it is felt strongly in the St. Pius community, too. Visits from Père Robert, and now, Père Guy, provide joyful reports on progress made thanks to the twinning project.
And there's no denying that the warmth with which the team is received, and the joy of sharing the Eucharist in the communal celebration of the Mass at Notre Dame de la Présentation has moved the mission team in ways beyond feeling good about a job well-done. One of the team members, Antonio Gibbs, shares, "We give from our excess; they give from the heart."
It's a humbling lesson.
Bonus: Audio clip of Dr. Mike Manning recounting a joyful offertory anecdote involving live chickens, and the solemn reason for the gifts.
[audio mp3="http://catholicmom.com/wp-content/uploads/2014/02/Haiti-2.mp3"][/audio]
What kinds of homegrown ministries do your parishes have?
___________
Please pray for the success of this year's medical mission February 15-22, 2014. Donate to the Haiti Humanitarian Fund.
View our World View Wednesday archives
Copyright 2014 María Morera Johnson
About the Author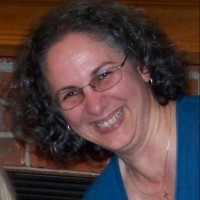 Maria Morera Johnson, author of My Badass Book of Saints, Super Girls and Halo, and Our Lady of Charity: How a Cuban Devotion to Mary Helped Me Grow in Faith and Love writes about all the things that she loves. A cradle Catholic, she struggles with living in the world but not being of it, and blogs about those successes and failures, too.