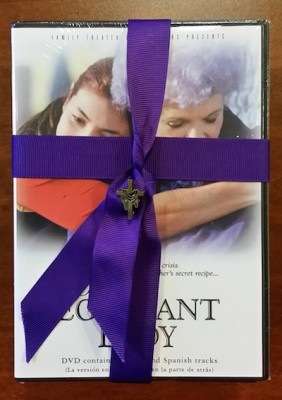 We at CatholicMom.com are indebted and honored by the sponsorship of our friends at Holy Cross Family Ministries and Family Theater Productions. We will be working with them to share their amazing new DVD series, The Sorrowful Manifest Mysteries. Today, I want to provide some information on this series. I will be also reviewing the newest film in the series, Carrying On. During the next several weeks, I will provide a personal review of each of the five DVDs in the series.
Before reviewing Carrying On, I wanted to give you an overview of the entire series. As a backdrop, it's important to understand some of the context and history behind not only this series, but the work of Family Theater Productions:
Family Theater Productions, founded more than 65 years ago, is a member ministry Holy Cross Family Ministries, which was founded by Servant of God Patrick Peyton in 1942. A candidate for sainthood, Father Peyton, CSC, was one of the most influential American Catholic priests of the 20th century. Known as the "Rosary Priest," he encouraged millions of families to pray the Rosary daily. Family Theater Productions evangelizes culture using media to entertain, educate and inspire families. In the spirit of its founder, Servant of God Patrick Peyton, Holy Cross Family Ministries encourages family prayer, especially the Rosary, to support the spiritual well-being of the family.
The Sorrowful Manifest Mysteries set is the perfect way for your family or classroom to contemplate the beauty of the Rosary this Lenten season. Each of the five DVDs corresponds to one of the Sorrowful Mysteries: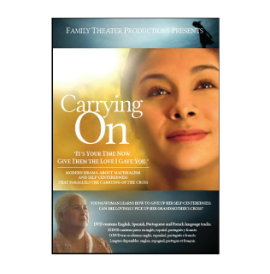 When I sat down this week to watch Carrying On, I truly wasn't anticipating the impact that such a short film could have on my heart. In the opening scene, we meet young Maria and her father, who are holding a serious conversation about Maria's need to go visit her grandmother "Nanay" in the Philippines. It seems that in her old age, dear Nanay may be squandering some of Maria's inheritance. From the outset, Maria is a dislikable young lady, obviously focused on material desires and distinctly rude and self-centered. Her journey from her home in Boston to Nanay's in the Philippines lands Maria not only half a world away, but also completely outside of her comfort zone.
I don't want to give away the compelling plot of the film, so I will avoid telling you too much of the story. Suffice it to say that in a very entertaining way, Carrying On completely pulls us into the Fourth Sorrowful Mystery, the Carrying of the Cross. In viewing this film, I was driven not only to look outside myself during this season of Lent to find and help bear the crosses of others. I also wanted to immediately pause and pray the sorrowful mysteries. In the film, Nanay has a beautiful devotion to the Rosary -- in praying the decades for myself, I was reminded of the incredible joy and passion portrayed in the film by the incredible actress who played Nanay.
The film's trailer gives you a sense of why this film is so terrific for families and teens:
[youtube_sc url=http://youtu.be/UFEfGMuqov4]
So often, it's easy to become caught up in what we believe to be our own trials. Carrying On reminds us of our responsibility -- but also frankly the great joy to be discovered -- when we look outside of ourselves to aid someone in need. Interestingly, by helping someone to "carry their cross", we too are healed and blessed.
Carrying On is a perfect film to watch during the Lenten season with your family, your religious education classroom, your ministry group, or simply on your own. I recommend using the excellent study and discussion guide that comes with the DVD to lead your conversation. I also know that you will feel compelled as I was to pray the Rosary after viewing the film. As you do so keep in mind Holy Cross Family Ministry Founder Servant of God Patrick Peyton's slogan that "The family that prays together stays together."
Carrying On comes with English, Spanish, French and Portuguese tracks on one DVD. Includes a multi-lingual study guide.
Copyright 2014 Lisa M. Hendey
About the Author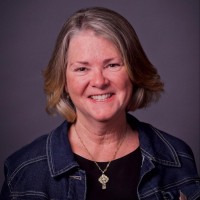 Lisa M. Hendey is the founder of CatholicMom.com, a bestselling author and an international speaker. A frequent radio and television guest, Hendey travels internationally giving workshops on faith, family, and communications. Visit Lisa at LisaHendey.com or on social media @LisaHendey for information on her speaking schedule or to invite her to visit your group, parish, school or organization. Visit Lisa's author page on Amazon.com.