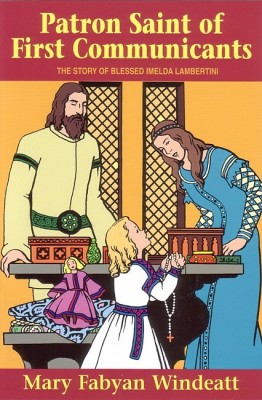 The Church has two patrons for first communicants.
Both are slightly strange choices. One is profound.
With spring is just around the corner, it will soon be First Communion season. I want to tell you about a great book you can use as part of your child's preparation for receiving Jesus for the first time.
The book is Patron Saint of First Communicants: The Story of Blessed Imelda Lambertini, and I think it's perfect for sharing with future first communicants. Not only because the story is about one of their patrons, but it also has a powerful message.
Now back to First Communion patrons. One of them is St. Tarcisius. He was a 12 year-old boy who lived in ancient Rome during a time of severe Christian persecution. While delivering the Eucharist to Christian prisoners condemned to die in the arena, he was waylaid by a mob who demanded he hand over the Eucharist he was carrying. When he refused, they beat to death.
Apparently things got pretty violent in Rome around that time.
The other is Blessed Imelda Lambertini. She lived in Italy in the 1300's. From the time she was five, she desired to receive the Eucharist very much. However, the age of reception at that time was 14.
She was very devout and entered the Dominican convent at age nine. Two years later, while praying after Mass one day, the Eucharist floated over to her and hovered over her head. The priest took this as a sign she should be allowed to receive even though, by the rules, she was too young. She received the Eucharist and immediately died from joy. Yes that's right, she died from receiving the Eucharist!
Two First Communion patrons and two Eucharist-related deaths. I don't know about you, but I haven't seen too many of those lately. This could send an awkward message to little 7 year-olds about to receive the Eucharist themselves for the first time.
So why am I asking you to read this book?
Because, as strange as the story sounds, it really does convey the significance of receiving Jesus in Holy Communion. Imelda loved the Lord deeply and wanted the Eucharist more than anything. When she received Jesus, her life was complete.
What is life really all about? Learning to love Jesus so much you're willing to give everything to him. That's the way saints love God. Imelda achieved this at an early age. Her life's mission was done. So the Lord took her up to be with him.
The story's message is profound. Holy Communion is an amazing thing and it's a privilege to receive at such an early age. The book does a great job of drawing this lesson out too. I read this book with both my boys leading up to First Communion, and they got it loud and clear. And, I'm also happy to say, neither of them thought they would die at their own First Communion.
I encourage you to get this book and read it out loud with your child. You can get it from Amazon here. I read it to my boys at bedtime every night during the weeks leading up to First Communion. There are seven chapters and we would do one chapter a week.
I hope you'll consider using this book for your child's First Communion preparation. It's an easy way to do something special with them that won't take a lot of time out of your day. Make sure you get it soon though. It could take as much as seven weeks to finish.
Do you have a favorite First Communion book? How did you use it? Tell me about it in the comments.
Copyright 2014 Marc Cardaronella
About the Author