Holy Week will be here pretty soon...are you ready?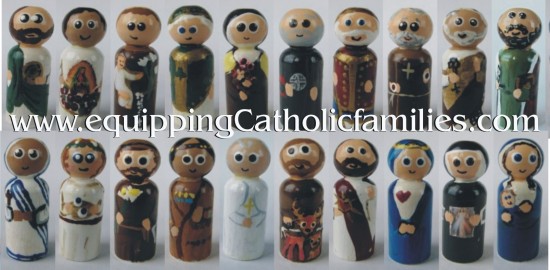 Some of you might recognize these Wooden Painted Saints from my blog Equipping Catholic Families. Here is a Paint a Saint Tutorial, in case you'd like to make your own family set! While painting some of our own family members for our growing collection of little peg dolls, I watched my kids play with the little figures and decided to incorporate them into our Holy Week activities and décor.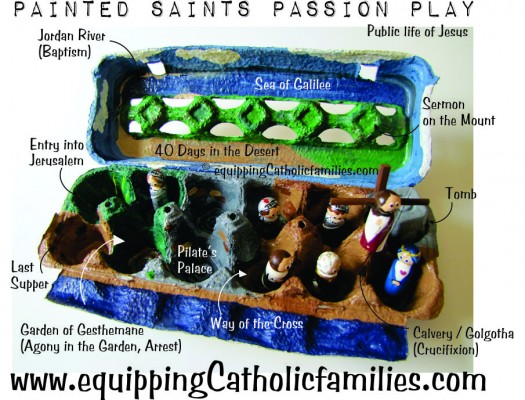 I decided to paint each egg cup of an egg carton to represent a different setting of the various Stations of the Cross or Sorrowful Mysteries. I got a little carried away and decided to paint the inside cover of the carton with various settings from other key events in Jesus Public Ministry.
I had already painted Jesus, Mother Mary and a couple of the Apostles, so I painted 2 extra soldiers plus Pontius Pilate to round out the Passion Play. I discovered that some of the other Saints I have already painted make great 'extras', filling out the crowd. After having painted our family in wooden dolls, I noticed that the kids could easily place themselves within the scene as well. Just like the little painted pegs, a coat of clear varnish adds extra durability to the Egg Carton backdrop...and both the figures and the setting are ready for some serious play!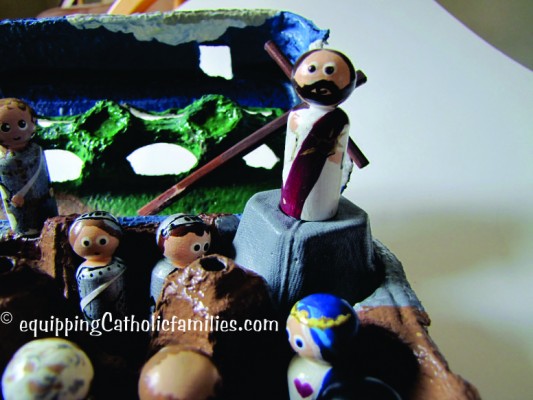 This is a great centrepiece and playset throughout Lent, but I expect that it will be enjoyed that much more as we journey through Holy Week!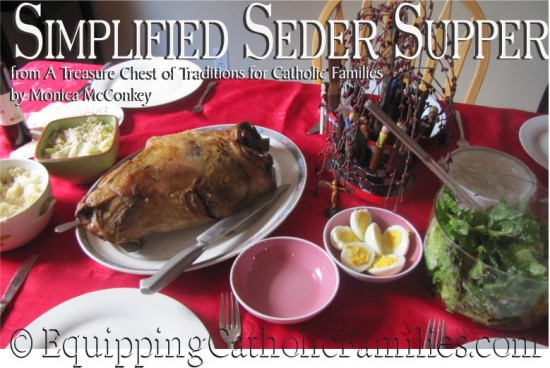 We're also gearing up for our Seder Supper!
Jesus was celebrating the Seder Supper AS He instituted the Holy Eucharist, knowing that He would take the place of the Sacrificial Lamb.
Behold the Lamb of God,
behold Him who takes away the sins of the world.
Blessed are those called to the supper of the Lamb.
We borrowed a couple pages from A Treasure Chest of Traditions for Catholic Families to create a FREE printable just for you!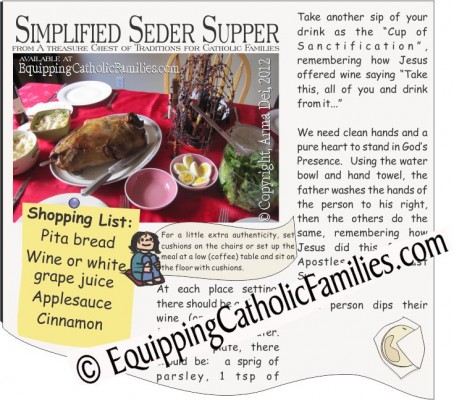 Get your Simplified Seder Supper Printable over at Equipping Catholic Families!
Copyright 2014 Monica McConkey
About the Author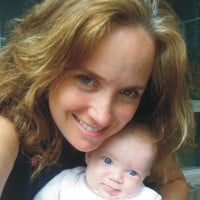 Monica, mom of 5, blogs about Catholic crafts and family traditions at EquippingCatholicfamilies.com. She is an author and creator of Super Saints quizzing cards and over 45 Saint, Sacrament, Catechism and Prayer-packed Craft Kits to help teach the Catholic Faith. The Catholic teaching tools and gifts are available through Arma Dei, the Catholic family publishing company founded with her husband Bill.