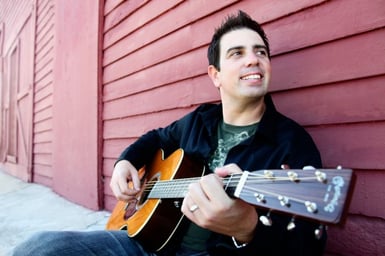 Contemporary Catholic musician Pasquale Talarico's relationship with God is the driving force behind his ministry among youth and young adults. His music puts the Word of God into people's mouths and minds all over the country.
Pasquale's work is turning heads.
His new album "Ite Missa Est" is set to release this Spring and the featured single "ARISE" is now available on iTunes for download. Its infectious beat is sure to get your toes tapping and lift your spirits.
In addition to composing and performing the theme song for the Steubenville Youth Conference he and fellow Catholic musician, Jenny Pixler, recently teamed up with Catholic Relief Services to provide inspirational music for the 2014-2015 FoodFast program - a 24-hour hunger experience that serves to raise awareness of world hunger. As the August launch date approaches, we'll hear more about that project.
For right now, let's meet Pasquale and then go check out his music and prepare to be uplifted and inspired.
Tell us about yourself in five words or less:
Wonderfully made, grateful to God!
What sparked your interest in your artistic medium?
After I injured my shoulder playing baseball, I was searching for something to immerse myself in that would occupy my time. I was a music lover and thought it would be great to try and learn an instrument. And so it all began!

But before I wrote worship music, I was a bassist in a local pop/punk band. It was a great time to be in the Orange County/Los Angeles music scene. I got to travel a lot and be surrounded by music all the time. Being a songwriter/worship leader, I love being able to collaborate and create art that truly means something greater.
Why do you keep producing art? What's your inspiration to continue?
I keep doing it because my heart tells me it is what I am called to do. Looking at the Gospel, we are called to GO and make disciples. It is my ministry to share my message and make disciples through my music. My inspiration is my faith. It is the belief that God has given me this amazing gift to share God's beauty with the world and I am so grateful for every opportunity I get to do this!
What excites you about being a musician?
The opportunity to meet people and hear their story. It is the most rewarding part of what I do. The chance to pray with a young person who is suffering with depression or to talk with families about the challenge of faith. All of it is a gift that happens THROUGH being a performing artist.
What connection do you see between your artwork and your faith?
Without my faith, my art would not exist. God is what allows me to be inspired and create. I have made a commitment to use my gifts for God's glory and share the message of the Gospel.
What's the most rewarding aspect of creating your art?
Connecting with people is really the most amazing part. It is really something to hear that your song could have helped someone that was in a bad place in their life or that your song always brings a smile to a listener's face when they listen to it. What a gift from God to be able to do that!
In your spare time, what are we likely to find you doing?
You will find me with my girls, Gianna, Claire, and Maurissa. I love to cook and write and just be goofy as much as possible!
[youtube_sc url="https://www.youtube.com/watch?v=LwyOOO5jhcY"]
You can find out more about Pasquale at his website.
Interested in more Catholic Artist Spotlights? Here's the archive.
Copyright 2014 Katie O'Keefe
About the Author