I could be mowing daily, I tell ya. But as fast as I can mow, the dandelions grow faster. My yard and my windowsill are thus decorated with equal parts bright yellow and white fluff. The kids think it's great. And I'm reminded that yes, it is great. Or it can be, if I let it.
The books I've been reading are sort of like the dandelions: bright and intense and perhaps of passing importance. But it's been fun reading, so I'm not knocking it. :)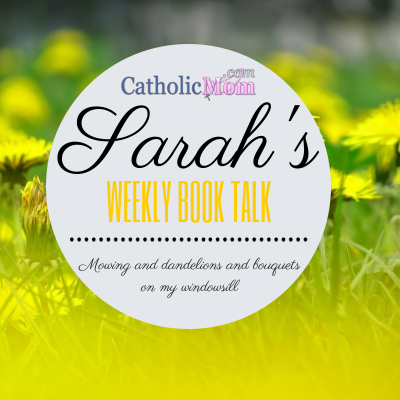 Recent Reads

The Ten Commandments of Kissing Gloria Jean, by Britt Leigh (YA fiction, Pauline Books & Media, 2014)
My rating: 3 out of 5 stars
On the one hand, this is a unique book in the YA fiction I've read to date. It's distinctly Catholic (without being too overbearing) and it has a voice that is all its own. In fact, I was a bit put off by that voice. I'm definitely not the target reading audience here, so I forgive the book its voice. Though none of the teens I work with have a voice like this, I don't see them in their native habitat. I see them in Confirmation classes, at family gatherings, outside of school. So let's say I live a sheltered existence. I'm okay with that and I'm not fit to judge the book's voice.
This book isn't badly written, and it definitely explores topics that are important and should be explored in fiction. Parts of it felt obvious to me, and maybe more than a little far-reaching, but we need more YA fiction that's not Twilight and the other dark-flavored stuff like it.
This was a fast read for me, but I almost feel like I'm not sure of my rating of it. Without giving it to some of my trusted teen readers, I can't tell if what I'm calling "enh" is just me or if it's indicative of something more. Some of the humor fell flat with me (maybe the Old Grouchy Mom Syndrome?) and the health issues were a little too much in places.
Don't think I didn't enjoy it at all, mind you. Though this isn't a 4- or 5-star book for me, it covers important topics like identity, sex (to some extent), fitting in, and why faith matters. I'd call it pretty safe across the board for grades 8 and up, though use your own discretion and spend the couple of hours it will take you to read it.

City of Bones (The Mortal Instruments #1), by Cassandra Clare (YA fiction, McElderry Books, 2008)
My rating: 3 out of 5 stars
When I finished this book, my knee-jerk was to give it 5 stars. Then I went in and took a star away. And then I went back in again and took another star away. (Sometimes it's better to wait to rate, eh?)
It's a compelling tale and it not only kept things moving, but the characters were pretty believable (if a bit predictable in places).
What kept this from being a 5-star book for me, what made me go back in and reduce my stars, was the questions I started thinking about afterward. This isn't a book for your middle grade reader, and your younger YA readers might need to have it vetted first. There's room for conversation in this book: about right and wrong, about right relationship (including sexual on a couple of levels), about priorities in life.
The true test? I'm on the waiting list for the sequel at the library. (I was thisclose to just buying it for my e-reader. I resisted the urge...but barely.)
Current Reads

Stone Fox, by John Reynolds Gardiner (middle grade fiction, HarperCollins, 2005, originally published 1948)
My nine-year-old has noticed the reading I do. (How could she miss it?) Her third-grade teacher read this book out loud to the class, and she was so struck by it that she insisted I get a copy and read it. I'm waiting to see what she found so compelling (I'm not quite halfway through as I write this).

2k to 10k: Writing Faster, Writing Better, and Writing More of What You Love, by Rachel Aaron (Amazon Digital Services, 2012)
Though I write nonfiction and have NO INTENTION of writing fiction, I'm finding this book to be very entertaining. I've been interested in writing books since long before I actually did any writing beyond my grocery and to-do lists. Maybe it's that I enjoy reading so much and seeing the "inside" of how different authors do it is fascinating. If you're a writer, this isn't a bad book to read (and it's fast, so there's that). Am I writing faster as a result? Well, here's the thing: I suspect I was already doing some of the things she advocates (I write pretty wickedly fast).

Jesus: A Pilgrimage, by James Martin, S.J. (HarperOne, 2014)
So we're doing this book club thing and I got roped in...ha! They didn't have to even twist my arm, I assure you. And this book is sooooooo goooooood. No, really.
As I write this, I've just finished the chapter on Jordan (Chapter 5). And like the chapters before it, I found my mind expanding a little. I've been approaching my rosaries with a different air, walking through my days with a little different perspective. This is really a remarkable book. I can't wait to write about it (and to see what Susan and Lisa write about, too!). Hope you can join us!

The Sinner's Guide, by Venerable Louis of Granada (with the Catholic Spiritual Direction Book Club)
Some of you know me as the "Snoring Scholar" and this is a book that makes me feel like a total fake with that nickname. I am no scholar; I'm just a wannabe. But I'm plugging along, and I can feel myself getting into a bit of a groove with the reading—I'm trying to do one chapter a day, though it's averaging to 5ish chapters a week). I'm even almost looking forward to it. It's a stretch for me, and stretches aren't bad. In fact, I think it's good not to get too comfortable, especially in the spiritual life. And this is a book to keep you aware of that, lemme tell ya.
Up Next
I don't know. I haven't decided...the shelf is full and so is my proverbial plate. We'll see what strikes me...my nine-year-old has given me a couple of books to read, and as we get ready for the beginning of summer break, I can't help but think that maybe I should read her recommendations first...
What have YOU been reading lately?
*Are you on Goodreads? I'll see you there!
Curious about what my ratings mean? Here's an explanation of what the stars mean to me.
Be sure to check out our Book Notes archive.
Copyright 2014, Sarah Reinhard
About the Author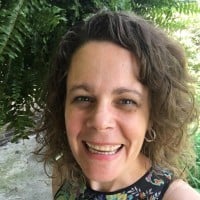 When she's not chasing kids, chugging coffee, or juggling work, Sarah Reinhard's usually trying to stay up read just one…more…chapter. She writes and works in the midst of rural farm life with little ones underfoot. She is part of the team for the award-winning Catholic Mom's Prayer Companion, as well as the author of a number of books. You can join her for a weekday take on Catholic life by subscribing to Three Shots and follow her writing at Snoring Scholar.