Tis the season for sudden storms and the drill also known as "pack up fast and drive fast to my mother-in-law's house because she has a basement and I'm a big wimp."
As scary as that sort of is, I sort of love it too. There's nothing to beat the smell after a nice good thunderstorm, and the light show? The crashing of the skies? The pounding rain? Even as I huddle with the kids (who do NOT find them inspiring), I can't help but wish that I was out on the back porch, reveling a bit.
And reading in a storm is, yes, quite delightful, methinks. Anyone else have these strange desires?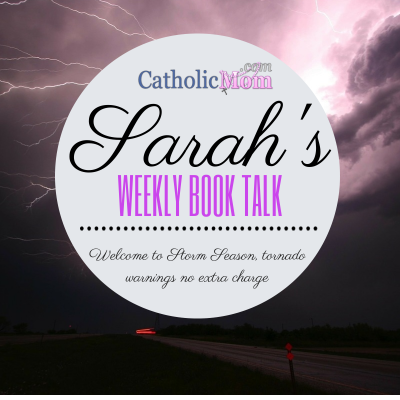 Recent Reads

Stone Fox, by John Reynolds Gardiner (middle grade fiction, HarperCollins, 2005, originally published 1948)
My rating: 4 out of 5 stars
My nine-year-old "assigned" this book to me. We are getting more of that of late...she is unimpressed by my reading piles and I love that she wants to share the books she enjoys with me. This was a book her third-grade teacher read aloud to the class this year. It's based on a legend that may be true (but may not be), and I think reading it aloud is just the way to read it. It's almost too short for me to count here (I would have read it in one sitting if not for the fact that it was late at night and I couldn't stay awake any longer).
Not a bad book, and I'm guessing it transcends the gender line. Little Willy is one tough kid, and who doesn't want a dog like Searchlight? Beyond that, though, is the underlying story of love and hope. For me, this was a story about how we can learn from the children in our lives, and it's a reminder of Jesus's admonition to be like children.

2k to 10k: Writing Faster, Writing Better, and Writing More of What You Love, by Rachel Aaron (Amazon Digital Services, 2012)
My rating: 4 out of 5 stars
Even before I considered myself a writer, I had a "thing" for books about writing. I got this recommendation from a writer I admire and whipped through it (though it sat on my Kindle for a good little bit before I got to it). Though I don't write fiction (and don't intend to), I was nodding, because many of much of what Aaron says is true for any writing, including the nonfiction/freelance/web stuff I do. And hey, she's entertaining as all get-out. A fun read if you're so inclined.

The Rose Ring, by Anne Faye (CreateSpace, 2013)
My rating: 4 out of 5 stars
I have been meaning to read this book for...well, I think it's been almost a year. And last week, I did. It's a quick read (I read it in about a day, without really rushing myself), and it's not bad overall. I tend not to read romances, but this is as much about relationships, with a bit of a mystery-ish thrown in. It reminded me, in good ways, of when I was in high school and picked up Nicholas Sparks's The Notebook. I half wished I'd been sitting on a beach when I read it, because it strikes me as a definite summer read. You'll enjoy it, I think, especially if you like "chick-lit."
Current Reads

Jesus: A Pilgrimage, by James Martin, S.J. (HarperOne, 2014)
So I was going to go ahead and read this along with the book club, but I can't...stay...away, so I just committed to reading it. And...wow. I keep saying that. This is a book that lends itself to study, to reflection, to laughter. I've never read anything like it, and I know I'll be rereading it.
As a marketing nerd, I don't often say this, but the marketing copy does not do this book justice. They're not overstating anything. It's really THAT GOOD. (There's still plenty of time to join our discussion here, too!)
Up Next
I hereby reserve the right to read a fun novel, for no reason other than that the kids are out of school in a week... But which one? I haven't decided. And I may not decide until I pick it up... :)
What have YOU been reading lately?
*Are you on Goodreads? I'll see you there!
Curious about what my ratings mean? Here's an explanation of what the stars mean to me.
Be sure to check out our Book Notes archive.
Copyright 2014, Sarah Reinhard
About the Author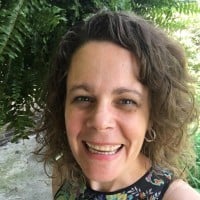 When she's not chasing kids, chugging coffee, or juggling work, Sarah Reinhard's usually trying to stay up read just one…more…chapter. She writes and works in the midst of rural farm life with little ones underfoot. She is part of the team for the award-winning Catholic Mom's Prayer Companion, as well as the author of a number of books. You can join her for a weekday take on Catholic life by subscribing to Three Shots and follow her writing at Snoring Scholar.