Welcome to this summer's Lawn Chair Catechism! We're reading Joe Paprocki's best-selling book, A Well-Built Faith: A Catholic's Guide to Knowing and Sharing What We Believe. We're taking it one chapter at a time all summer long.

We believe in revelation, meaning that God has taken the first step in this relationship and our role is to be aware and responsive.
It's always interesting to learn new things about people. We can only get to know people, however, if they choose to reveal themselves to us. Luckily, God is not shy about revealing himself to us! That's what we mean when we talk about revelation—it is the act of God revealing himself to us so as to enter into a deeper relationship with us. We summarize this revelation in our Creed, which is the first pillar of the Catechism of the Catholic Church.
In our acronym H.E.L.P., the H stands for "Holding on to our faith."
The Catholic Catechism for Adults tells us that revelation is "the self-disclosure of the living God." (USCC for Adults, p. 13) You can find examples in the Bible of when God took the initiative to reveal himself to his people:
Genesis 12:1-9 (the call of Abram)
Exodus 3:1-14 (the call of Moses)
Isaiah 6:1-10 (the call of Isaiah)
Jeremiah 1:4-10 (the call of Jeremiah)
Matthew 5:18-22 (the call of the first disciples)
Luke 1:26-38 (the call of Mary)
Acts of the Apostles 9:1-9 (the call of Paul)
In terms of our relationship with God, some of us may need to undergo what we call a "Copernican revolution"—meaning that we need to recognize that our lives revolve around God and not the other way around. When we recognize that it's not all about us, we begin to develop a spirit of humility.
Believing in revelation means that we are to be aware and responsive to God's initiative. Since God's very self has been and is being revealed to us, it means that we are called to pay attention to how and when that is happening so that we become capable of, as St. Ignatius of Loyola said, "finding God in all things."
Questions for Reflection and Discussion:
How easy or hard is it for you to reveal yourself to others? How does it make you feel to know that God eagerly reveals himself to us?
Why is it impossible to be spiritually proactive?
In what ways did the following people strive to be spiritually pro- active? Adam and Eve, the people who built the Tower of Babel, Judas. How did things turn out for them?
Has there been a time in your life when you were able to say, "thy will be done" to God?
Feel free to comment on your own thoughts from this week's reading, your impressions and reflections, and/or your answers to these questions. You can also share your blog post by linking up below.
Next week, we'll cover Chapter 3: Who's the Boss?: Scripture and Tradition. For the complete reading schedule and information about this summer's Lawn Chair Catechism, visit the Lawn Chair Catechism page.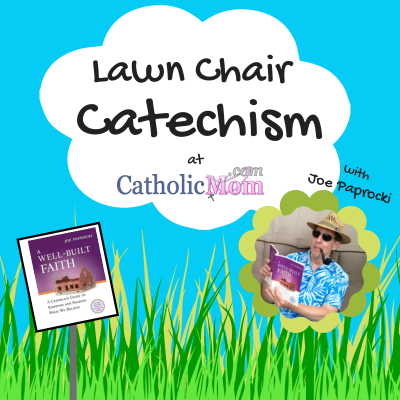 [inlinkz_linkup id=412634 mode=1]
Copyright 2014 Sarah Reinhard
About the Author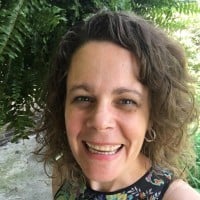 When she's not chasing kids, chugging coffee, or juggling work, Sarah Reinhard's usually trying to stay up read just one…more…chapter. She writes and works in the midst of rural farm life with little ones underfoot. She is part of the team for the award-winning Catholic Mom's Prayer Companion, as well as the author of a number of books. You can join her for a weekday take on Catholic life by subscribing to Three Shots and follow her writing at Snoring Scholar.