Welcome to this summer's Lawn Chair Catechism! We're reading Joe Paprocki's best-selling book, A Well-Built Faith: A Catholic's Guide to Knowing and Sharing What We Believe. We're taking it one chapter at a time all summer long.

In today's world we have many different ways by which we can send and receive messages. In our prayer lives, as well, we have many different ways in which we can speak and listen to God. In this session, we will look at a variety of ways to pray within three categories: vocal, meditative, and contemplative.
Imagine two couples. The first couple is very young, about seventeen or eighteen years old, and are deeply in love. The second is an elderly couple, perhaps in their seventies, married for about fifty years. Now, think about how how they communicate with one another. How do they communicate differently? Who communicates more?
Actually, both couples are communicating, but at different levels. The young couple might be vocal while the elderly couple might use a more subtle form of communication that goes beyond words.
In our prayer lives, we can also range between praying with words and praying in a way that goes beyond words.
Vocal prayer, using words either spoken out loud or in the silence of our hearts, includes traditional prayers and spontaneous prayer.
Meditation, or reflective prayer, is thinking about God--often with the aid of a Scripture passage, an inspirational reading, or sacred images, includes the Daily Examen, the Rosary, the Stations of the Cross, reflective prayer, and lectio divina.
Contemplation is simply resting quietly in God's presence, while meditation involves actively focusing. In contemplation, we don't attempt to speak to God, but simply marvel at his glorious presence. It includes centering prayer.
So what difference does it make that Catholics have so many forms of prayer? It means that, no matter what our personality type is--introvert or extrovert--we can find ways to enter into a deeper relationship with God through prayer. It means that we can truly pray without ceasing, knowing the prayer is much more than talking to God, but is our awareness of and response to God's presence in our lives.
Questions for Reflection and Discussion:
Who is someone that you would feel comfortable sitting in silence with?
Who is the person you talk with the most? How often and what do you talk about
What can we learn about prayer from how we communicate in our own relationships?
What's your favorite traditional prayer? When did you learn it and from whom?
How do you feel about praying spontaneously? About leading others with a spontaneous prayer?
To what form of prayer that you wanted to learn more about were you introduced for the first time in this session?
Feel free to comment on your own thoughts from this week's reading, your impressions and reflections, and/or your answers to these questions. You can also share your blog post by linking up below.
Next week, we'll cover our final chapter, Chapter 18: Access to Restricted Areas: The Lord's Prayer and How Prayer Works. For the complete reading schedule and information about this summer's Lawn Chair Catechism, visit the Lawn Chair Catechism page.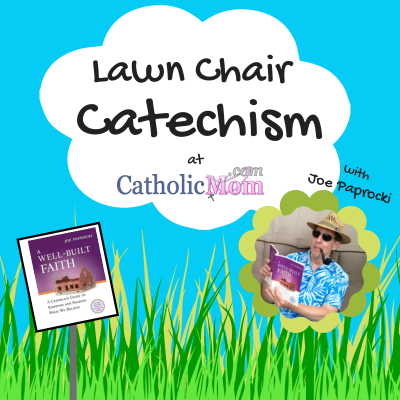 [inlinkz_linkup id=447376 mode=1]
Copyright 2014 Sarah Reinhard
About the Author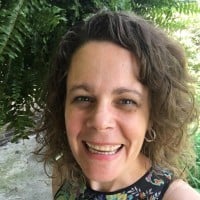 When she's not chasing kids, chugging coffee, or juggling work, Sarah Reinhard's usually trying to stay up read just one…more…chapter. She writes and works in the midst of rural farm life with little ones underfoot. She is part of the team for the award-winning Catholic Mom's Prayer Companion, as well as the author of a number of books. You can join her for a weekday take on Catholic life by subscribing to Three Shots and follow her writing at Snoring Scholar.