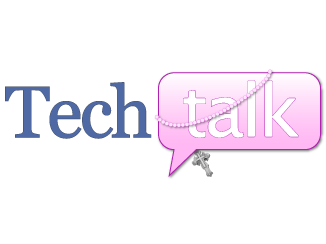 I finally decided that I wanted to get into better shape again, and since my husband started running about 2 years ago, I thought I would take up running, too. He uses the Nike+ app on his iPhone, which I wanted to do as well. But I also needed something to guide me as I started running, so I have been using Couch to 5K along with it.
Let me give you a bit of a rundown of each app and why they work for me.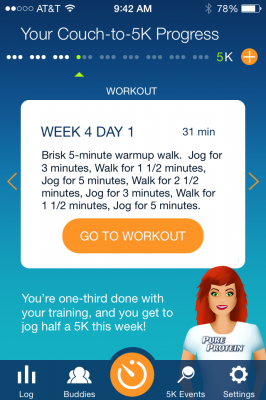 Couch to 5K, which is a mobile app for the website active.com, can take you from zero to 5K in about nine weeks. If you're not already a runner, that sounds dubious at best, but I've been using it for about three weeks and I can already see a difference.
The program starts off with a 5-minute warm-up, then alternates running and power walking for about 20 minutes, then finishes with a 5-minute cool-down.
The runs gradually increase in difficulty, though. Week 1's workout routine starts with 1:00 of running, then 1:30 walking. Week 2's workout is 1:30 running, then 2:00 walking, for a total of 31 minutes. Week 3 is 1:30 run, 1:30 walk, 3:00 run, 3:00 walk (doing that twice), then the cool-down for a total time of 28 minutes. Each week, the workout includes more running time, gradually getting you to the point of being able to run a 5K.
Don't let the seemingly quick pace scare you, though. When I did my first 3:00 run, I was terrified I wouldn't make it. But I did it! I couldn't believe that only three weeks before that moment, I was hard-pressed to make it through a whole minute of running— and now I was doing three-minute stints!
The app tracks your runs for you, lets you compare your pace and distances, and gives you a chance to record how you felt during your run. You can also select a playlist to use during your run, so you can load up your iPhone with your favorite motivating music and crank it up! When you use the GPS on your phone, you can see a map of where you've run when you're finished. (Click through to see any image in full.)
[gallery ids="64473,64474,64469,64467,64468,64466"]
In addition, there's a voice that coaches you on when you're supposed to walk or run. (The app actually says "jog," but I have reasons for avoiding calling myself a jogger.) There are a few choices of coaches, including a drill sergeant and a zombie. (I get the feeling my teens would pick the zombie, but I'll stick with one of the women.) At the end of the run, your coach congratulates you on doing a good job.
Other features on Couch to 5K are being able to link up with friends on the app, which allows you to use it a bit like other social media apps, liking and commenting on others' run times, as well as a listing of upcoming races in your area.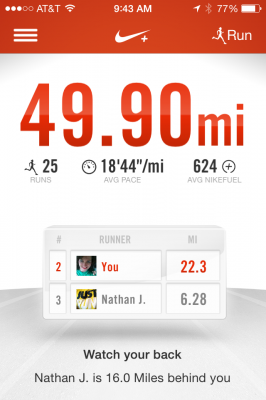 The other program I'm using is Nike+, which also has an online record of the runs you take while using the app. The app works with the GPS in the phone, but if you have an iPod you use the sensor in combination with the app.
Sensors can be inserted into the special Nike+ shoes or you can get a small pouch that attaches to the laces of one running shoe. The app records the weather where you ran, the map of your run, distance, time, pace, and even calories burned (if you enter your weight when you set up your account).
Nike also allows you to set up a playlist, as well as "Power Songs" that you can play at will by touching the button for it on your app. (I do this as soon as I hit a longer run session in Couch to 5K, personally.)
I can run it behind the Couch to 5K app, and I prefer to run the playlist through Nike because of the Power Song option. When you're not sure you'll make it and need a boost, there's nothing quite like hearing the theme from Star Wars to make you feel awesome! Yes, that's one of my Power Songs. I managed to run the Kessler Run in 12 parsecs just because of that Power Song!! (Okay, so I managed to not fall down during my 3:00 run. Still a success!)
Another advantage of Nike+ is that you can be friends with other people and even set up challenges with them, seeing who can hit the goal (time, distance, etc.) first. You can search through your Facebook friends and find out who else might be using the app. Because Nike tracks your data both within the app and online, you can compare your pace with previous runs, keep track of how much you've run in a month, and more. It's a smorgasbord for numbers junkies!
One thing that Nike+ allows you to do that Couch to 5K does not is get "cheers" while you're actually running. If you share your status on Facebook at the beginning of your run, when friends "Like" or commend on your Nike+ post, you hear cheering crowds over your music for a moment. When my husband first told me about that, I thought it was kind of cheesy, but it really is cool to hear a cheering crowd while you're trying to get through your workout.
[gallery columns="4" ids="64463,64461,64460,64458,64457,64456,64472,64471"]
I haven't used Nike's training program yet, but my plan is to use their coach once I'm able to run a 5K in order to train for a 10K.
[gallery ids="64455,64454,64453,64452,64450,64449"]
Both programs allow you to share your accomplishments on social media, posting your final run data to Facebook and Twitter. Only Nike allows you to share during your run (for the cheers!) on Facebook or Pintrest. (I don't have a Pintrest account, though. If you do have one and use it with Nike+, let me know how you like it in the comments below. I'd love to know.)
Couch to 5K and Nike+ are both available for both iOS and Android devices. Couch to 5K is $1.99, and Nike+ is free. If you have an iPod, you need the sensor ($19 from just about any sports or running store, or even from the Nike or Apple websites). Pouches are also easy to come by in the same stores, and tend to run about $10. (If you have an iPhone, you don't need a sensor.)
Read more of our Tech Talk columns.
Copyright 2014 Christine Johnson
About the Author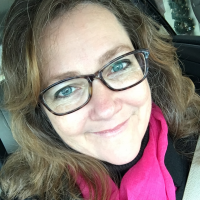 Christine Johnson has been married to Nathan since 1993 and is the mother of two homeschool graduates. She and Nathan live in the Blue Ridge Mountains of Southwest Virginia, where she tries to fit in as a transplanted Yank. She blogs at Domestic Vocation about her life as a wife, mother, and Lay Dominican.