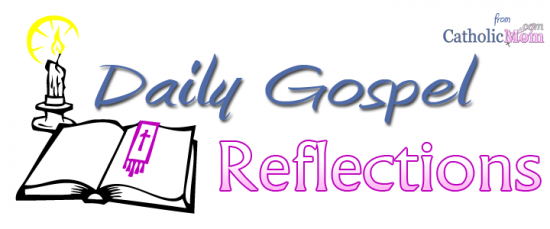 Today's Gospel: Matthew 10:16-23
"Do not be anxious how you are to speak or what you are to say for what you are to say will be given to you in that hour; for it is not you who will speak, but the Spirit of the Father speaking through you."
Do you ever find yourself in situations where you don't know what to say?
On the bleachers at the game, in aisle 7 in the store, in the phone call you know you have to make or perhaps even in the parking lot after Mass, we can find ourselves confronted with people who challenge our faith in Jesus Christ or the teachings of His Church. You want to proclaim Christ, but you want to be "wise as a serpent" out there among the "wolves."
The words of Christ above give consolation. We need not rehearse what we are going to say, but exercise more trust in His promise to be present.
As we surrender ourselves, we find we are caught by His loving Hand, and our inner heart hears the words of the Spirit of His Father speaking through us.
Ponder:
As the conversation unfolds, can we hand over our thoughts, and take on the mind of Christ? As we interact with the human person before us, can we recognize their dignity, affirm their good, and share our love story with the Lord?
Pray:
Dear Spirit of the Father, I trust You to come to my aid when I am given an opportunity to speak about You to others, to defend my belief in Your great love for all people, evidenced in the life and love of Christ and His Holy Church.
Copyright 2014 Cynthia Ann Costello
About the Author

Cindy Costello is a praying wife and mom who is settling into her empty nest. More than fall trees and caramel lattes, she loves a pen hitting paper to create something unique and beautiful for God. Cindy is challenging herself intellectually and getting ready for Career #2 by pursuing a MA in Theology. And on the side she gives parish talks and retreats , specializing in Theology of the Body and all things Catholic! Visit her website at CindyACostello.com.