"Escolha, pois, a vida, para que você e seus descendentes possam viver" (Dt 30,19)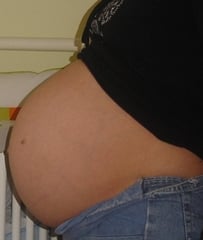 No quarto mês de gestação da minha quarta filha, a Júlia, descobri que havia algo de errado com o bebê e, segundo a opinião do médico geneticista, provavelmente era uma síndrome rara (nanismo tanatofórico) e o bebê deveria morrer logo após o parto, havendo riscos também para mim. Este médico recomendou fazer um exame do líquido amniótico e, confirmado o diagnóstico, eu poderia pedir autorização judicial para a realização do aborto, pois, segundo ele, "não valia a pena sofrer com uma gravidez em que o bebê iria morrer ...", e eu deveria pensar no bem estar dos meus outros três filhos saudáveis.
Depois de rezar e refletir bastante, decidi, junto com meu marido, não fazer o exame, pois existia o risco do próprio exame causar um aborto. Nossa filha tinha uma missão para cumprir e, por mais dolorosa que fosse, nós não teríamos o direito de interromper a sua vida, apenas para "evitar mais sofrimento". O sofrimento é impossível de ser evitado, todo mundo sofre. Nós como pais temos a missão de ensinar os nossos filhos a sofrer e não tentar impedir que eles sofram.
A gravidez prosseguiu com muitos problemas e a Júlia nasceu no dia 08 de novembro de 2007, depois de um parto muito complicado. Foi encaminhada para a UTI onde foi confirmado o nanismo tanatofórico. Neste mesmo dia, sua madrinha pode entrar por alguns minutos na UTI e fez o batismo de urgência. Os médicos deram poucos dias para ela, todavia a pequena Júlia, superou todas as expectativas.
Foram meses de muita dor, ela sofreu muito, realizava exames diários, só se alimentava por sonda e ficou muito tempo entubada para conseguir respirar. Além disso, tinha uma febre inexplicável, pois os exames sempre eram negativos para infecção e apesar da febre seu estado geral sempre era bom, o que intrigava muito todos os que estavam diretamente envolvidos com seus cuidados.
Um dia um dos médicos me chamou em sua sala para dizer que não existia nenhuma razão cientificamente explicável para ela ainda estar viva depois de mais de três meses, pois não havia casos registrados de bebês com esta síndrome terem sobrevivido tanto tempo. A única razão pela qual ele poderia explicar o fato dela não ter morrido era o amor que nós sentíamos e demonstrávamos por ela e ela sentia pela nossa família. Isso, segundo ele, o havia marcado profundamente como médico e o fez perceber que vale a pena lutar pela vida, por pior que seja o prognóstico.
No dia 03 de fevereiro de 2008, com permissão especial dos médicos, pudemos completar o batismo da Júlia, com a presença do padre, de nós pais e de seus padrinhos lá mesmo na UTI. Alguns dias após a cerimônia, todos puderam testemunhar uma grande graça: a Júlia começou a respirar sozinha! Utilizava apenas um pequeno suporte de oxigênio e pela primeira vez os médicos falaram da possibilidade dela vir para casa. Foram 15 dias maravilhosos. Pudemos pegá-la no colo e como ela ficou sem medicação, interagia mais conosco e até sorria...
Após este tempo ela voltou a piorar e ficou outros quinze dias com o tubo. Mais uma vez ela mesma retirou o tubo e conseguiu ficar o restante do tempo com um suporte de oxigênio, as vezes no capuz, as vezes com cateter nasal.
Foram 5 meses e 11 dias até eu e meu marido sermos chamados no hospital para receber a triste notícia de que ela havia partido para a casa do Papai do Céu. Segundo a equipe que estava com ela neste dia, tudo aconteceu muito rápido, seu coraçãozinho simplesmente parou e o médico não conseguiu reanimá-la. Ela partiu em paz.
Apesar de todo o sofrimento, nossos corações se regozijam de felicidade nos poucos momentos que pudemos estar com ela, sendo gratos a DEUS por nos ter dado o privilégio de sermos seus pais. Com a Júlia, nossa missão como pais está completa. Nós temos uma filha no Céu. Com nossos outros três filhos, ainda temos muito o que fazer para que eles também, um dia, possam estar com sua irmãzinha no Céu.
Nossa família amadureceu e se uniu muito com a vinda da Júlia. A dor que sentíamos diariamente, a sensação de impotência perante seu sofrimento era imensa, mas não conseguimos imaginar nossas vidas sem ela.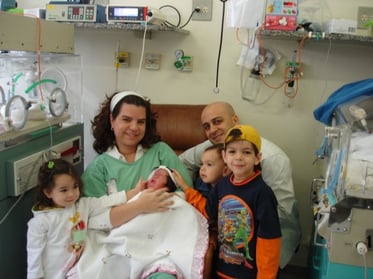 Júlia, We Chose Life!!
"So take life for yourselves and for your seed" (Deuteronomy 30,19)
In the fourth month of pregnancy for my fourth daughter, Júlia, I discovered that something was wrong with the baby, and according to the genetic doctors opinion, it was probably a rare syndrome (tanatophoric dwarfism) and the baby should die right after birth. There were also risks for me.
This doctor recommended an exam that would confirm this diagnosis by removing some of the amniotic fluid, and then I could ask for a legal authorization for abortion (in Brazil abortion in general is illegal, but in some cases, such as when there is the risk of death for the mother, you can ask for a legal authorization), because, according to him, "it's not worth suffering through a pregnancy where the baby would die..." and I should think about the well-being of my other three healthy children.
After praying and thinking a lot, I decided, with my husband, not to do that exam, because there would be a risk that the exam could cause an abortion. Our daughter had a mission to fulfill and, even if that was really painful, we didnt have the right to interrupt her life only to "avoid more suffering."
Its impossible to avoid suffering: everybody suffers. As parents, we have the mission to teach our children how to suffer and not try to prevent their suffering.
The pregnancy continued with many problems and Júlia was born on November 8, 2007, after a very complicated delivery. She went straight to the ICU where the diagnosis of tanatophoric dwarfism was confirmed. On this same day, her godmother was able to enter for a few minutes in the ICU and baptize her. The doctors told us that she would die in the next days, but Júlia exceeded all expectations.
Those were months of a lot of pain. She suffered a lot, she had daily painful exams, she was only fed by probe, and for a long time she needed a tube in her throat to be able to breathe. Besides that, she had a fever that nobody could explain, all the exams were negative for infections, and although the fever was high, her general state was always good. A lot was involved in her care.
One day one of the doctors called me in his office to tell me that there wasn't any scientific reason for her to be still alive after over three months, because there were no records of babies with her syndrome surviving such long time. The only reason that he could think of was the love that we felt and showed her and that she felt for our family. This fact, according to him, had marked him profoundly as a doctor and made him realize that it is worthy to fight for life, even if the prognosis is very bad.
On February 3, 2008, with a special permission from the doctors, we could complete Júlia's baptism in the ICU, with the presence of a priest, her godparents, and my husband and I. A few days after the ceremony, everybody could testify a great grace: Júlia began to breathe by herself! She used just a small oxygen support and for the first time the doctors were talking about the possibility of her going home. They were 15 wonderful days. We could take her in our arms, and as she was off the strong medication, she could interact with us and she even smiled.
After this time she got worse again, and stayed another 15 days needing the tube to breathe. Once more she took off the tube by herself and was able to stay the rest of the time with an oxygen support, sometimes with the oxygen hood, and sometimes with a nasal catheter.
There were 5 months and 11 days until my husband and I were called at the hospital to receive the sad news that she had gone to our Father in Heaven's home. According to the team that was with her that day, everything happened very fast: her little heart simply stopped and the doctor couldn't bring her back. She left in peace.
Even with all that suffering, our hearts are filled with joy from the few moments that we could be with her, and we are very thankful to God for giving us the privilege of being her parents. With Júlia, our mission as parents is fulfilled. We have a daughter in Heaven. With our other three children, we still have a lot to do, so they too can be one day in Heaven with their little sister.
Our family has matured and united a lot with Júlia's life. The pain that we felt every day and the feeling of impotence before her suffering were huge, but we can't imagine our lives without her.
Copyright 2014 Flávia Nunes Costa Ghelardi
About the Author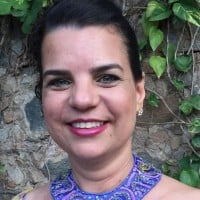 Flávia Ghelardi is the mom of four, a former lawyer already "promoted" to full time mom. Flávia published her first book FORTALECENDO SUA FAMÍLIA and is a member of Schoenstatt´s Apostolic Movement. Flávia loves to speak about motherhood and the important role of women, as desired by God, for our society. She blogs at www.fortalecendosuafamilia.blogspot.com.