Welcome to this summer's Lawn Chair Catechism! We're reading Joe Paprocki's best-selling book, A Well-Built Faith: A Catholic's Guide to Knowing and Sharing What We Believe. We're taking it one chapter at a time all summer long.

There are many times in our lives when we need to be reconciled—to be healed from our brokenness. In this session, we are going to look at two sacraments that help to reestablish our relationship with the Lord—Penance (Reconciliation) and the Anointing of the Sick. We call these the Sacraments of Healing.
Horatio Alger, Jr. was a 19th century American author who wrote a number of what came to be known as "rags-to-riches" stories, which embodied what became known as the American Dream—that is, the idea that through hard work, determination, and courage, anyone could lift themselves up out of poverty.
This kind of thinking is at the heart of American culture. Unfortunately, we tend to approach our spiritual lives with the same attitude: "With hard work, perseverance, and determination, we'll be able to save ourselves!" In reality, the opposite is true. When it comes to our salvation, we are unable to save ourselves. It is only through the grace of God that we are saved—that we are healed from the brokenness of the human condition.
To call an illness psychosomatic does not mean that it is in a person's imagination. It means that the physical ailment—which is real—has no immediate physiological cause, but rather is caused by a mental process. This is a good example of just how intimately connected the mind and the body are. Jesus understood the intimate connection between the mind and the body and, in many cases, healed physical ailments by first forgiving the person's sins.
What difference does it make that Catholics celebrate the Sacraments of Reconciliation and the Anointing of the Sick? It means that we encounter God in our brokenness. Our world despises brokenness and, indeed, brokenness is not something to relish. Our faith, however, teaches us that it is in our brokenness that we are most capable of recognizing the presence of God in our midst. This is why we keep crucifixes in our homes. We look to a symbol of brokenness to represent our salvation.
Questions for Reflection and Discussion:
What does it mean to say that Christianity is not about picking ourselves up by our bootstraps when we've fallen?
What is the difference between self-esteem and self-righteousness?
What is your understanding of the word

mercy?

How would you explain to a non-Catholic the reasons that Catholics confess their sins to a priest?
What do the following words mean:

contrition, confession, abso

lution,

and

satisfaction?

When was a time that your emotional/spiritual state affected you physically?
What is the purpose of the Sacrament of the Anointing of the Sick?
Feel free to comment on your own thoughts from this week's reading, your impressions and reflections, and/or your answers to these questions. You can also share your blog post by linking up below.
Next week, we'll cover Chapter 11: Installing New Windows: Sacraments at the Service of Communion. For the complete reading schedule and information about this summer's Lawn Chair Catechism, visit the Lawn Chair Catechism page.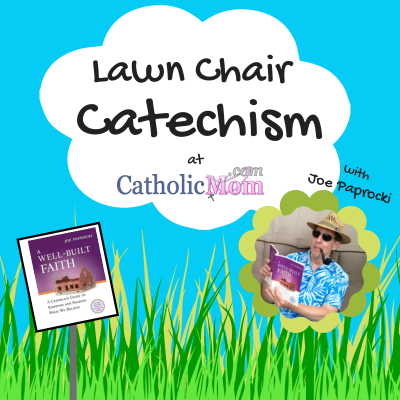 [inlinkz_linkup id=431264 mode=1]
Copyright 2014 Sarah Reinhard
About the Author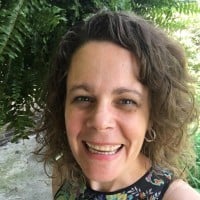 When she's not chasing kids, chugging coffee, or juggling work, Sarah Reinhard's usually trying to stay up read just one…more…chapter. She writes and works in the midst of rural farm life with little ones underfoot. She is part of the team for the award-winning Catholic Mom's Prayer Companion, as well as the author of a number of books. You can join her for a weekday take on Catholic life by subscribing to Three Shots and follow her writing at Snoring Scholar.